I've been boxing in real life for about three years. I'm not exactly a renowned fighter, but I used to spend plenty of time traveling around San Francisco boxing clubs to spar other flyweight women. My "career" such as it is, is currently on hold thanks to a screwed-up wrist. I spend more time on a Brazilian Jiu Jitsu mat these days and very little in the ring.

I tell you this only so you understand just how much I love boxing. I love everything about the sport itself (the pitfalls and corruption in the big-money echelons of the art are another story). I love its purity and simplicity and devastating drama. I love how graceful it is one second, brutal the next—dodging swings with elegant footwork, only to land a crushing, devastating blow in the next motion. That my gloves are currently hung up for now is a blow to my identity.
But I'm finding solace right now in Punch Club 3DS, a port of the acclaimed fighter-management sim that everyone told me to play last year. Often, I'd excitedly tell my gaming friends about my latest sparring sessions, and the refrain would come back: "Have you played Punch Club yet? It's great!" They were right, and I feel silly to have waited for so long.
Mechanically, it's a sim, and it's all about balance. You need to train your fighter, balancing his stats: speed/agility, strength, and technique in the gym. You also need to make money—working as a construction worker, at first—so that you can afford to eat, rest, and learn new techniques from the salty sages who train fighters. It's an intoxicating, delicate balancing act: get too tired to work and you're SOL if you get hungry; fail to train enough and you'll slow your progress to a halt.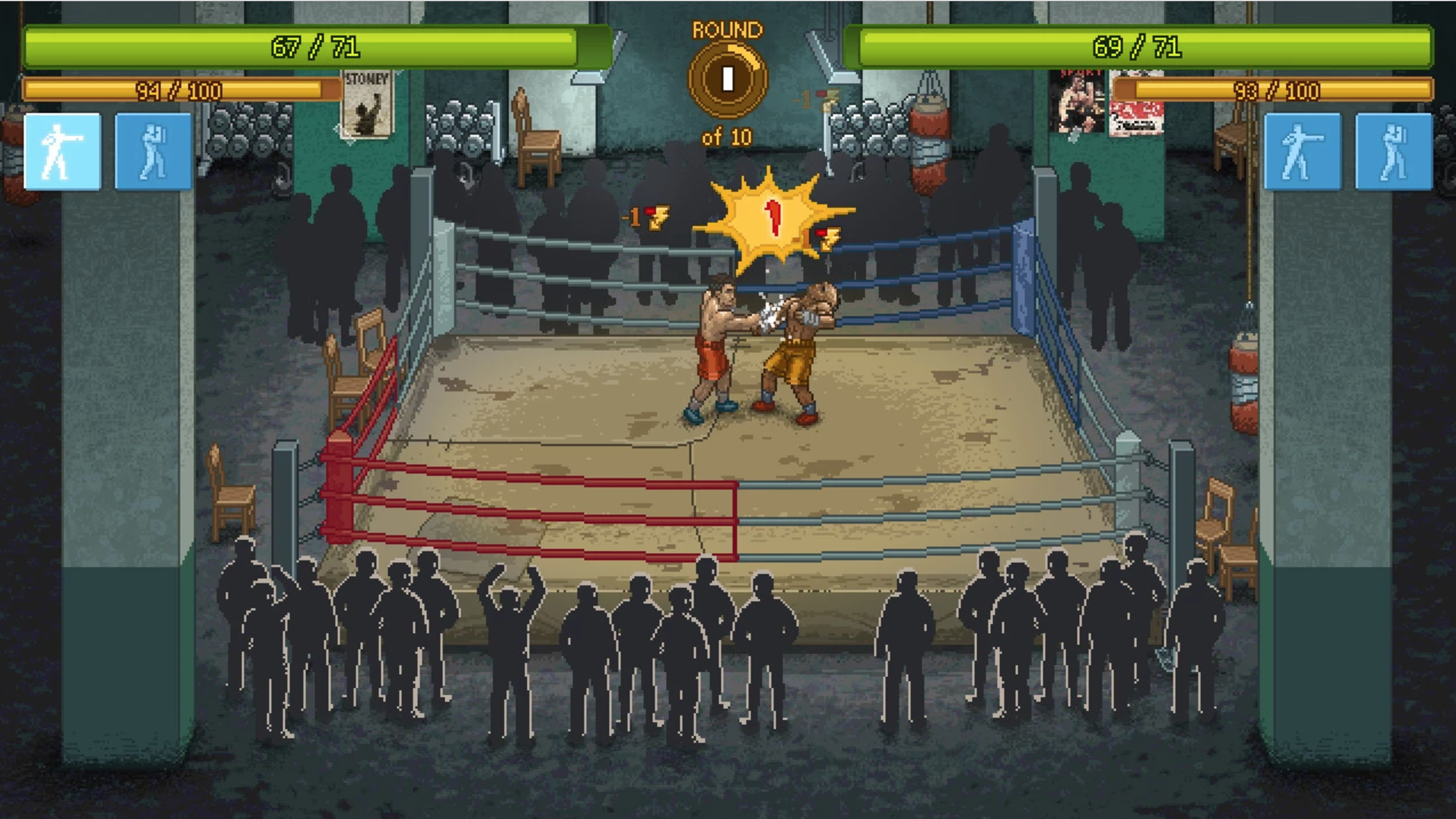 There are also strategic battles to wage upon other fighters: You learn strategies and moves that you need to employ in the ring. And you can make the dangerous choice to participate in "underground" fights and earn plenty of money, but you risk serious injury.
What Punch Club gets so right is the atmosphere: the working-class gym of friendly but no-nonsense fighters and trainers. It also gets a lot of the spirit of boxing. The ceaseless preparation and the wonderful, satisfying sensation of training to better yourself. Every step, every day, every rep matters, just as it does in the real world.
This is something you may not know, if all you've seen of boxing is a Rocky montage, but the training is secretly the best part. There is nothing on this earth more satisfying than heading to the gym for a few hours. Smelling that nasty, wonderful stink of a boxing gym in full swing. Nodding to others working a heavy bag. Putting in the time, the work. Getting those 15 minutes of rope in while you gaze at inspirational posters, hip-hop blasting in the background (every boxing gym I've trained at, run by white folks, people of color, east or west coast, has hip-hop playing. Even if it's Christian hip-hop. I think it's an unwritten rule.)
Punch Club 3DS is mechanically sound, well-balanced and fun, even without evoking those little details. But because it gets the look and feel so right, it's letting me live just a little slice of that life again, and I am grateful for that.
Punch Club 3DS also evokes the more trope-y aspects of boxing in popular media, including ideas about class and the fighting life as an escape from life at the underserved rungs of society. You need to work backbreaking jobs to eat. You sleep in a tiny, disheveled apartment. It's a hard life, with major risks—and so few would-be superstars ever make it to a life of professional fighting.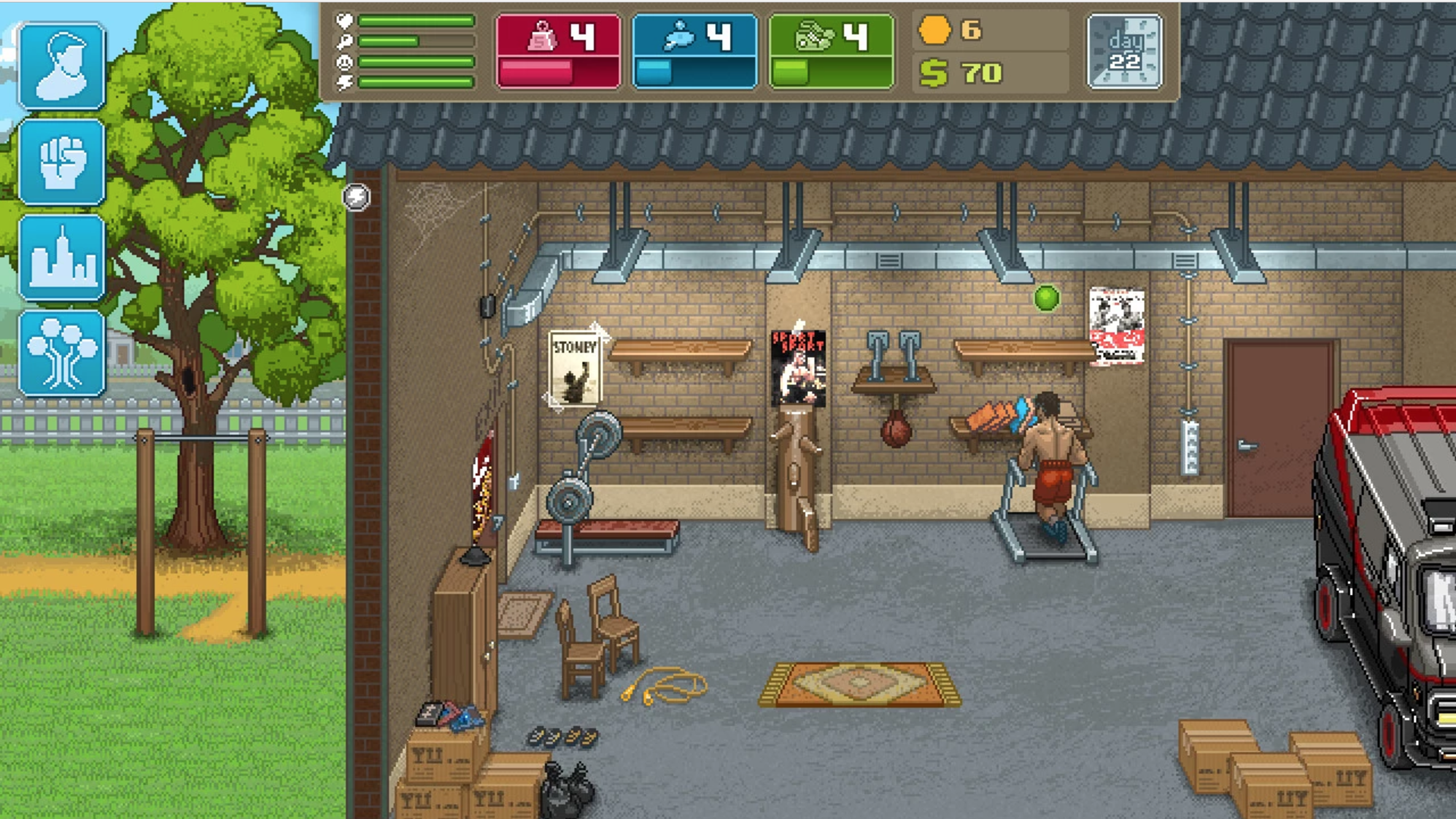 My only possible gripe? I'd really like to play as a woman fighter. I'm not that far in the game just yet, but I haven't seen anything that points at that as an option.
Surely, the superstardom of women fighters like Ronda Rousey, Cris Cyborg and Amanda Nunes—and the boxing prowess of Holly Holm and Claressa T-Rex Shields—shows that ladies are not only capable and dangerous in the ring, worthy of attention, but there's a precedent already within popular media.
I'm going to take Punch Club with me everywhere for a little while, regardless. It's a tiny slice of home for me, as bizarre as that may sound, and a comforting one, for all its tiny pixelated punches and counters.