Margaret Calvert doesn't have time for questions that can be easily answered through Google. She politely told me so when I reached out to her for an interview. She also doesn't do phone interviews.
But the legendary 80-year-old typographer was kind enough to answer question by email. And anyway, she's earned the right to be a bit picky about interviews. Calvert is a celebrated designer whose work is found literally all over Britain: She co-created the typefaces and graphics for the signs used on the UK's highways, hospitals, and airports. She's earned dozens of awards, including the Order of the British Empire, the Queen's honor for contributors to the arts and science.
She also designed the font we've chosen for Motherboard's new site—the very font in which you're reading this story, appropriately named "Calvert."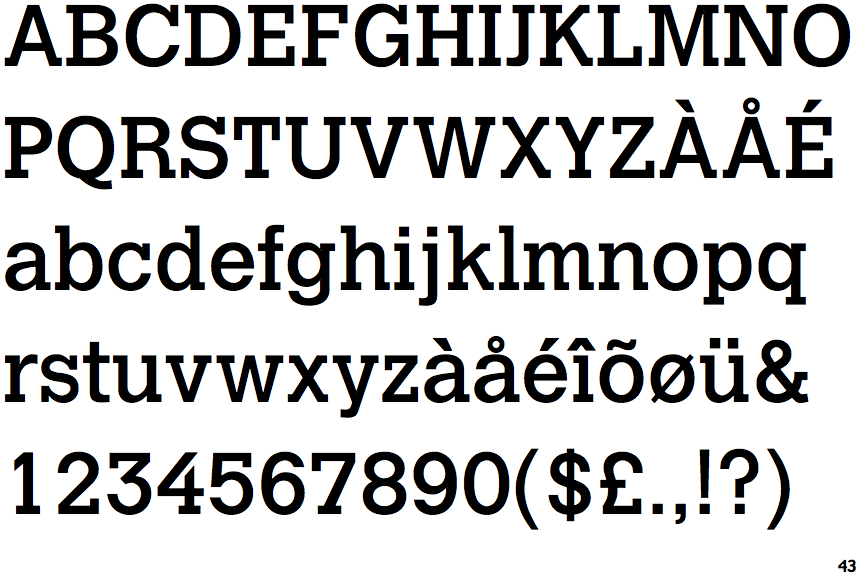 The "Calvert" font in all its serif glory.

Born in South Africa in 1936, Calvert moved to Britain in 1950. She began studying at Chelsea College in 1953, focusing on illustration and printmaking.
"I just loved doing life drawing and talking to fine artists," Calvert said at AGI Open, an international design conference, in 2013. "It was just marvelous, after school, to have that freedom."
Toward the end of her studies, a local designer name Jock Kinneir was invited by one of Calvert's instructors to do a guest lecture, and he gave the students an assignment to hand-draw letters. Calvert said she was "hooked from then on."
Calvert's attraction to hand-designing letters captured Kinneir's attention. When he landed a contract to design the signs at the new Gatwick Airport, a major international airport in London, he tapped Calvert to help him.
Kinneir and Calvert's work at Gatwick Airport impressed Sir Colin Anderson, who was at that time the newly-appointed chair of Britain's Ministry of Transport Advisory Committee on Traffic Signs for Motorways—a thoroughly bureaucratic name for a really innovative group. In the 1950s, car ownership was beginning to skyrocket, but the highways were dotted with signs bearing a variety of different fonts.
With the development of Britain's first motorway, the government decided it was time to invest in a cohesive signage aesthetic. Kinneir and Calvert were asked to take on the mammoth task of designing the lettering, symbols, and signs that would clearly and effectively communicate essential information on the road.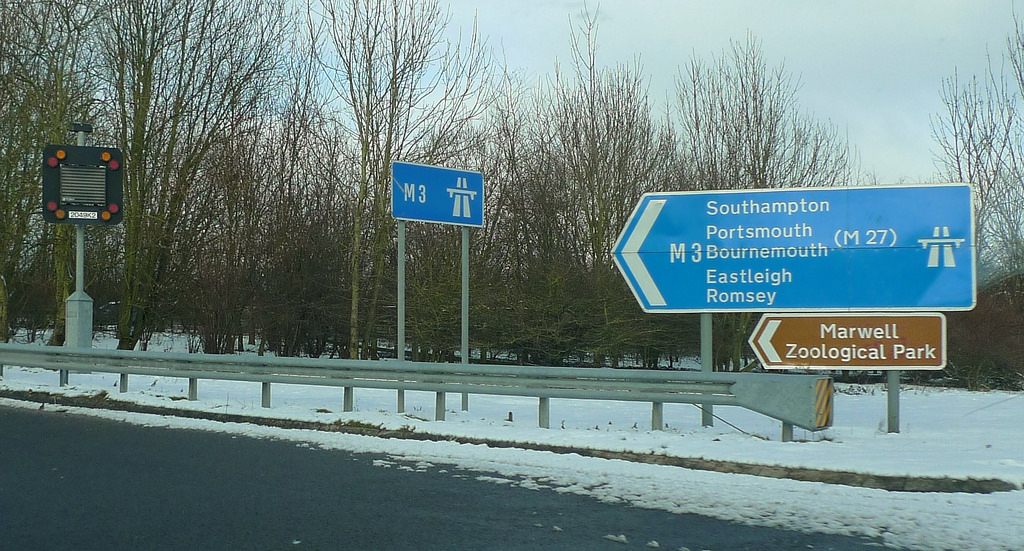 Some of Calvert's handiwork. Image: Henry Burrow/Flickr
"It wasn't a fashion thing, we were designing for permanence," Calvert said during an interview on Top Gear in 2013. "We were designing for something that wouldn't look dated in five or ten years time."
Calvert said that beyond the typeface, she and Kinneir had to think about spacing, color, and make the decision to use both upper and lowercase letters, rather than block letters, which had been standard for signs at the time. The designers found that upper and lower combined was easier to read at high speeds because it's familiar: your brain recognizes the shape of the word and fills in the rest.
After the motorway signs, Calvert and Kinneir were asked to expand their work to include all British road signs. Then to create a cohesive sign design for the hospital system, the rail system, and British airports. All designed by hand.
"I particularly enjoy the physical 'head, heart, and hand' aspect of drawing letterforms, and designing a complete set of weights for a specific purpose," Calvert told me, referring to the design theory of balancing creativity with function.
In 1966, Calvert returned to art school—this time the Royal College of Art and, this time, to teach. She told me that, though she never had considered teaching before being offered the position, it was too good to pass up.
"Picking fonts for a new site design is a terrifying test of human willpower."
In 1980, while designing fonts for Monotype—a major digital typeface design firm—Calvert created the eponymous font we've chosen for our site. At that time, typefaces were beginning to be designed on computers, but Calvert told me she began her process the way she always did: by hand.
"Picking fonts for a new site design is a terrifying test of human willpower because there are so many typefaces out there, and they all say subtle things about a publication that you don't quite realize until it's live," Motherboard's Editor-in-Chief, Derek Mead, told me. "When we came across 'Calvert,' it definitely had the feel we liked: a modern slab serif that feels crisp and stately without being snobby about it. And having a typeface developed by a woman who helped make our chaotic human networks more easily navigated seemed like the perfect DNA for what Motherboard would ideally be."
Calvert's typefaces can be found across the web, including a version of the "Transport" font on Britain's road signs that she helped redesign for gov.uk. "Calvert" is used not only here on Motherboard, but also by the Royal College of Art's and the Crafts Council UK's sites.
Calvert told me her primary concern is with how a font is used, and whether it's an appropriate application. She has never lowered her standards on this, and it shows in her accomplishments. The concept ties together her work throughout the decades: style and form working together with function and context to communicate effortlessly.
"I am delighted that 'Calvert' is being used for your website," Calvert wrote. "Its success will, of course, depend on how well it is used."