There's some good news for anyone who missed their chance to back The Offworld Collection Kickstarter campaign last year. A limited run of the hardbound books that backers received are now available to all comers, nestled amid the Firewatch merch in Campo Santo's in-house shop.
Blink and you just might have missed the second life of Offworld, the BoingBoing vertical relaunched under the editorial guidance of Leigh Alexander and Laura Hudson. It was only around for a year, but in that year it housed loads of significant and challenging game criticism. The site was highly aesthetic, kept its emphasis on humans over hardware, and hosted both notable and up-and-coming writers.
Suffice it to say that if you're here on Waypoint then there's a pretty good chance that Offworld was or is your jam.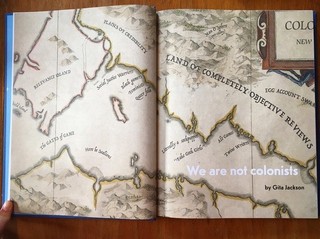 The Offworld Collection contains some of the most memorable pieces that ran on Offworld under Alexander and Hudson's tenure. Although the archives are still up for those looking to peruse the site for general impressions or a favorite piece published there, there's definitely something special about having a physical imprint of something usually experienced digitally. It turns the intangible tangible, and imparts a sense of permanence to text that can feel ephemeral — especially in the wake of its host shutting down.
Either way, it's a good chance to add some excellent (and beautifully presented) game criticism to any bookshelf. Copies of The Offworld Collection are available in a limited number on the Campo Santo store for $39.99.