Stormzy has been 'the man of the moment' for well over a year now, and that was certainly still the case at last night's MTV EMAs, which took place in London. His performance of Gang Signs and Prayer single "Big For Your Boots" was one of the highlights of the event, but it wasn't the only thing he got up to. In fact, his evening was a bit of an emotional rollercoaster.
It didn't start off on the best foot: shortly before he was due onstage, he found himself stuck in the toilets. Like any pro, he went for a quick stress poo before his performance, but didn't realise he'd inadvertently gone in the ladies: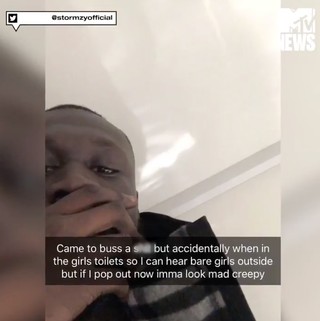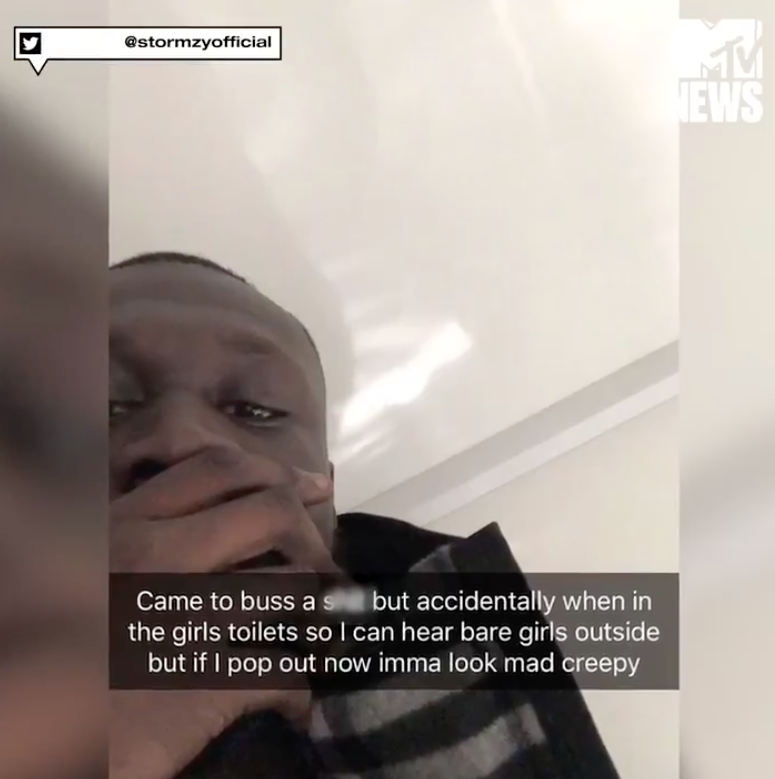 Eventually he managed to escape in order to pull off his performance. "Big For Your Boots" saw him rolling onto the stage, poking out of the sunroof of a police car. What's special about Stormzy as a performer is his electric energy: he's infectious and natural onstage, to the extent that it's tough to imagine him doing anything else. You can see that at the top of the page—and I'm sure you'll agree that it's remarkably smooth for someone who just got stuck in a loo.
To put the icing on the cake of Stormzy's night, when U2 received the Global Icon award (presented by Jared Leto, which made for quite a tableau onstage), Bono accepted the award by singing Stormzy's newest single, "Blinded By Your Grace, Pt. 2." If you were watching this at the time and it felt like a fever dream, we can fully confirm this was real:
Stormzy responded on Twitter with some well-placed emojis, and then, as most of us would after a hectic Sunday at work, he just got drunk:
After all that, he remains a man of the people.
Follow Noisey on Twitter.