Gritty Has a Beer Now Because Of Course He Does
The appropriately-named 'Nightmare Fuel' distills the essence of the gone-to-seed-Muppet into a vanilla- and orange-scented cream ale.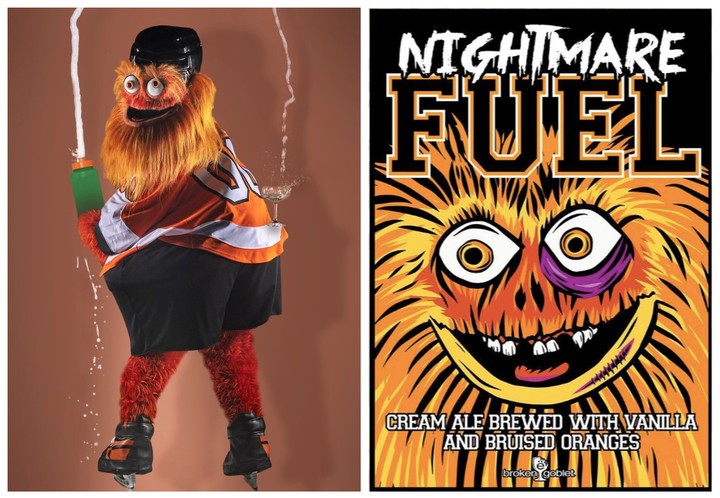 Photo via: Twitter user @GrittyNHL // Facebook user Broken Goblet Brewing
There are several possible explanations for why the Philadelphia Flyers' new mascot, Gritty, went from being a mysterious monstrosity who looks like the Abominable Snowman from the stop-motion TV special Rudolph the Red-Nosed Reindeer rolled around in a bunch of Cheeto dust to being an near-universally beloved source of internet in-jokes (who still looks like Abominable Snowman from the stop-motion TV special Rudolph the Red-Nosed Reindeer rolled around in a bunch of Cheeto dust) in under 48 hours. Perhaps his terrifying, unsynchronized eyes feel familiar, like looking into the soul of the train wreck that is our current political reality? Or maybe it's the exact opposite: Perhaps we have reached a point of such consuming hatred for everything else in our lives that the only emotions left over to feel about entirely new entities is all the unused joy. Or maybe he's just a manifestation of Philadelphia's "No one likes us, we don't care" mantra, which now feels charmingly rough-around-the-edges.
Regardless, his instant celebrity has inspired memes, explainers, impassioned op-eds, and now at least one beer.
The Bucks County Broken Goblet Brewery announced yesterday that they'll be releasing a limited-edition beer called NIGHTMARE FUEL "commemorating" Gritty on October 13. The "lightly hopped Cream Ale brewed with vanilla and 'bruised and bloodied' oranges" sounds decent, and the label looks like something out of a 1960s horror movie poster.
This is not an official collaboration with the NHL or the Flyers, which Broken Goblet clarified on Twitter, but the team might want to consider finding a way to cash in on combining Philly's love of booze and local sports allegiances (we've reached out to the Flyers to ask them if they ever would license Gritty's likeness and will update if they reply.) Earlier this year, Bud Light released 20,418 (corresponding to the date of the Super Bowl) commemorative packs featuring the Eagles' logo. The initially sold for $29.99 each and are now going for over $140 on eBay.
Come to think of it, it's probably worth it to drive to Bristol in October to pick up a couple Nightmare Fuel growlers. To quote the the hashtags on Broken Goblet's announcement: "#grittyformayor #grittyforpresident."
Stories