As royalists of the world wept over Meghan Markle and Prince Harry tying the knot on Saturday in a £32 million televised ceremony, there was a very different event happening on London's Hampstead Heath. Hundreds descended on the park for an alternative royal wedding; one that took place in the name of non-heteronormative love and sexual freedom. Dolled up in 80s-style wedding dresses, attendees shared stories of sexual freedom, and honored LGBTIQ+ resistance past and present. Think less Markle, more sparkle.
Bollinger was swapped for Buckfast; a priest for a public blessing about making love to and in nature; and while Meghan and Harry shared a chaste kiss on the steps of Windsor Chapel, snogs were in no short supply here. The song for the first dance was the defiant disco anthem "Outside" by George Michael, a noted fan of the Heath's cruising grounds.
The Real Qweens' Wedding was organized by a coalition of queer activist groups: The Outside Project, Loud and Queerly, ACT UP London, Queerseum and Eco Queer UK, in partnership with Queer Tours of London. "This is about celebrating defiance and standing up to the authorities in a really audacious, raucous and beautiful way—like George Michael did," says Dan Glass, activist and co-founder of Queer Tours of London. Any profit from the event went to The Outside Project, which was raising money—along with African Rainbow Family—to take domestic violence shelter guests, homeless friends, and people seeking asylum to Pride events this year.
Michael was once arrested on Hampstead Heath, and was hounded by the homophobic press throughout his life. Carla Ecola, founder of The Outside Project, the UK's first LGBTIQ+ homelessness shelter, remembers George Michael being "dragged through the press for cottaging" as her "introduction to homophobia and shaming."
---
Watch: Girls Just Wanna Have Girls: A Weekend At The Biggest Lesbian Party In the World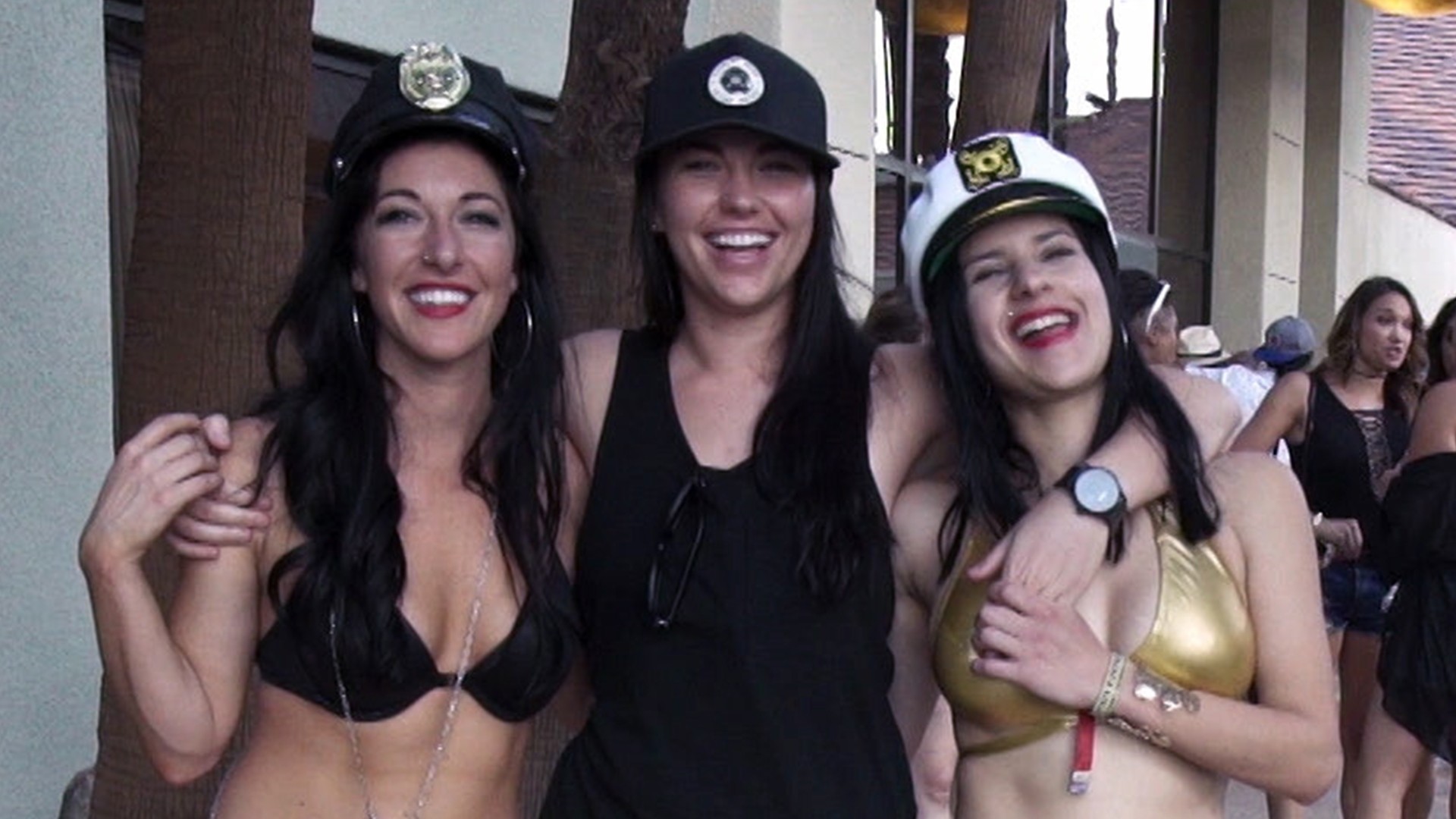 This year marks 30 years since the passage of Section 28 , a clause in the Local Government Act 1988 stating that a local authority "shall not intentionally promote homosexuality or publish material with the intention of promoting homosexuality" or "promote the teaching in any maintained school of the acceptability of homosexuality as a pretended family relationship." The law was only fully repealed in 2003.
"I'm a product of Section 28," says Damien Arness-Dalton, co-founder of queer community project Queerseum, "my whole school education, we were not taught about sexual health—my first public notice about sexuality was a tombstone falling down saying 'AIDS equals death.'"
Saturday's event was about marking both historical and current erasure, repression and struggle—and honoring resistance and pride. "Coming out of a violent policy like Section 28," says Glass, "we haven't had our needs for affirmation, for identity, for protection met—we're still living in a very institutionally homophobic society, with rising LGBT hate crime."
"As the whole country celebrates this heteronormative, rich couple's wedding, we are reclaiming and queering up a space in defiance," says Arness-Dalton. "That's what George Michael did, he was so honest, so radical—he never said sorry, it was always: fingers up, 'fuck off, this is my culture.'"
Public displays of affection were at the heart of the day. "It's 2018, our country has laws for equality," says Arness-Dalton, "but same-sex desire and love is still demonized; our queer bodies are controlled. I can't walk down the street holding hands with my boyfriend without being spat at or side-eyed."
Ecola, too, says celebrating sexual freedom means "being able to sit in a public park with my wife and friends, and feel safe to kiss and hold hands."
"For too long there's been an idea that if we're accepted, we should disappear—but that's not right, I want to be gayer!" says Alex Green, a Loud and Queerly entertainer and director of the campaign to save the Black Cap, a much-loved queer pub in London.
As a union for the whole queer community, The Real Qweens' Wedding challenged the significance of marriage itself. "Marriage equality has been seen as this pinnacle of equal rights," says Arness-Dalton, "but we're still not treated the same, and we shouldn't have to be married to be accepted—today is a queer destabilization of the whole thing."
Aside from Prince Harry's apparent support of LGBT rights, lovers on Hampstead Heath found little to celebrate in the actual royal wedding. "I don't think the royals specifically should die," says wedding guest Zia Álmos Joshua. "But I think the notion of royalty—it's time to end it. Democracy should not have its foundation in born privilege. People are dying—I'd rather have my tax spent on fireproof cladding."
But although co-organizer Glass is "totally against everything the royal family stand for—inequality, aristocracy, empire," he's also a self-confessed "soppy git."
"I'm a big romantic, a big fan of PDA, and a big fan of people being in love—I think that's really important," he says. "We just want to challenge the limited framework for love that's being handed to us on a plate."
"People should look to the queers for new ways to love," Joshua adds. "Due to oppression, we've experimented in ways that are outside the norm and we've found different ways to love. We shouldn't be centering marriage, we should be abolishing the whole system—us queers are the scientists of love and we've got a better future for you!"
As sundown fell on Hampstead Heath, attendees filtered home or into the nearby woods. And as for Meghan and Harry? The partygoers wished them every happiness—including one blessing to have "ten queer children, so that they turn Buckingham Palace into an LGBT refuge." As for the wedding gift, someone offered anal beads.