On June 29, Minerva Garcia and her two youngest sons walked through the double doors of a 65-year-old church building in Greensboro, North Carolina. They carried bags filled with the kind of necessities you take on an extended vacation: clothes, shoes, toiletries, and a few extra items, such as an X-box console, to keep the boys occupied.

But the family would hardly consider their time at Congregational United Church of Christ (UCC) a vacation. A month earlier, Garcia, who's undocumented, had been ordered by ICE officials to return to Mexico by the end of June. Instead, she took sanctuary in the church to avoid being detained and deported to a country she left almost two decades ago.
Read more: When Suicide Happens at Immigration Detention Centers, Who Is to Blame?
Garcia is the second person to do so in North Carolina this year. She joins about at least a dozen others across the country, from Mancos, Colorado to Cambridge, Massachusetts, who have moved into places of worship to avoid being picked up by ICE, which has an unofficial policy of not entering such "sensitive locations." Like Juana Luz Tobar Ortega, a grandmother who moved into St. Barnabas Episcopal Church in Greensboro at the end of May, Garcia does not have a criminal record but was ordered by immigration officials (after receiving multiple stays of removal from ICE) at her last check-in to leave the country.
When reached for comment, Bryan Cox, a spokesperson for ICE, told Broadly he was unable to speak on Garcia's case because she's not in custody, citing agency privacy rules.
"I know that in Mexico, there's no future for a blind, or any disabled, person. So that's the reason I came here, looking for a better life for him."
Garcia came to the US 17 years ago to seek education opportunities for her oldest son, Eduardo, who's blind and now 21. "He was five at the time and his father had just passed away," she tells me on a recent Tuesday when I meet her. "That was my responsibility. I know that in Mexico, there's no future for a blind, or any disabled, person. So that's the reason I came here, looking for a better life for him."

Since June 30, the former factory worker has not stepped outside once. "Inside here is very comfortable, but the main reason we moved here is for safety," Garcia says. "Sometimes I get frustrated because I'm not able to go anywhere, just stay inside. And sad. I feel sad sometimes because I know I can't go anywhere."

In neighboring Winston-Salem, where her house is, Garcia says she lived a pretty normal life. She worked a regular job (and she paid taxes), and took care of her kids. "I used to take my son [Eduardo] to voice lessons every week," Garcia says, reminiscing about life before the removal order. "I used to go get groceries, go to the park almost every day, especially during the summer because [my youngest sons] enjoy the sunlight."
Now, "home" is comprised of two rooms in the lower level of Congregational UCC—one was formerly used as a classroom, the other for storage. The living area is furnished with donated items: a cream-colored couch, brightened by a colorfully woven blanket, a saucer chair whose former life might have been in a university dorm room, and a high-back, swivel desk chair face a TV that sits atop an office desk. A dining set behind the couch is dotted with various flower arrangements, plus a dish with fruit.
The tall windows offer a lot of natural light, but the blinds are drawn down when I first survey their space. This prompts me to ask Garcia later if she feels like a prisoner. "I will not say that because I have not had that experience," she replies, "but maybe. I just feel, like, I don't know—maybe it is the right word to say, a prisoner."
Read more: Meet the Former Undocumented Immigrant Running for Congress to Fight Trump
The second room in their space is their makeshift bedroom. Three-year-old Mateo naps on one of the twin beds. Garcia says he's still too young to fully understand what's going on. "He just knows we have to be here and I can't go outside. Sometimes, when he goes outside to play, he says, 'Make sure you don't go, stay here inside.'"
When she broke the news to him and seven-year-old Antonio—both are American citizens, while Eduardo is allowed to stay in the country because of the Deferred Action for Childhood Arrivals program—about moving into the church, she says she tried to explain it as simply as possible. "I just said we had to go to church because I'm not able to be outside anymore because I have this problem. They say, 'OK.' They just want to be with their mother. I have to show them I'm strong. I can't have the luxury to show them I'm weak. This is a tough time for everybody—for all three of my kids."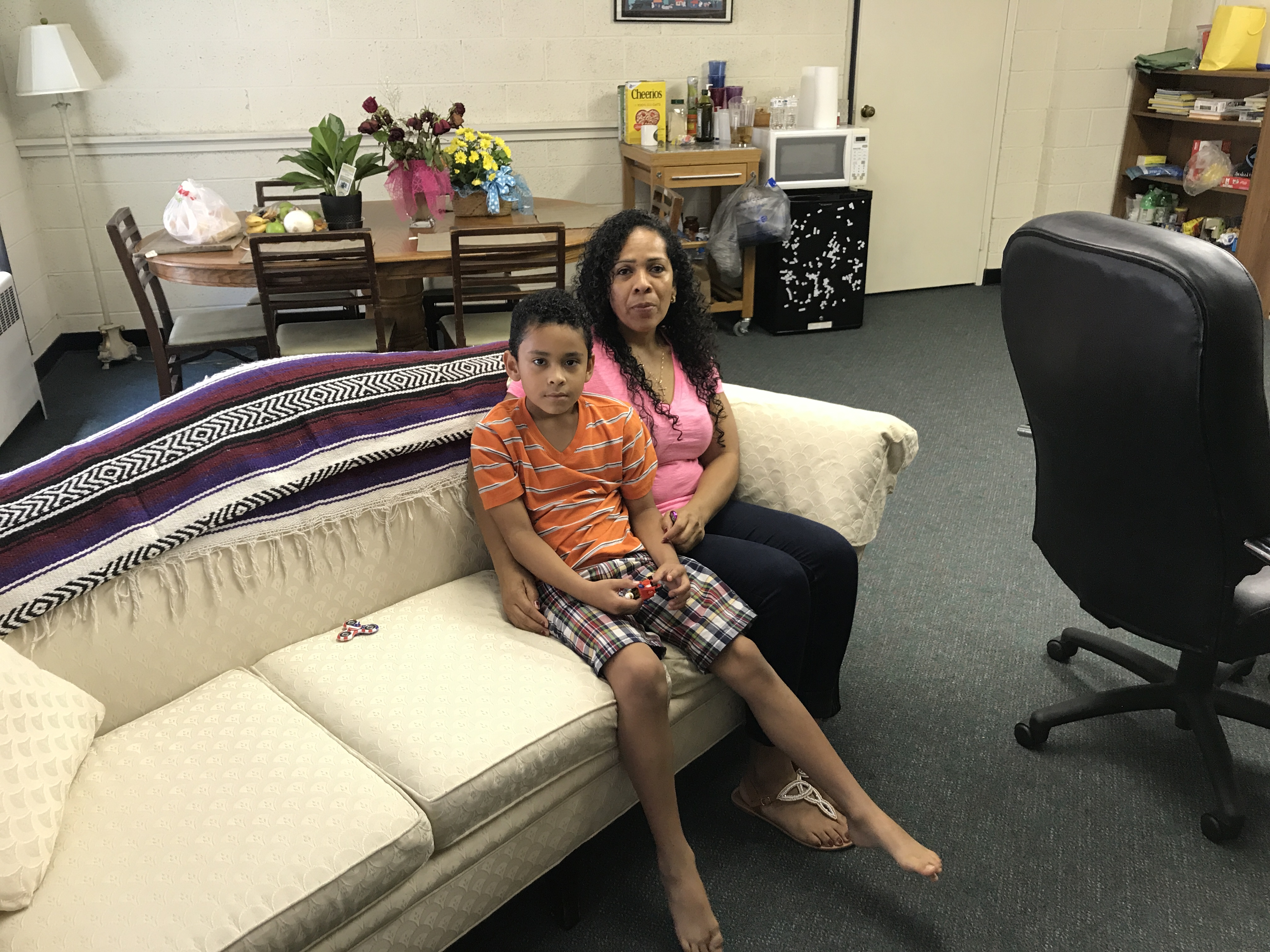 Outside the looming church that sits catty-corner on Radiance Drive, a banner sign offers an important message: "Jesus didn't reject people. Neither do we."
Since President Trump signed his Interior Enforcement Executive Order, expanding who could be considered for action, the number of immigrant arrests have increased from last year, though actual deportations are down. But many advocates are concerned Trump's executive order puts everyone—not just criminals, as had been the case with the former administration—at risk. Bill Chandler, the executive director of the Mississippi Immigrants Rights Alliance, told Broadly previously that since Trump took office, immigration authorities "have been like mad dogs released from their leashes, running around and arresting people."
"As [Homeland Security] Secretary John Kelly has made clear," said Cox, the spokesperson for ICE, "ICE will no longer exempt entire classes or categories of removable aliens from potential enforcement. All those in violation of immigration law may be subject to immigration arrest, detention and, if found removable by final order, removal from the United States." He added that deporting immigrants without a criminal record isn't new: Over the last five fiscal years, about 41 to 45 percent of total removals had no prior criminal convictions.
"No matter where you are politically, we should not as a country stand for tearing families apart."
Rev. Julie Peeples is the senior pastor at Congregational UCC. She says they joined the modern sanctuary movement because they felt the policy changes happening in federal government were "wrong and immoral" and "clashed" with their faith. "We follow God who, through all of scripture, clearly loves immigrants, and over and over told us to welcome the stranger, welcome the other, and to not treat them any different than we'd be treated," she explains. As fear began permeating the local immigrant community that mothers or fathers might be snatched on their way to work, she says, they knew they had to step in. "No matter where you are politically, we should not as a country stand for tearing families apart."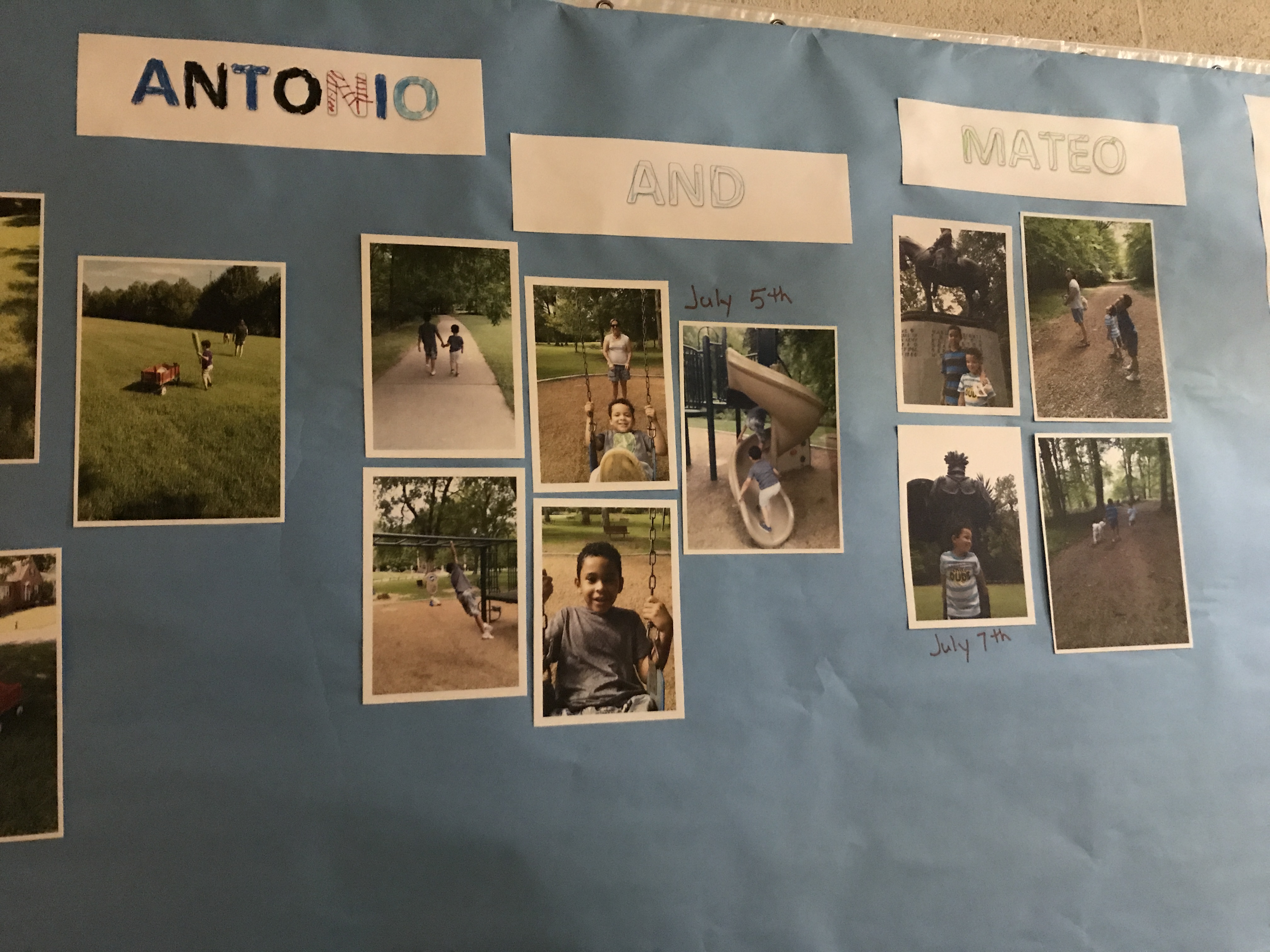 In addition to outfitting two rooms for Garcia's living quarters, the church installed a shower in one of the bathrooms. They also found space for a third room to be available for a volunteer, who stays at the church 24 hours a day, seven days a week. In addition to helping the family with whatever they need, they've also been trained to respond in a crisis: If someone comes to the door claiming to be ICE, they know what a federally signed warrant looks like and who to call for help.
That's why a sign taped to the church's doors warns visitors they may be asked to show ID. Peeples says she doesn't know of any incidents of ICE raiding a church to detain someone in recent years.
Of course, there's been some backlash, including a handful of hateful emails toting untrue stereotypes about undocumented people— some even lambasting her directly for "being an evil person and leading people astray," Peeples says. "We got that years ago when we became open and welcoming to LGBT people. It's not new here. But there have been community people who've walked through the door and given us a check to help her."
Their goal right now, she says, is to get the family a refrigerator bigger than the dorm fridge they have now. "We do everything we can, but ultimately it's not her home," Peeples says. "And we can leave but she has to stay. As comfortable as we can make them, it's still an unfair situation that should not have to happen."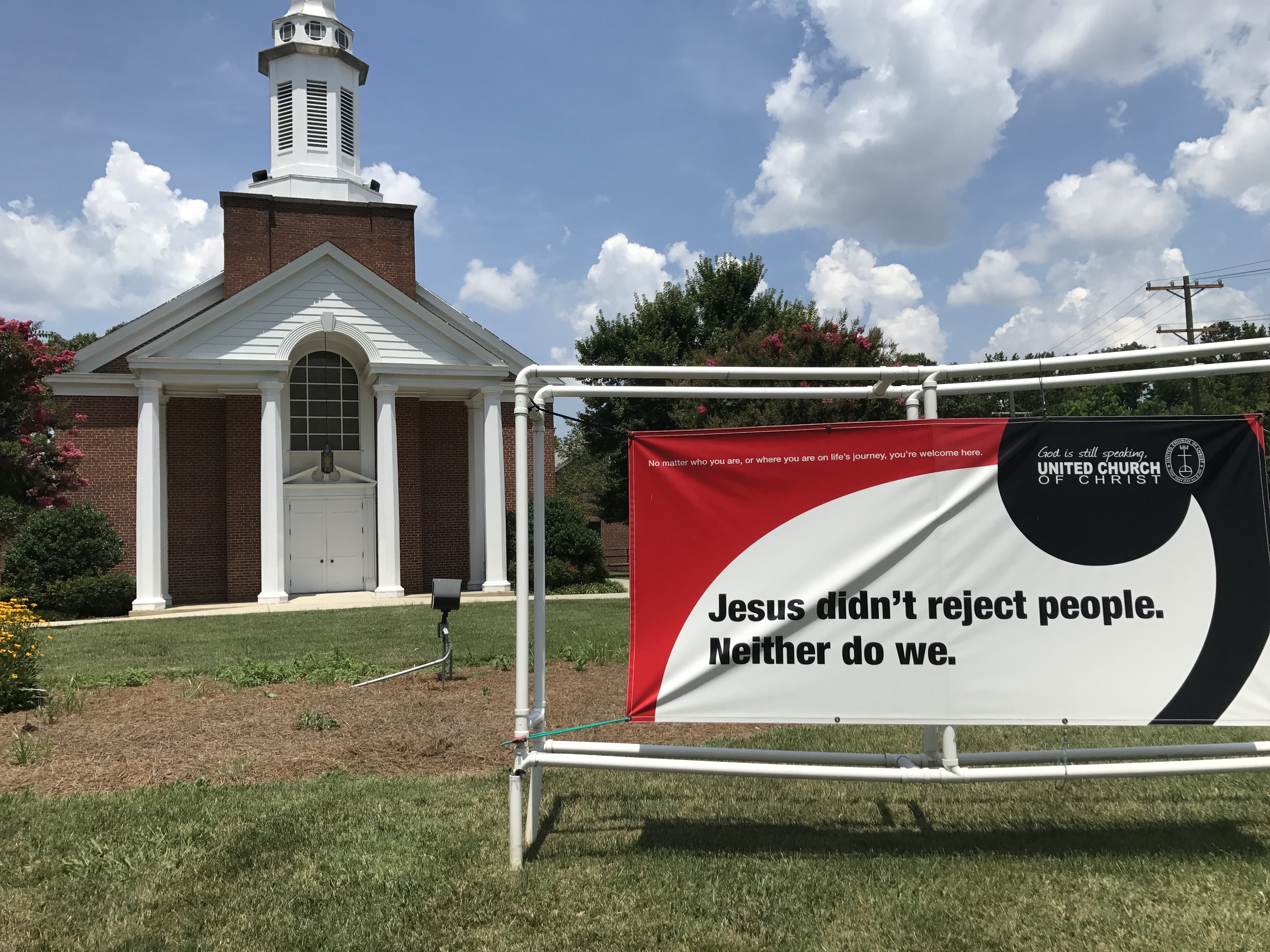 Garcia isn't hoping to be granted a stay of removal because she's afraid of what awaits her in Mexico. At the heart of her decision to move into an old church with her two youngest sons was maternal instinct. In short: she can't take care of her kids if she leaves the country. In an online petition asking ICE to allow her to stay in the US, Garcia states: "I am a mother, and I have tried my whole adult life to be strong for my sons. I want them to grow up strong, kind, loyal, educated, and free. I know their best chance to be all of those things is to grow up here in North Carolina where they have always lived."
Eduardo now has a job, Garcia says, which is why he remains in Winston-Salem. While he can visit on the weekends, "he's very sad because … he needs me," she says. "He needs me to do his stuff, like cooking and cleaning. I used to take him to work, and now I'm not able to do that anymore."
In the meantime, there's no question the church has embraced the family with open arms: In the hallway, a bulletin board that might have otherwise held announcements boasts pictures of Mateo and Antonio playing on a playground, hiking through the woods, and playing ball. But the figure hovering in the background of the photos isn't their mother—it's a church volunteer.