Keznamdi on How a Young Rasta Approaches Race in 2017
We called the reggae artist at his home in Jamaica to talk about his new video for "So Right."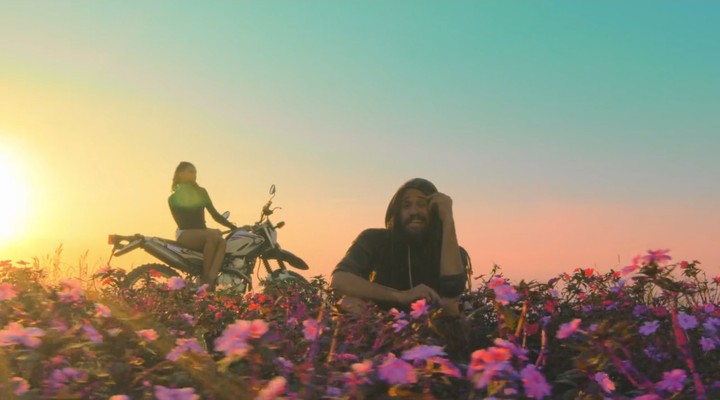 Noisey met Keznamdi a few years back when we went to Jamaica with Walshy Fire of Major Lazer. The young Rastafarian singer, whose parents rose to fame as the progressive reggae act Chakula, was at the forefront of movement led by Chronixx and Proteje, a "reggae revivial" that came out of the hills above Kingston. Their objective was to put a new generation onto the teachings of Haile Selassie I, to reconnect with reggae's early ideals.
"You fear [for] reggae music without thinking about black redemption and African liberation[...] about human rights and about the development of the third world," Keznamdi's father told us then. "The music becomes frivolous. So that's what the youth are bringing back again—that whole meaning to the music."
Keznamdi's latest release, Skyline Levels Vol. 1 touches on spirituality, consciousness, and empowerment; but it's also a record about relationships with "Lost Love" and "So Right" back-to-back at the core of the project. In the video for "So Right," premiering on Noisey today, Keznamdi is in love, but he's also riding a motorbike around Jamaica, and it's extremely pretty.
We called Keznamdi to talk about the video, and the conversation quickly turned to America in 2017.
"Man, I just watch all the news that's going on with race being such a big issue again now in America and I just think of what was said by Selassie," Keznamdi said. "'Until the color of a man's skin is of no more significance than the color of his eyes.' For me it's crazy that we are at this point in history and we still have all these problems, despite everybody being so connected, with globalization. For me, growing up in a Rasta house, with parents white and black I was considered a brown Ras. Then when we moved to Tanzania I was considered white and then moving to California as a teenager they would call me black, and that's when I first started to realize what racism was.
Did you notice that people treated you differently in America because they labeled you as black?
For me, no, because in my life I think you choose how people treat you and how they allow them to affect you. I am still who I am. I have black and white blood running thru my veins. In Jamaica they bought slaves from Ghana and West Africa to work on the sugar cane factories, and they also brought the Indians and Chinese 'cos of cheap labor and the American and british slave owners were here too and so we are a very colorful nation. Out of many, one people. The world needs to take on that motto. I can't believe, that we are at a place globally where we can't have love for humanity as a whole, yet. If you don't have love for humanity, I don't know what to say. We no better than a dog.
You can watch a bootleg YouTube version of the VICELAND episode of Noisey Jamaica which has Keznamdi alongside Popcaan, Jesse Royal, Chronixx, Spice and Vybz Kartel.
Follow Noisey on Twitter.

Stories