The beloved intention of the D.C. hardcore matinee show is simple: for all ages to participate, for emerging and independent musicians to play what they want, and for the fans to find community. In Washington D.C., the "second-wave" of D.C. hardcore and punk found its home inside a sketchy, run-down Ethiopian nightclub booked by two local and ambitious teenage girls, Shawna Kenney and Pam Gendell. They were tired of traveling to attend matinee shows at New York City's CBGB's, and wished they had something like that happening in D.C.—so they created it themselves.
By 1988, these girls knew that the turbulent history of the real D.C. had inspired a prolific DIY art and music culture, which proved that, even in the eye of the storm, the people have power. At that point, the Go-Go music community existed outside of mainstream anything for decades; Jeff Nelson and Ian MacKaye built Dischord Records in their house so they could independently release Teen Idles' Minor Disturbance EP. Inspired by the feminist movement, Kenney and Gendall were busy making the No Scene Zine; and it was natural for them to want a place for their scene to come together. They called it the Safari Club.
Over the next decade, the pair booked seminal hardcore bands like Sick of It All, Gorilla Biscuits, Judge, Swiz, and Worlds Collide. The D.C. music scene became a potent reminder that, if you do it yourself, you can establish a home for the kind of no-holds-barred, creative acceleration that holds the potential to change the world. The story of the Safari Club is important because, when expression turns into product and caters to moneymaking, the culture changes, and people are left out.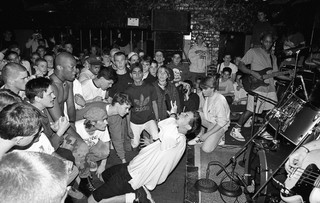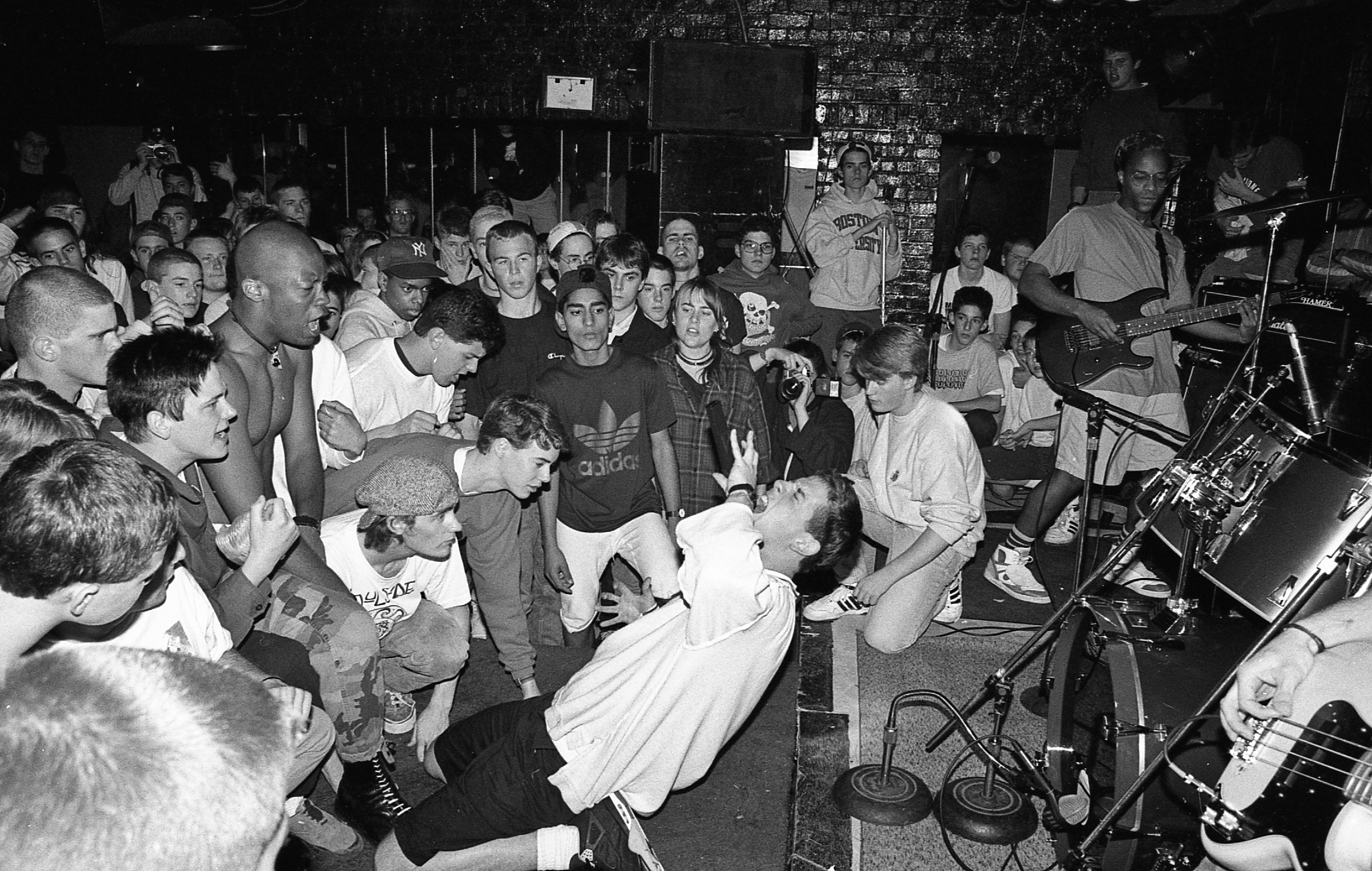 To honor that legacy, Kenney—now an author and professor—and her husband Rich Dolinger—a musician and owner of a contracting company called Straight Edge Tile—have compiled a new oral history, titled Live at the Safari Club: A History of HarDCore Punk in the Nation's Capital 1988-1998 (Rare Bird), that explores the club's tumultuous decade of existence. The couple (who met at the club and later married) reflect in their forward, "Our question is this: if punk died in '85, what the hell was it that we were doing?" It seems clear they were supporting independent music culture and building community.
Noisey: What's the origin story behind the book?
Shawna Kenney: I was being interviewed on a D.C. radio show called Dissonance Radio in 2010, and our friend Dave Brown, a photographer and documentarian with an insaniac brain full of hardcore and punk trivia, brought up the club and the idea of a documentary. I laughed it off, knowing there wasn't enough good footage from those days to make anything watchable, and also didn't think too may people would care anyway, it was one club of many of the time. But after that, Rich and I started throwing around the idea of a book—of maybe printing a yearbook of just 20 or 30 copies, for our friends. Then my dad died, and I was moping around between semesters, and Rich brought up the idea of the book again. I think it gave me a project to focus on through my grieving. We were living back in D.C. briefly at the time, so we started interviewing people backstage and whenever we had the chance.

Once a mutual friend connected us to Joe Wongananda and he showed us his photos, I got chills when I saw them—they brought back some kind of visceral memories of a time I'd forgotten. Seeing those faces of people I knew in the crowd, a wave of emotion came over me and I thought about how long I'd known some of them and how connected we felt through this scene. For the first time I thought, 'that time was really special to me and a handful of other people.' It was suddenly something I wanted to do for my community.
At that point, D.C. already had the 9:30 Club. What made the Safari Club different?
Shawna Kenney: 9:30 Club was more professional, for lack of a better word. It was a bar and a small business run by actual adults who had to think about the bottom line. It wasn't always easy for a local band or a small unknown traveling band to get a show there. DC Space was more eclectic, but was very small. There were a few other places that had good shows, like the Hung Jury Pub, the BBQ Iguana, and various community centers, but nothing steady.
Our Safari Club shows were run by us, teenagers, with no guarantees, no contracts, handmade flyers for advertising, no insurance, no real life experience. They were kind of a free-for-all, which made it fun and wild. Now the adult in me might call it dangerous, but maybe it was just a good outlet for feral teenagers. Although someone else owned the club, we paid him for that space to be ours for a certain amount of time every weekend, and people could really go and let loose.

Rich Dolinger: The 9:30 Club seemed so corporate—people would go to a show, have fun, and leave without really talking to each other. Maybe because the Safari shows were matinees, people hung out longer afterwards. I went to a lot of shows without even knowing who was playing. It became like church, a social scene.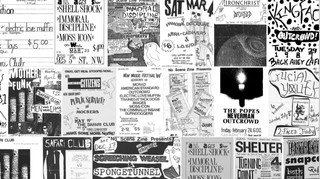 How did you approach the challenging task of making this book?
Shawna Kenney: I had saved some things over the years, but of course not enough for a book. We started by just approaching people at shows for interviews, recording them on our phones. Then we had a website built, and put a call out for stories there and on Facebook, so people started emailing us stories and flyers and photos. When the Wilson Center had its 30 anniversary show in 2011, a Washington Post reporter mentioned the Safari Club in the story, and we were flooded with emails from people all over the world. That helped get the word out, and made us think that maybe someone beyond our 20 friends might be interested in learning about this space and time.
We continued to gather material over the years, transcribing interviews and pulling together the narrative in between work and life. It was just us two, it's not like we had a staff or anyone helping. It was six and a half years before we approached Rare Bird with a book proposal and found a publisher who believed in the book. Our friends really proved themselves as community with this. People spent time scanning images for us, shared their photos for free, dug through old boxes, took moments out of their days to speak with us, and just cheered us on, even when we felt like this project would never be done. We consider ourselves curators, not really authors in this case.
What was your dream Safari Club show?
Shawna Kenney: I liked putting together weird bills, like pairing local skinhead band Immoral Discipline with local emo band Moss Icon, or joke straightedge band Crucial Youth with drunken punks Murphy's Law. I loved booking the Accused with Brotherhood. Other people may not have liked such weird line-ups, but they made me happy. Booking local bands like Avail, Ignition, Kingface, Swiz, Outcrowd, Agent 86, and Indian Summer gave us a lot of personal satisfaction; got to give the locals some love.
The 1988 Gorilla Biscuits/Swiz show seemed epic; Gorilla Biscuits was super late, but lots of kids waited. What are your memories of that crazy day?
It was a rollercoaster of emotions that day. First, the thrill of seeing so many people lined up outside, excited about this show. We didn't know it would be so big! Then, the day became full of anxiety for us, as promoters. The band called from a payphone a couple of times from the road, but we didn't really know them yet. They could have been punking us. We were scared they wouldn't actually show up. We had to keep the crowd placated for four hours, and hope that they would indeed be playing. In the end, I think it showed us how diehard fans were for this music, how hungry the scene was for some of these New York bands who hadn't played D.C. yet. The fact that so many people hung out waiting gave us confidence that we were doing something right, and we made some friends in the process, getting to know some of those faces in the crowd and developing a relationship with the band.

Why do you think all ages shows are so important?
Shawna Kenney: Live music is a good experience for kids. All ages shows are more inclusive and make it more about the experience than drinking alcohol.
Rich Dolinger Maybe music is even more important to a 15-year-old than a 30-year-old. You'd quit your job or drive long distances to see a band you loved. You don't do that as you get older.

Do you think the American tradition of all-ages, DIY clubs is vanishing?
Shawna Kenney: I'm not sure if they are vanishing. The movie Los Punks showed that kids are putting on shows in backyards of East LA and South Central. Gilman Street in Berkeley and New York's ABCNoRio still operate as dedicated DIY spaces. If there is a shortage, it's probably due to the further corporatization of America, companies running clubs plus old buildings getting razed to become condos, which is like what's happening with Safari now, or retail. If I were 18 and not 47, I might know of even more that is going on, but I'd like to think the kids will always find a way. I hope there is always an underground.
Rich Dolinger: I think DIY clubs or spaces might be vanishing because maybe the DIY music scene is vanishing. Maybe because of my age, I might not be aware of what kids between 15 and 25 are doing, but to me, it does seem that kids aren't starting bands and touring the way they were in the late 80's, early 90's. I think the Internet has connected people on one level, but disconnected a lot of us on a personal level. Now only a hand full of people actually need to go to a show, record it on their iPhone, post it online and the rest of us can sit and home and watch the show for free. Maybe this generation is sitting this one out.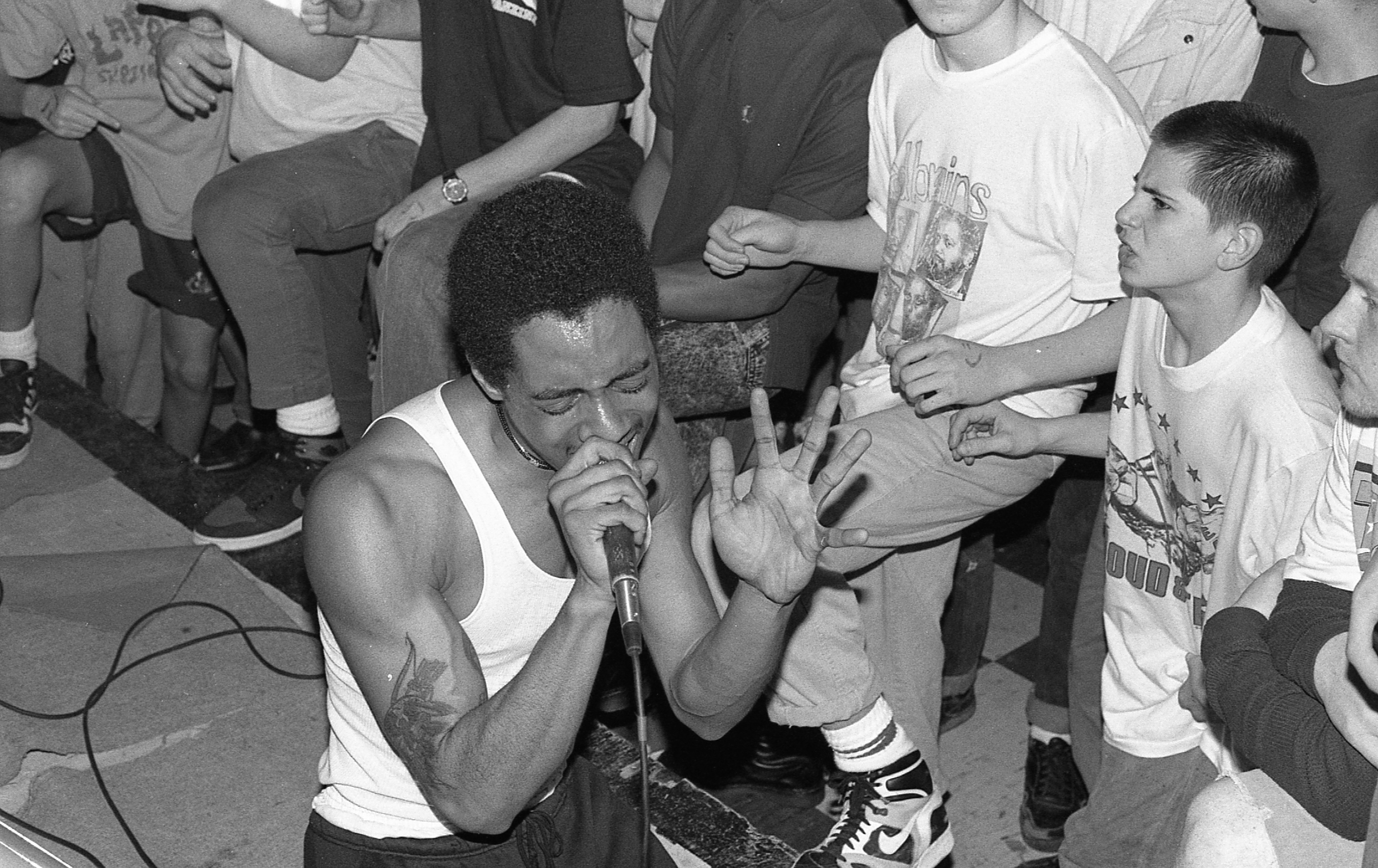 VOICES FROM THE SAFARI CLUB
KATYA ODDIO (former DC printer, singer, scene supporter): The most amazing thing about the Safari matinees was that, here you had two girls who were about the same age as my friends and I, who were making their dreams come true. They were uniting hardcore scenes from New York, New Jersey, and all over the country. They were bringing them all together. That was super cool. They were really fucking doing it, you know? That was incredible, especially when it was such a testosterone heavy scene, to have teenage girls making it happen. In cooperation with No Scene Zine, Clockwork Fanzine, and Take a Stand, they organized shows with legendary bands!
KEN OLDEN (DAMNATION AD, WORLDS COLLIDE, guitarist): Safari was almost the first steady matinee situation, which was perfect for that crowd. You could tell that kids had almost been waiting for that—kids like us, who were out in the suburbs knowing each other and hanging with each other but the only other thing you had was the 9:30 Club ,so sometimes you would get a couple shows catering to the hardcore crowd like Cro-Mags or Sick of It All coming through. Here we are, a bunch of suburban kids, going into the most dangerous city in the country—almost the most dangerous city in the free world.
RUSSELL IGLAY (Underdog, bass): It always felt good rolling into D.C., where some of my favorite bands were born. Later, my mind was blown when the guys from Clutch told me they met an Underdog show at Safari.
STEVE ZEITZOFF (photographer): If you saw somebody at a skate shop or mall with a hardcore shirt on that you knew went to Safari Club shows, you took note, because at the time, it seemed like a secret world.
ZAC ELLER (Worlds Collide, Bluetip, drums): Every band that I was in started there. I went to every matinee to see the New York bands—this was the late 80s, early 90s. We all know what punk rock and hardcore means. It was a place for people to gather where we otherwise wouldn't have had anybody. That's what it was for me. I went alone to that first show. From that point on, I've always had community.
Trina Calderón is crowdkilling on Twitter.