This story appears in the September issue of VICE magazine. Click HERE to subscribe.
Coming to My Senses: The Making of a Counterculture Book
Alice Waters
Clarkson Potter
In 1971, in the midst of the Vietnam War and with Richard Nixon as president, a 27-year-old woman bought a cozy two-story house at 1517 Shattuck Avenue in Berkeley, California. This environment would act as a refuge from the "turbulent activity in the streets" for friends and loved ones: a restaurant called Chez Panisse. She had zero culinary experience. Forty-six years later, the award-winning chef, restaurateur, and social activist Alice Waters reflects on her unexpected journey to becoming one of the world's most influential culinary voices in her new memoir, Coming to My Senses: The Making of a Counterculture Cook. Waters is best known for exposing the American palate to high-quality, organic ingredients and has reshaped the way Americans think about food, from influencing the explosion of local farmers' markets and the slow-food movement to establishing the Edible Schoolyard Project, a school curriculum that integrates the use of organic gardening in the classroom. In 2009, Waters even convinced First Lady Michelle Obama to plant an organic garden on the White House grounds as a way to "demonstrate to the nation and to the world our priority of stewardship of the land."
On her journey to self-discovery, Waters's path shifted the moment she entered college. After spending her first semester at UC Santa Barbara—where she describes a party environment that seemed more conducive to making out on the beach than attending class—she transferred to UC Berkeley that January, a few months after the assassination of John F. Kennedy. With the world in political turmoil, Waters aligned herself with a radicalized student body that participated in sit-ins and marches rather than keg parties. But it was a junior year abroad spent in France that really set her on her path to discovering flavor and the art of entertaining. She rarely attended classes in Paris and opted to uncover fresh produce markets like Les Halles, hot crusty bread, great wine, and French restaurants.

Waters employs flashbacks, ruminations, and excerpts of old letters throughout the book in italics as a way to connect readers to sidebar moments of her life. Her road to success has been paved with many failures. She briefly worked as a Montessori school teacher only to realize it wasn't her calling, and her relationships with friends and lovers influenced some of the most critical points of the Chez Panisse identity: design, politics, film, and fresh food.
On opening night at Chez Panisse, dinner service was sheer chaos. "We had wanted the restaurant to feel like eating at home, which meant we had resisted getting big industrial tools and appliances and serving equipment." Rather than serving dishes to a bus station, waiters would deliver them back to the dishwasher one by one. For Waters, the reassurance that allowed her to persevere was the counterculture movement that the staff of Chez Panisse was creating. "We were united against these big institutions and cultural constructs, but were helping each other. We felt we were doing the right thing, even if we didn't make any money." She admits that other counterculture restaurants began to pop up around the country during that time, but Chez Panisse was one of the first restaurants with the right clientele: well-traveled patrons who understood the ethos of Europe and prixe-fixe menus, and were willing to take a chance. For Waters, opening Chez Panisse was predetermined. "I've always felt like opening the restaurant had been fated, that I didn't have a choice about whether or not I would do this—that it's been somehow predestined." —HELEN HOLLYMAN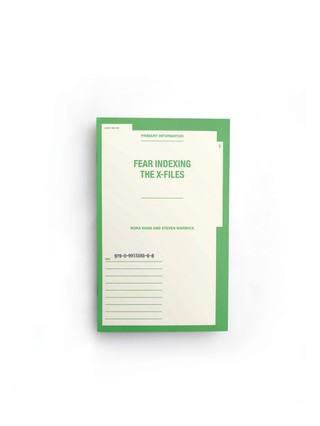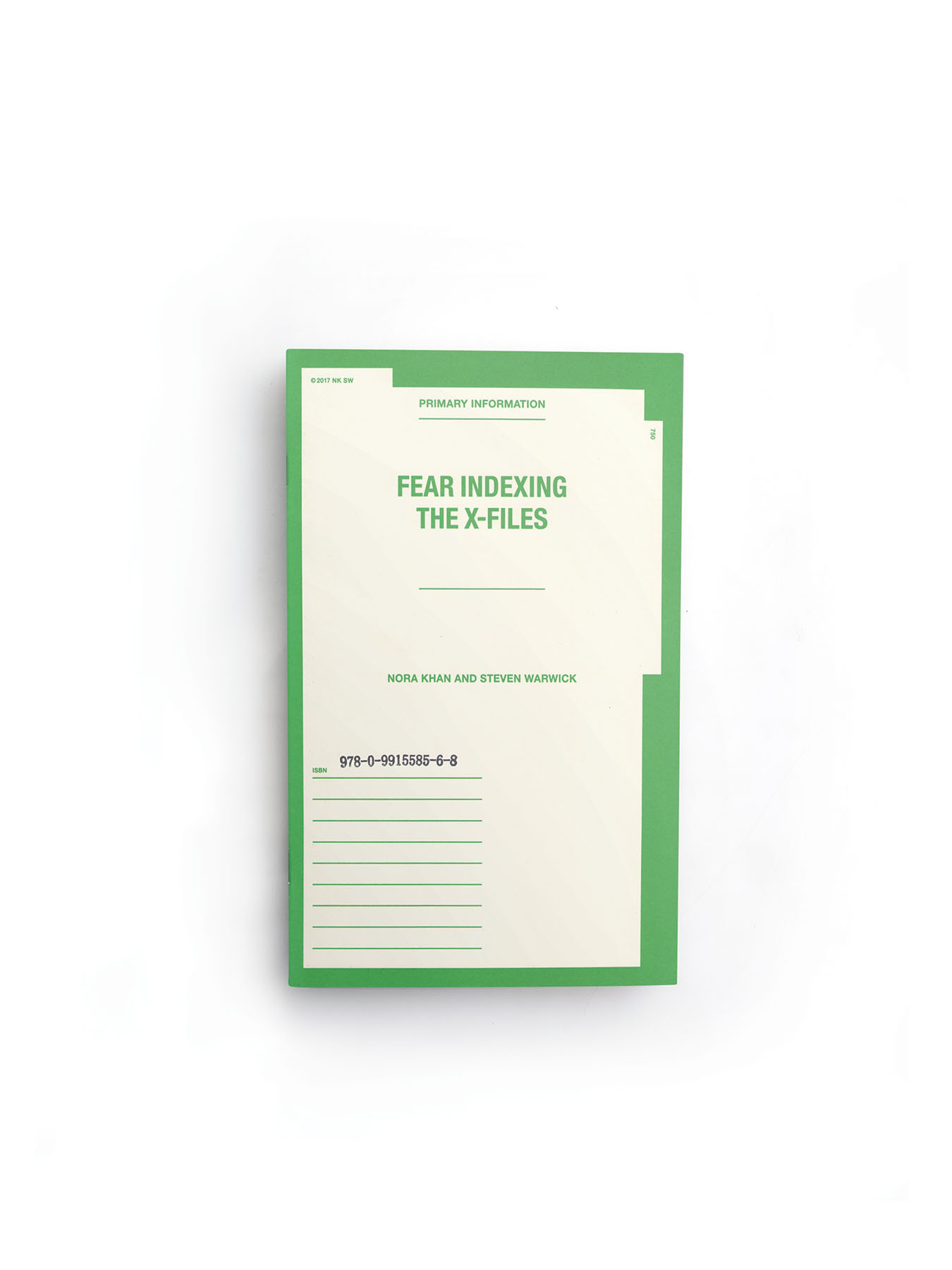 Fear Indexing The X-Files
Nora Khan and Steven Warwick
Primary Information
Based on a lecture of the same name, Fear Indexing The X-Files, a short book by writer Nora Khan and artist Steven Warwick, takes a look at the varied folk demons, paranoid fixations, and very real fears of the American public from 1993 to 2002 as seen through the show's nine seasons.

Khan and Warwick frame their analysis of The X-Files by establishing its conception, during a strange period of relative peace: between the end of the Cold War and the emergence of today's grinding war on terror, as the internet arrived on a mass scale. In this climate, with Americans lacking a universal focus for their attention and worry, The X-Files—in the authors' eyes—can stand as a barometer for a morphing cast of domestic fears.
Some of these fears—those focusing on the ability of rulers to control, intimidate, and monitor their citizens with impunity—have become almost universal to one degree or another today, and in the series are embodied in the Cigarette Smoking Man, a character who personifies state surveillance and malign influence. These concerns are mirrored in the growing paranoia of the show's lead duo, Mulder and Scully, furtively speaking on phones they suspect are tapped.
In this broad sense, The X-Files' focus on cover-ups and misinformation is in itself a reflection of its audience's deepening distrust with authority, but some of the book's most enjoyable passages home in on more specific fears, tying them to cited episodes and characters. Take Tooms, one of the show's most infamous boogeymen, who is unique in his ability to squeeze through tiny gaps in order to enter seemingly secure spaces. The authors suggest the character is a reflection of undermined confidence in the security, and sanctity, of the home in both physical and cultural terms. This concern around the degradation of traditional values is also apparent in episodes dealing with visions of small-town America besieged by outsiders, infiltrated by heavy-metal music and satanic worship, and undermined from within by inbreeding. The presentation of night clubs as sexual danger zones linked to violence, and online dating as a high risk and indeed potentially fatal practice, are two examples of the show picking up on both the sexual fears and biases of the time.
Above all, Fear Indexing The X-Files shows how, in the absence of external threats, 90s America came to see danger everywhere. That a reader almost need not have seen The X-Files to enjoy these insights shows both our appetite for deeper meaning in our entertainment and the inherent interest of a country's communal fears. —BRUNO BAYLEY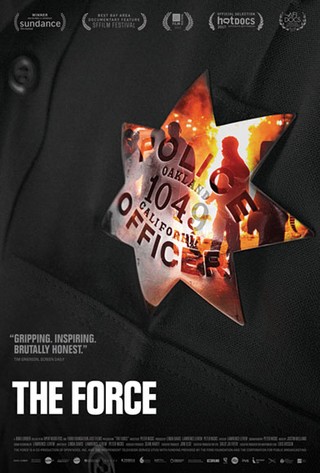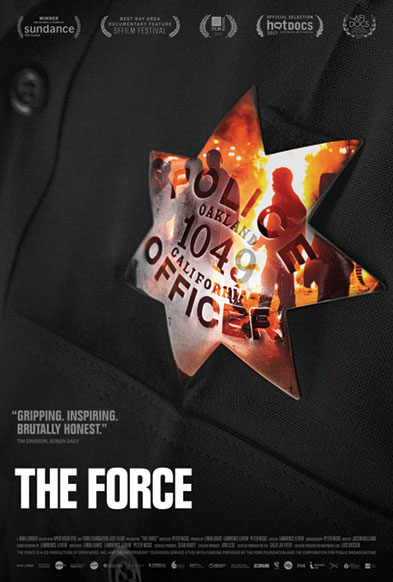 The Force
ITVS
The Force, Peter Nicks's documentary on the scandal-ridden Oakland police, focuses mainly on the newly named chief, Sean Whent, as he tries to fix the problems identified by the decade-long federal oversight that still lingers over the department. Nicks keeps an objective distance, leaving the viewers feeling as if we've entered a secret club that hasn't quite accepted our membership. We watch community meetings, press conferences, and lectures. There are no interviews, and we don't get to intimately know any of the officers. The Force isn't, then, a close look at the men and women who work there but rather a sweeping take of the institution and its systemic problems, a case study of a particular department that, over decades, has lost its city's trust and how, in the era of Ferguson and smartphones and body cameras, it's struggling to get it back. The most effective moments are those during the 26-week police academy, where we watch soon-to-be cops go through rigorous training exercises and debate, among themselves, about the appropriate times to use force (and how much force, during those appropriate times, to use). The "force" of Nicks's title can be the obvious colloquial reference—the police—but it can also be a much more literal, yet somewhat more opaque, allusion: how these public servants should wield the power and authority we give them. —ALEX NORCIA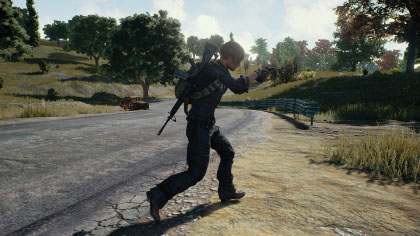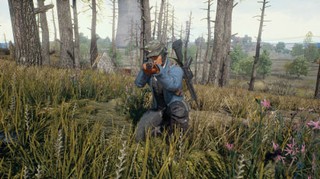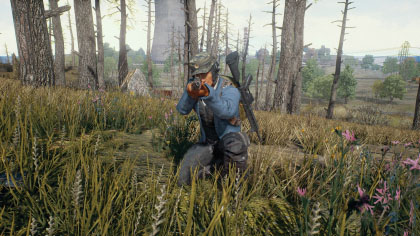 Playerunknown's Battlegrounds
Bluehole Studio Inc.
In most multiplayer games, when you die, it's only a few seconds before you're back in the mix with a chance for revenge. That's not how it works in PlayerUnknown's Battlegrounds, where 100 people are trapped on an island whose sole purpose is to host murder. You have one chance to be the last person standing.
Every decision in the game has consequences. Do you parachute into an area crowded with other players, hoping to search their corpses for better guns? Maybe you hide in a bathroom? The only living things on the island are people whose sole objective is to kill you, and every match is different. Battlegrounds' randomness is aided by being unable to select weapons; your only option is to scavenge the island for them and cross your fingers.
And while a match begins with the entire island available to players, Battlegrounds' true genius is that every few minutes, a mysterious and deadly blue force field begins pressing on the island, squeezing players into smaller areas to square off in.
Winning is not impossible, but it's incredibly difficult—a mixture of luck, skill, and more luck. But despite the odds being against you, you won't play a more satisfying shooter this year. —PATRICK KLEPEK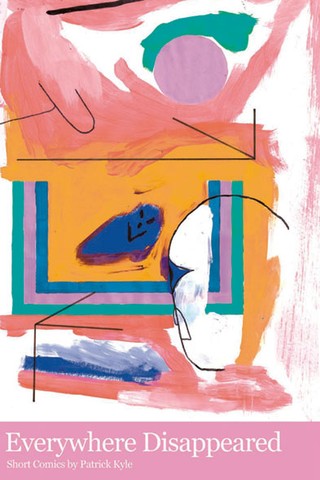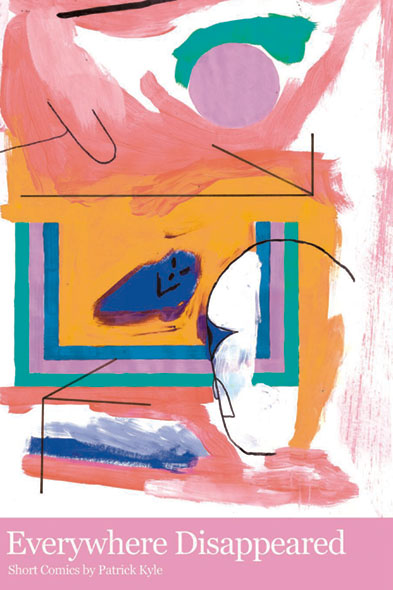 Everywhere Disappeared
Patrick Kyle
Koyama Press
In one of Patrick Kyle's comics from this new collection, the inventor of the smartphone—a Neanderthal-looking man—goes "into exile" with his "secrets." His invention goes with him: All phones around the planet vanish. With no other way to communicate, another man writes a letter to a girl, who discards it. Someone else finds it, snips it up, scans the pieces, and turns the original message into "art" to be sold at a zine fair. This is typical of Kyle: He buries his nihilistic wit with primitive illustrations and naïvely cryptic text. With Everywhere Disappeared, though, he's matured—even since his recent Don't Come in Here (2016)—tackling heavier themes, like class, failure, and routine. In another story, a creature is monitored through a slot as he wastes away in a room—a room that echoes our world. (He eats, reads, watches people dance on a screen.) In a third, an anarchist is alienated for refusing to shop. With his often panel-less pages, Kyle continues to push the boundaries of what exactly a comic can be. His stories are nonlinear, his characters painterly and abstract, his settings just apocalyptic enough—humorous, absurd imaginings of the effects capitalism has on human beings, especially artists.
What's most funny, though, is how real this all seems. It's not hard to imagine this happening. —MATTHEW JAMES-WILSON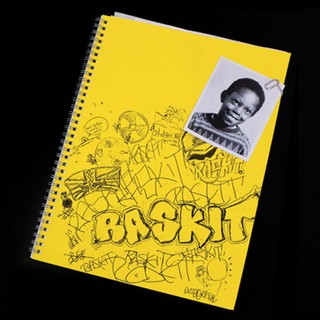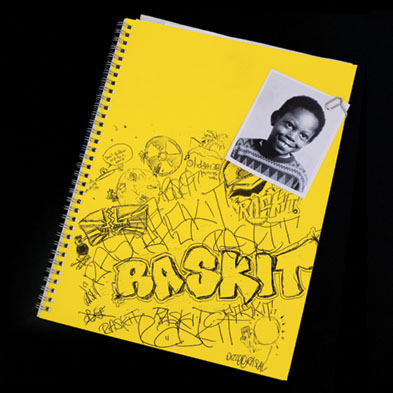 Raskit
Dizzee Rascal
Dirtee Stank Recordings
Fourteen years have passed since Dylan Mills released his seminal debut album, Boy in da Corner. In that time, he's graduated to become one of grime's elder statesmen, collaborated with artists as far-flung as Calvin Harris and Robbie Williams, and seen grime come full circle from shubz in Shagaluf and back into the basements of east London. On his sixth album, Dizzee Rascal has scores to settle, pushing back against youngblood competitors and reminding them he's the kingpin who kick-started the whole movement.
The first thing to remember is: Dizzee Rascal is the only rapper who can use the British colloquialism "bloody" in a verse and pull it off with a hefty amount of steez. The second is: Dizzee Rascal can out-rap any of the new gen, evidenced in the way Raskit is couched in sparse, bare-bones production—an ideal springboard for the MC to reassert himself. There's little in the way of radio singles here; instead Raskit is a relentless, torrential showcase of a veteran who can seemingly dip in and out of a genre as and when he pleases. All of which is to say, it's hard not to feel like Raskit is a showpiece for Diz. It's his greatest work since Boy in da Corner, a complete tour de force, but seems lacking in the thirst that originally made Dizzee Rascal such an interesting proposition. — RYAN BASSIL