Cities Need to Invest More Public Funds to Help Homeless Teens
These activists are committed to ending Canada's youth homelessness crisis.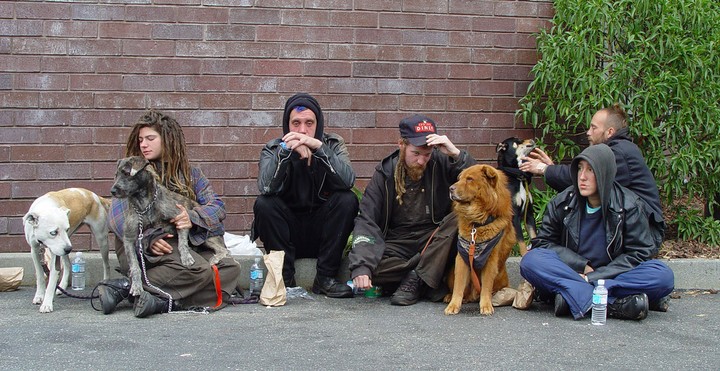 Image via Flickr.
In its 2016 report, the Alliance to End Homelessness Ottawa, an association fighting teen homelessness, claims that thousands of teenagers have sought refuge in emergency shelters last year. Some have fled their homes because of domestic violence and others had mental health issues. But the vast majority did so because they were homeless. The proportion of young people aged 16-17 within youth shelters has drastically increased. And when they were unable to find space, the homeless living on the street in Ottawa were left alone.

Like many cities, one of the leading factors of homelessness is the lack of available public housing. Demand for public housing in Ottawa outstrips supply. Ten thousand eligible households are eagerly awaiting to be placed in rent-controlled buildings. Meanwhile, in 2016 only 250 new social housing units were built in Ottawa's metropolitan area.
Marie Josée, the spokesperson of Action Logement Ottawa -- a housing loss and homelessness prevention organization -- says Ottawa's housing situation is in a state of crisis. According to Josée, there are roughly 22,000 subsidized units for a metropolitan population close to 1.4 million and a seven-to-twelve-year wait.
Action Logement Ottawa provides a host of housing services to Ottawa's homeless population including finding temporary housing, filing applications for permanent housing on the social market, obtaining special priority status on the waiting list for affordable housing, as well as informing people of and defending their rights as tenants.
"As an organization, we sit on many boards and steer committees related to housing and homelessness prevention. We do a lot of big-picture advocacy," said Josée whose main role is to "liaise a lot with community partners and stakeholders, not only to identify gaps, but to forge partnerships and start programs that will address these gaps."
Since the '80s, the city's rents, occupancy rates and housing prices have surged while the construction of affordable and private rental accommodations declined despite the growing need. "For a city with rents as high as Ottawa, even people who receive social benefits cannot access housing without a housing subsidy. The numbers just don't add up," said Josée. She claims the increasing cost of hydroelectricity and of property taxes also "make it very expensive for landlords and affordable housing providers to build and operate rental accommodations."
---
Check out more videos from VICE:
---
Action Logement Ottawa has railed against the lack of public services to help homeless girls find decent housing solutions as well. What struck Josée the most was learning that when a teenage girl finds herself homeless, her main solution is to get pregnant, end up in a family shelter with her baby and get on the priority list for affordable housing. "When becoming a teenage mother is the only viable strategy to access affordable housing," she said, "there is a huge problem."
Countless teenagers simply can't afford the existing housing resources.
Previous conservative governments had turned down demands for more affordable housing, shifting the blame on the potential tax burden. In 2015, the City of Ottawa scrapped $4 million of its own discretionary spending typically allocated to the development of new affordable housing. But Josée contends that the benefits of building more social housing outweigh the costs, arguing that spending on food banks and youth centers is significantly higher.
Last year, according to the Alliance to End Homelessness, family shelters that included teens were so overcrowded that the city paid for 40 families on average to stay in motels per night. By July 2017, this figure had exceeded 200. This situation echoes recent findings that the average costs associated with the incarceration and hospitalization of homeless people were roughly triple the costs to provide a homeless person with housing.
But beyond social housing problems, soaring inequality and public finance issues, another priority for Action Logement Ottawa is to shift public perceptions of homelessness. Josée wants Canadian society to change the way "we talk about homelessness" and "stop demonizing vulnerable people, laying blame, and shuffling them on to other neighborhoods or cities."
The homelessness crisis in Ottawa reveals growing levels of poverty in Canada's capital. Countless teenagers simply can't afford the existing housing resources.
Family shelters that included teens were so overcrowded that the city paid for 40 families on average to stay in motels per night.
In its 2016 progress report, the Alliance to End Homelessness Ottawa called for more provincial investments to help homeless teens gain access to social activities, return to school and find temporary or permanent housing solutions. Their prayers have been partially answered. In early 2017, the city received $148 million from the Provincial government of Ontario to reduce teen homelessness. This financial package contained a special provision to curb evictions and build sustainable council housing and youth centers offering social services. It's only a first step but it highlights that public intervention is by far the most effective solution.
Readers in Canada can get involved by remaining informed of the causes and effects of lack of affordable housing and homelessness in general. They can support affordable housing and homelessness prevention organizations such as the Alliance to End Homelessness or Action Logement Ottawa by volunteering their time, sitting on their volunteer boards, helping with public awareness or making financial contributions to those organizations (a great number of these organizations are charities).
Combat youth homelessness by donating to Covenant House.