There's no shortage of high-profile characters — porn stars, Fox News hosts, even Ukrainian oligarchs — involved in the federal criminal investigation of President Donald Trump's longtime personal lawyer, Michael Cohen. The prosecutor leading the case, Robert Khuzami, is the least glamorous but possibly the most important.
After returning to government work just over a year ago, Khuzami, 61, is now playing a leading role in the ever-expanding special counsel investigation into the Trump campaign's ties to Russia. When Cohen's shady business dealings got him mixed up in that probe, the special counsel's office turned the case over to the Southern District of New York — the most prestigious U.S. attorney's office in the country — where Khuzami is technically second-in-command.
Khuzami's boss, U.S. Attorney Geoffrey Berman, recused himself because Trump appointed him (and personally interviewed him for the job, against protocol). That left Khuzami in the driver's seat — and also facing the tweet-wrath of the commander-in-chief.
Khuzami has spent his entire career walking back and forth through the revolving door between government and Wall Street. He took down a terrorist ring during his first stint as a federal prosecutor in the 1990s. After going to work for Deutsche Bank, he rallied Republicans to re-elect President George W. Bush and donated to John McCain's 2008 presidential campaign. Once again working for the government, Khuzami extracted historic settlements from big banks as a financial regulator under President Barack Obama.
After going back to a Wall Street firm one last time, Khuzami finally ended up where he is now: at the center of one of the biggest political scandals in American history. Just last week, investigators, under Khuzami's orders, seized materials reportedly related to 2016 payouts to two women who claim they had affairs with Trump in return for their silence: adult film actress Stormy Daniels and former Playboy playmate Karen McDougal.
Here are five things you should know about Khuzami:
Trump can't fire him
Khuzami is a career official, not a presidential appointee, which keeps him protected in the event that Trump decides to go on an axing spree at the Justice Department. Had Khuzami's boss, Berman, not recused himself, Trump could have fired Berman, who was appointed by the president. But Berman relinquished leadership of the case, and Trump can't do anything about being stuck with Khuzami.
He worked on one of the biggest terrorism cases in U.S. history
As a young prosecutor in his 30s, Khuzami worked on the team that put an Egyptian cleric in prison for life, for plotting a bombing spree in New York City in 1995.
"This is a case involving a war," Khuzami said in his opening line to the jury.
For nine months Khuzami and his colleagues at the U.S. Attorney's office tried Omar Abdel Rahman and nine of his followers for conspiracy charges. It was the biggest terrorism trial in U.S. history.
Interestingly, the lawyer who defended Rahman, Lynne Stewart, was later convicted of helping him communicate with his followers despite an order not to. Stewart's case has come up several times during hearings in the Cohen case because Stewart, like Cohen, was a lawyer, and the judge in the case took special precautions to protect attorney-client privilege by appointing an independent special master.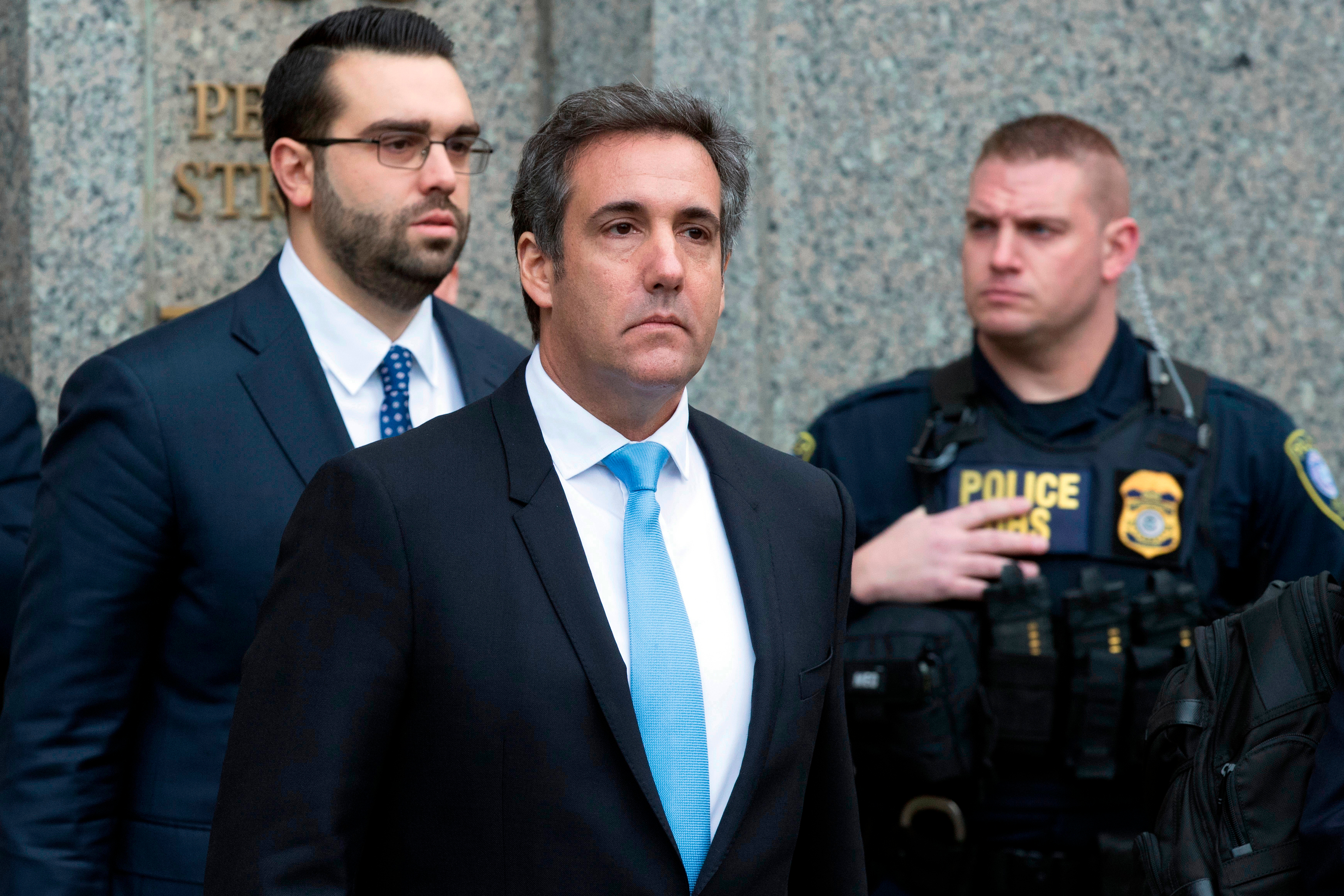 But he let the bankers go
Khuzami left government in 2002 to work as an attorney for Deutsche Bank. But when walked back through the revolving door in 2009 to take over the enforcement division at the Securities and Exchange Commission, he vowed to take on Wall Street and punish those responsible for the financial crisis.
Khuzami planned to "hold responsible those who violated the law during the financial crisis and deter future misconduct through vigorous law enforcement efforts," he said in 2010.
By 2013, he had secured million-dollar settlements with JPMorgan Chase, Citibank, Goldman Sachs, and other firms for their roles in the 2008-2009 financial crisis. But Khuzami faced criticism for touting the settlements as punishments given the banks' enormous revenues; he held no senior executives accountable.
He's a fan of George W. Bush and the Patriot Act
During his time as a corporate lawyer for Deutsche Bank, Khuzami defended former President George W. Bush in a speech at the 2004 GOP convention in New York City. For four minutes, he rebuffed criticism of the Patriot Act and said the law was an essential tool for prosecutors to prevent terrorist attacks.
"Some politicians have waffled over their commitment to safeguarding America," he said. "We will have the leadership and will continue to protect both our lives and our liberties by re-electing President George W. Bush."
He used to work with one of Trump's attorneys
Khuzami and one of his lead opponents in the Cohen case, Trump's lawyer Joanna Hendon, go way back. Hendon's six-year tenure as a federal prosecutor in the Southern District of New York in the late 90s overlapped with Khuzami's. The two don't appear to have worked closely on any cases, but they definitely know each other.
Now, Khuzami and Hendon are fighting over who should have control of reviewing the thousands of documents seized during the raids of Cohen's home, hotel, and office last week.
Normally, an independent group of federal prosecutors called a "taint team" would review each document for potential violations of attorney-client privilege and turn over any unprotected documents to Khuzami and the investigating attorneys.
But Hendon thinks this case deserves a different protocol given the stakes; she wants Trump's lawyers to be able to review all the documents before investigators and decide what to hand over.
"I'm asking for the president to have the opportunity to protect this sacred privilege," Hendon said in court Monday. "The government has no right to see documents seized from President Trump's lawyer, only the president holds this privilege."
The judge decided Monday to allow Cohen's attorneys and a taint team to review the documents simultaneously. She may also appoint an independent special master to oversee review of Trump-related documents against Khuzami's team's wishes.
Cover image: Securities and Exchange Commission Enforcement Director Robert Khuzami announces that Goldman Sachs & Co. has agreed to pay $550 million to settle civil fraud charges that accused the Wall Street giant of misleading buyers of mortgage-related investments in Washington, on Thursday, July 15, 2010. (AP Photo/Jacquelyn Martin)