I'd define a style icon as someone who gets away with ludicrous flair that on another human would be preposterous.
And that's why I love Bowie. I love that he's self-mocking but confident, flamboyant but accessible. I love that he has always been willing to try things, without fear of failure, to shimmy through fashions, trying everything on, and finding that most things fit – after he's made his alterations.
This is the key to his success. Where other great musicians are eternal because they choose to freeze-dry themselves in time (cough *Prince* cough), Bowie steals without prejudice. He steals musical styles, he steals countries, he steals clothes, and he steals thoughts. He stole teenage Jennifer Connelly from her bedroom that one time.

Technically, he stole her brother. But he was two moves ahead of the game.
He steals when you are sleeping, he steals when you're awake. Mick Jagger's said that you should "never wear a new pair of shoes in front of him," because of course he'd run right out and buy them and they'd look better on him to boot.
The cultural kleptomaniac has spent years bouncing from one musical style to another, and the most obvious expression of his state of mind is through his hair. For most men leaving pubescence their hair becomes a natural source of worry. Not for Bowie.
He returned this year aged 66, looking all establishment and grown-up, somewhere between Bryan Ferry and post-James Bond Pierce Brosnan (with just a hint of Judi Dench).

Bowie, David Bowie.
And having him back reminded us of the man that wore Ziggy's catsuits and the Thin White Duke's Teutonic uniforms—all now mummified behind glass at the V&A Museum. But without Bowie inside them they're just flaccid cloth, and what are these outfits without the hair? The hair is the furry frosting on the delicious, androgynous cake.
So. David Bowie: cultural chameleon, trend thief, and outright hair hijacker. Over the course of his career he's had pretty much every hairstyle available to man and, indeed, woman. Where other male performers stick with whatever coif brought them to power (whether it's Tom Jones' kinked-out halo, Jagger's ragged crow-top, or Iggy's scraggle of bleach blonde), Bowie revels in transmutation.
Bowie has treated his hair as an extension of his protean public persona, the crowning glory of whatever outfit matched the style of the day. He's made the hairdresser his most trusted ally in his quest towards zeitgeist mastery and changed his hairstyle along with every album, which—note to modern bands—at his peak he managed to release twice a year.
Any Bowie junkie worth their milk and red peppers knows that before he captured the public imagination through Ziggy Stardust in 1972, he'd spent the sexual '60s as a frustrated journeyman, searching for the magic song that would ignite his career.
And searching for a razor to shave this moustache off.
But before there was Ziggy, or the Spiders, there was a young man from south London, desperate for attention. In 1964, 17-year-old Davey Jones deployed his rhetorical talents to convince a concerned BBC reporter that his "Society for the Prevention of Cruelty to Long-Haired Men" had legitimate grievance.
Seventeen year old Bowie sticking up for long-hairs everywhere.
During proto-Bowie's wilderness years he appears to have been a punching bag for malicious hairdressing students who administered perms, fringes, and hasty snips without a thought for his future stature. (The other notable feature of these early shots is the amount of grinning, which he curtailed considerably in the 1970s.)
Note the insane mop of blonde hair last seen on an socialist Swedish pig farmer, the conehead beehive combo that he must have got at the local old ladies' hairdresser and the pseudo-Gallic moptop that went with his total-Gallic turtleneck top.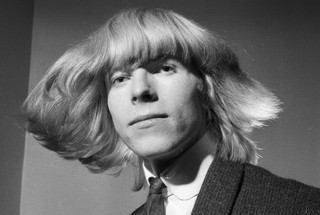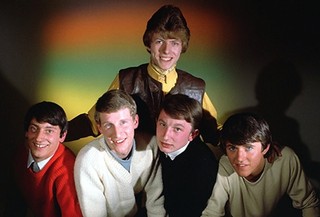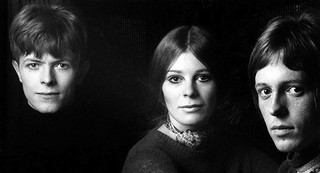 From 1965-1969, Bowie went through bands like a 16-wheeler through an AMC Pacer. Here he is with a wide variety of young, hopeful British musicians, all of whom he would shed along the way.
My particular favorite is the black and white three-piece, a folk-rock outfit called The Feathers, who specialized in the kind of kitschy parody that Bowie dabbled in before getting serious (see also, "Sell Me A Coat," another sub-Jacques Brel ditty, but without the aged world-weariness most French singers offer to balance the twee). His sartorial choices were as questionable as his hair.
For a natural lyrebird like Bowie, surrounding oneself with the right influences is vital. Bowie the era-defining musician and Bowie the style icon hadn't yet emerged because the influences he was soaking up were too provincial, themselves faint reflections of others: a little Cat Stevens, a little Dylan, a lot of Beatles.
It should be quite elementary at this point that Bowie's voice relied on the length of his hair.
Finally, Bowie was ready. Released in 1969, Space Oddity looked like it would thrust him into the mainstream, capitalizing as it did on the fascination surrounding the Apollo 11 moon landings. Bowie channeled the world's awe at humanity's boot on the threshold of the universe and weaved it into a tuneful tale of a lonely astronaut gazing back at space.
And he did it looking like this: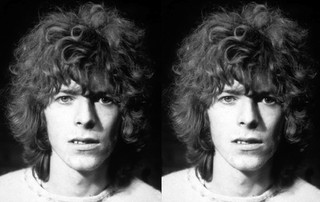 Note the slightly dated barnet, a style rocked by many of the scene of 1967: Eric Clapton, Hendrix et al.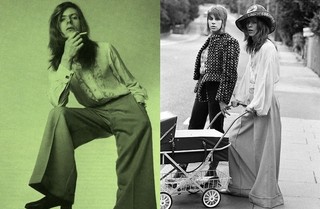 By 1970, Bowie had tasted delicious, succulent success. His album David Bowie showcased an evolving musical sound and "Space Oddity" had opened many doors. But he wasn't yet fully formed, and in the next couple of years he absorbed many of the influences that would prove transformative.
So he set off for New York, where things were happening. Bowie had heard of Andy Warhol and arrived at The Factory equipped with a song for Andy.
Andy Warhol didn't like it. He thought Bowie was mocking him. But he had his people photograph and film Bowie, who responded with a bit of mime performance.
Bowie, at the zenith of his hippy hair phase, returned to London newly energized and with a new name cribbed from Iggy Pop (he added a Z! Ingenious, no?).
Endless scanning of Italian Vogue magazine produced vital references, including a shoot by Masayoshi Sukita of Kansai Yamamoto's clothes. Both men would become important collaborators, but for now Bowie deployed imitation—or downright theft—as the greatest form of flattery, fusing Ziggy out of the East/West divide.
Bowie also had make-up artist Pierre Laroche onside. He was responsible for all these looks, meaning that his work could reasonably be called era-defining.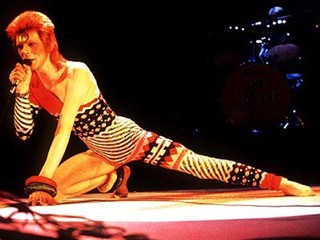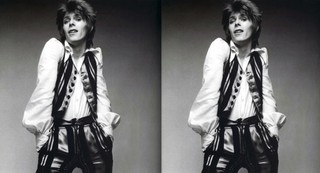 Of course, spending two hours a night finessing your make-up and prepping your weird one-legged cardigan jumpsuit took its toll on Bowie, so his next move saw him strip back the warpaint, shed the characters, and veer briefly into the soul experiments that made up Young Americans. This included a quasi Rod Stewart feathering (but without the creepy old man-vibes).


As his albums tumbled out through the 70s (eleven of them!), Bowie continued to announce his changes in direction through fashion and drastic shifts in hairstyle.
The newfound minimalism of The Thin White Duke was fuelled by the aforementioned milk and peppers diet and reflected the austerity gripping the world in the 70s. The Duke found expression through a simple slicked back pompadour and a plain wardrobe.
Meanwhile the accompanying music spanned epicgrandeur ("Station To Station") and the economical funk of "Golden Years" and "Wild Is The Wind."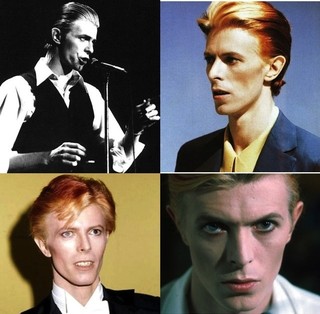 This is my favourite Bowie phase. Understated but still totally alien, standing apart though cheekbones, flame-hair and an intensity derived from too much Aleister Crowley and Colombian cocaine.
But Bowie's chameleonic nature would trip him up in the 1980s. He was only a trendsetter in so far as he was willing and able to choose the right influences.
This left him open to some terrible decisions as the horror of the new decade dawned. Gone were the days of sexual liberation. Gone were the last gasps of western socialism, dead at the hands of the fuel crises of the 1970s. Gone was the ideal of creating a new and egalitarian world. The dream of the 80s was cheap credit, plastic clothes, and disposable everything.
And for Bowie, the 80s looked like this…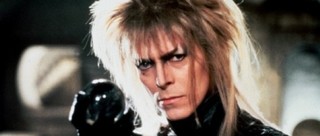 The world took on bad taste and Bowie followed. Bad Bowie.
Note the decline in musical quality that corresponded with his hair topiary. Unmoored from good taste, unrestrained and sponsored by Pepsi, Bowie embarked on the preposterous Glass Spider tour, which suffered from too much money, backing dancers dressed as Times Square hookers and a narrative that remained as mysterious to the audience as did his megamullet.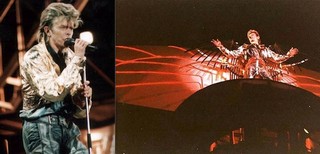 Oh, and then there were the 90s. Let us not talk of the 90s.

Ok, you got me. Let's talk of the '90s. Soul patches, gross goatees, hair rampaging down his face like ill-advised landing strips and hair that looked like Playdoh.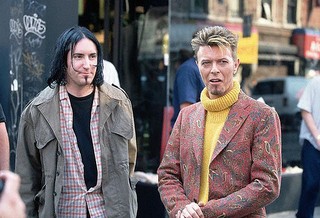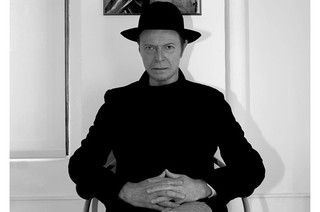 I'm going to go ahead and blame Trent Reznor for some of this, because c'mon. If nothing else the goatee is definitely your fault, Trent.


So, new David Bowie, welcome back. I'm not coming out in favor of your hat just yet, but know this: no other pop star has rocked so many looks (Rihanna might be catching up) and for this, salutations.
Now, for your next trick, David, how about stealing a thing or two from... Grimes? Gaga? Death Grips? Die Antwoord? Anyone working in J-pop? The world awaits your next move.
- - - - - -
Want more? Read the music and style histories of Justin Timberlake, Prince, Björk, Beyoncé and more...
Davo is frequently told that he looks like either Willem Defoe or David Bowie. He also writes about Gear for Noisey and he's on Twitter – @battery_licker.
Style Stage is an ongoing partnership between Noisey & Garnier Fructis celebrating music, hair, and style.