This isn't technically "Music News" or whatever, but it's Friday evening and this might just be the greatest picture of all time. I found this image on Rick Ross's perennially-stellar Instagram account. They appear to be dining at a Miami Wingstop. Wherever they are, I am obsessed with this image.
This photograph contains multitudes. What are they drinking? Strawberry Fanta? Lean? Why does DJ Khaled look so upset? Who took the picture? Wale, right? Gotta be Wale. And who's the third dude? Why's there just a semi-smoked cigar on the table? How are those teenagers in the background not freaking out? If they're drinking champagne, why are they just drinking one bottle? Does Rick Ross really need those glasses?
The more you stare, it becomes even more vexing. Are those customized Maybach Music Group cups? Those are definitely customized Maybach Music Group cups. Rick Ross is wearing Champion sweatpants; that goes against my entire understanding of his sartorial tendencies. If I had to guess, the plastic tablecloth says "Rick Ross" on the side, because there's a line that could be an I and like half a C and something that is vaguely K-esque there.
And the cutouts.
THE CUTOUTS.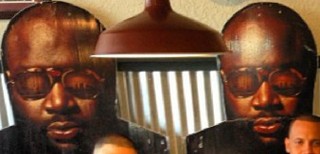 Rick Ross must take those with him everywhere, right? The answer is obviously yes.
To summarize: Rick Ross, wearing Champion-brand sweatpants, eating—nay, feasting—at a Wingstop that he owns with DJ Khaled, at a table with his name on it, with two cardboard cutouts of his own visage in the background. This is the very image of American Royalty in 2013, and this knowledge makes me happier to be living in this than I have ever been before.
Drew Millard lives on the Internet and will prove it to you on Twitter - @drewmillard