Kate Nash: Remembering the Little Things
The British singer-songwriter tells us how her record label broke up with her over text message, and how sometimes you forget to pay the water bill.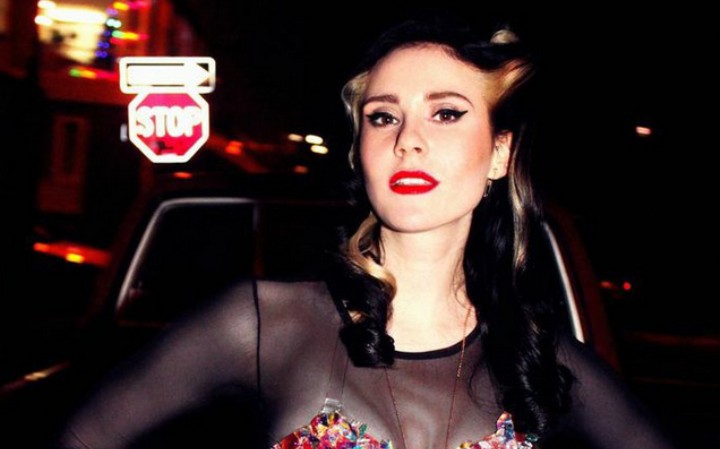 Photo credit: Prince & Jacob
You could say Kate Nash is the original misandrist pop star. After all, the 27-year-old British singer-songwriter came up in the first wave of Myspace as a music discovery platform, and made a name for herself by writing songs that were unafraid to pick apart the men she dated—and herself—in cutting, relatable terms. Her 2007 debut Made Of Bricks included the No. 2 UK hit "Foundations" that laid out the cracks in a toxic relationship from drunk-puking to fighting in front of friends at parties. Her unbridled honesty and deeply personal, cheeky lyrics won Nash a zealous fan base, and she followed up her debut with sophomore effort My Best Friend Is You in 2010.
But by early 2011 when she began writing 2013's Girl Talk, Kate found her life in utter shambles. Emotional and broken after a terrible break-up and newly armed with an all-girl band, she was determined to explore the rrriot girl tradition that had always been an influence on her in a deeper way. Her new sound was a far cry from her indie pop beginnings, and Kate's label unceremoniously dumped her when they heard the finished record. Undeterred, she went forward with her plans to put out Girl Talk in 2013 by crowd-funding the album's release.
Nash recently moved from London to Los Angeles—partially inspired by recording Girl Talk in Echo Park's beautifully spooky Paramour Mansion—and has been working on a new album alongside a whole host of side projects. She's participated in the The Distortion of Sound documentary about how technology affects sound quality, signed a publishing deal with Warner Chappelle, and is in the process of finishing up a musical. So how does she find time to breathe? Binge watching TV, just like the rest of us. We talked about all of this and how despite managing her own career she finds it hard to remember to pay the water bill. It's the little things, you know?
You recently signed a publishing deal with Warner Chapelle. Can you tell me what led to leaving your label and the trajectory of your career that led you away from your label?
The issues with my label started because of my last album. I started writing Girl Talk in 2011, and that year I'd gone through this big breakup and I was really determined with my work. I knew I needed to make this album and it was record that I wanted to make. I was super determined and I knew this was my survival. My label wasn't really involved at this point, so I went and met with Tom Biller in a coffee shop in LA and we ended up hanging out for six hours, we totally hit it off. I definitely wanted to work with him, so we just booked this insane place called Paramour Mansion—there's loads of crazy shit in it. It was built by a silent movie director in the 1920s and then it was a covenant and now this lady Dana Hollister owns it. And Tom lived there for a while and worked on the Fiona Apple record there. So he knew the owner and set it up for us to live and record there.
So you lived and recorded in an old haunted mansion for the duration of working on Girl Talk?
It was such a crazy, cool time that I will never ever forget. I have an all-girl band so it was just four girls living in this mansion and going through all the emotional stuff and making this record in a giant ballroom. You can hear where we recorded in the record I think. And then, my label came out one time to hear some of the stuff I was doing but that was it. I came back to London with a completed album and five music videos and my label said 'we need more content.' I didn't understand that! I could just kind of tell that something was up from the reaction and I knew that something was going on. We were supposed to be finalizing signing my deal and my manager went to do that and then got on a flight. She was going to wrap it up and send over the deal and then she was flying back that day. So I texted her like 'hey, what's going on, how did it go?' And she texted me to tell me that I got dropped and she was getting on a flight and couldn't talk to me for ten hours.
You found out that you were dropped for you label via text?
Yeah. She is not my manager anymore, by the way. But, this huge bomb was dropped via text and I was sitting on my sofa like 'Wow okay, this is fucking crazy!' So basically, it was a good lesson about the music industry in a million ways. I just had to become even more determined, it kind of fit into the mentality that I already had going on which was just like, marching through all this shit and being strong and being determined. I felt like a warrior over my record. I asked them for the help. I asked my fans for help too, and they were just really incredible.
So everything that had to do with the release of Girl Talk was done by you and your fans?
Yes! It was me and my sisters and my mum and the girl band, we were printing flyers and advertising the record coming out. And the girls were emailing like every blog. We kind of became this in-house team in my living room, super DIY which felt cool. On my birthday, when I had that really difficult year, my fans made this 20 minute video of clips of all them wishing me happy birthday. I was like crying in my car I have the best fans ever.
And then after that came the publishing deal?
I came to LA at the beginning of the year and I wanted to sign a publishing deal before a record deal because I'm not quite ready for a record deal yet. I want to have my record more in shape. I'm writing demos now but I want someone to know what they're signing. So I don't get asked to re-do stuff. I'm really nervous about it! The publishing deal is great because it gives me financial security and I spent like all of my money keeping afloat as an artist and touring and stuff, which is what I would always do. That's my art and that's what's important to me. It's scary but it paid off.
I wanted to ask you about the all-girl band. Was that a specific decision to have all women?
I definitely consciously made the choice: I wanted girls onstage. I did a panel talk in London in 2010 on the gender gap in the music industry. And I found out all these crazy statistics that pissed me off. And I was like this sucks there's not enough girls here! And the media was really hyping that there was loads of women at the time as well, but every time, they'd just list like ten girls. They'd be like 'Kate Nash, Lily Allen, Florence and the Machine, Ellie Goulding—there's so many girls!" And it was like, no there's like ten of us! We're doing really well, but there's ten of us, that's not a lot of girls. And even less female songwriters and musicians onstage. I was just kind of sick of seeing dudes onstage, I'm not relating to that. I was like when I have my show I'm talking about female empowerment, why would I have like five dudes behind me? The 13-year-old girl at the front is going to look at that and say 'Oh, I don't know if I could ever do that, I'm intimidate.' Now they come to my show and I'm like running on about girl power and they see my guitarist solo the shit out of her guitar an they're like 'holy shit, that could be me!'
That's something I've always loved about your music, it kind of pokes fun at men a lot and it's rebellious against a lot of expected or standard female behavior.
Yeah! It's definitely got a big sense of humor and I've always kind of thought I like to mock myself; I'm honest about the way things can be in relationships. When you're growing up and even when you're an adult! I guess the women's side of things is the insecurities that we have that makes us the 'crazy' ones, and getting a handle on that and learning when someone is actually bad for us. I personally had to go through being treated terribly before realizing what being treated terribly even was. I had these ideas of love and I just wanted to be in love and be in a relationship. It's kind of the Disney or the Romeo & Juliet ideas, you'll go through anything and die for each other... then I had this moment where I was like, you're not supposed to 'go through' anything for someone! Someone's not supposed to make you go through really bad stuff. It's this romanticized thing and it's actually really unhealthy. There should come a point where you're like 'no, fuck you, I'm not doing that.' I'm not a doormat! But it takes a while to realize that.
Tell me a little bit about Distortion of Sound, the documentary you were involved in.
I filmed for it about a month or two ago. I went to their studios and did an interview. It was really cool because the director was so passionate, and it was interesting for me to learn stuff too that I actually didn't know in regards to sound quality and what we're actually getting now.
I know you've acted in the past. Since you moved to LA, are you exploring anything with the acting side of things?
I've been auditioning for things every now and then, I'm taking a really great acting class at the beginning of the year. But it was really intense and a lot of work so I needed to take a little bit of a break. I wanted to focus on writing a bit and I'm working on a musical as well. It's this crazy story set in Paris in the 1920s and the Maharaja comes over from India and he has three wives. And it's kind of like he's having a mid-life crisis and he has to make the right choice, and everyone has these choices about love and money and doing the right thing, it's a really cool story. The director and I have been working together for a few years but the songs and everything need to be finished by the end of August, so the deadline is really on now.
And you're working on new music for a new album?
Yeah, I am but I don't have a timeline and I'm in the writing stage. My brain is resting a little bit from touring and running everything for like two years straight. The interim period is the worst for an artist because you're like 'I'm never going to write again!' Going on tour or playing a show become foreign, but then it's like riding a bike, and you figure it out. But I had like three days off in the last two years, so I think my body's a bit fucked up. I like to watch loads of movie and TV, listen to loads of music and fill back up.
Caitlin White also enjoys TV. She's on Twitter — @harmonicait
--
Frankie Cosmos Is Here to Show You Her Own Universe
Courtney Barnett Told Us How to Stop Writing Terrible Poetry and Land a Record Deal