#BASED in Baltimore: Schwarz Is too Weird for Even the Internet
We spent time with the absurdly talented and straight-up absurd Baltimore producer/rapper Schwarz, who's carving out a post-everything space for himself in his city's experimental music scene simply by keeping it posi.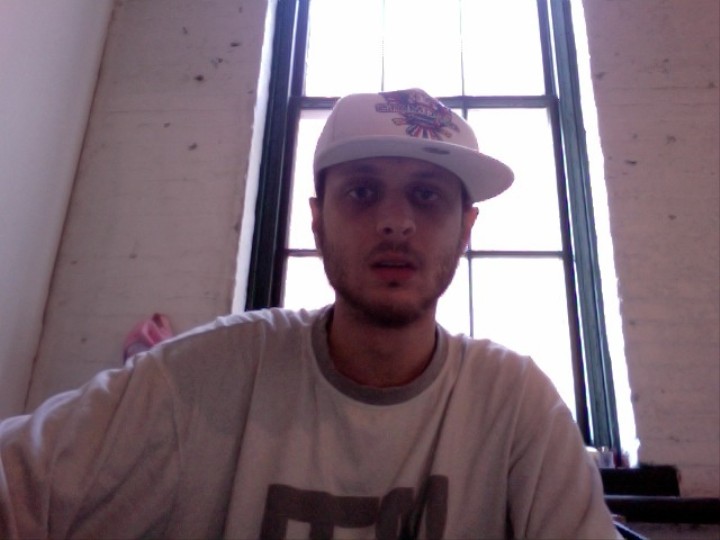 Selfies by Schwarz
A black brick of a laptop sits unattended on an empty stage, feeding M.I.A.'s avant-pop musical middle finger Matangi, all through the Crown, an open-minded, open-eared Baltimore bar and occasional performance space. About a dozen people are here two hours before the start of the Thunder Zone Tour, featuring Internet rabbit hole nu-metal mappers Extreme Animals, Midwestern electro-rap white boy weirdo Juiceboxxx, out of the closet battle rapper DDm, and Schwarz, the Bmore by way of St. Louis DJ, producer, and posi-vibes facilitator and one of the most compelling artists in a city full of freak-flag flying dudes doing their own thing.
The Crown is located on the fringes of an area called Station North. Hipster-heavy and half-sketchy like plenty of other interesting parts of Baltimore, it's currently being pimped by the local government as Baltimore's Cool Arts District. At the same time however, the Baltimore City Police Department has spent the summer and fall raiding D.I.Y. venues not far from Station North (The Thunder Zone Tour was scheduled to be at one of these venues but was moved after a bust a few weeks ago was highly publicized), which as anybody who actually cares about the arts would know, are crucial creative tributaries that flow into the larger, tourist-appealing spots (in July, when I asked the BCPD press liaison if there was a concerted effort to clamp down on quasi-legal D.I.Y. spots, he did not get back to me, but trust me, there is).
This Charm City inside baseball is important because it highlights the tenuous, embattled nature of the Baltimore music scene right now, and the reason why it's so hyper-supportive and singular. Baltimore's moment to be highlighted by the Rolling Stone magazines of the industry has passed because it's gotten hard to construct a clean narrative out of the scene, and the Internet, which has seemingly lost its desire to pull things out of obscurity and do the necessary music nerd heavy-lifting, is going to be unaware of what's happening here until the "right" people tell you it's cool. Sometimes, it feels like year zero here, and that's really exciting.
When Matangi ends, Biggie Duets begins, probably because it's just the next album that popped up on iTunes. A few songs in, Schwarz shuffles up to the laptop, cues Steve Reich's Piano Phase, and lets Reich's spare, minimalist plink-plonk leak across the room, now filled with three times as many people. Schwarz follows up 20 or so minutes of Reich with a classical piano cover of Evanescence's "Bring Me Back To Life." Yep. Finally, he grabs the microphone.
"Baltimore, how y'all fuckin feeling?," he asks, in a throaty mixtape DJ shout familiar to anybody who has heard his life-affirming, every minute of it catharsis single "U R Beautiful," from earlier this year. "You ready to party tonight?" DJ Khaled's Future and Nicki Minaj-assisted "I Wanna Be With You" plays, and after that, Fabo's "U Don't Feel Like Me." Then, things get weird and very Schwarz-like: The Red Hot Chili Peppers' "Otherside" pumped up with dirty south 808s, and a dubby, clubby remix of the Zombies' "Time Of the Season."
Right there, is Schwarz's fuck-it, grab-from-anywhere, force-it-and-make-sonic-connections-out-of-nowhere aesthetic. Modernist minimalism makes way for a cheapo cash-in piano cover of a mid-2000s hard rock hit slides under one of the year's most heartening club jams, with diversions into the Internet rap underground, and post-everything refix world of Soundcloud and beyond. Back in September, at this same venue, Schwarz ended a release party for punk-rap poet Abdu Ali's Push + Slay album by announcing that he'd just be playing one of his favorite records straight through for the rest of the night, if that was cool with everybody. Cue every weird-ass minute of Mike Oldfield's 1990 album, Amarok, an hour-long, in-quotes trek through world music, appalachian folk, and dark-edged new wave. Yes, it was cool with everybody. It was the kind of unpredictable, damn near trollish move that brought us out to the show in the first place.
"Sometimes, I wish I had a more narrow aesthetic," Schwarz says, in a hesitant speaking voice far from the Fatman Scoop for the cool kids persona he inhabits on the mic. "Like, if I could stick with one thing," he says a little frustrated, trailing off, "But that's just not how my brain works." Doing just one thing would be better for Schwarz's "brand," for sure. "It would be better for a lot of things," he quips.
Here are just a few of the things Schwarz released this year: A "trap remix" of Xiu Xiu's howlingly desperate 2004 track "I Luv The Valley Oh!"; "U R Beautiful," a propulsive party track with Schwarz screaming feel good platitudes like "ONCE YOU REALIZE HOW FUCKING BEAUTIFUL YOU ARE OTHER PEOPLE WILL START TO FUCKING REALIZE HOW FUCKING BEAUTIFUL YOU ARE"; a brain-splitting hardstyle take on Future's "Turn On The Lights" with fellow can't-sit-still soundstacker, DJ Baglady under the moniker, Loose Onez; and Real Trap Shit Mix Vol. 1, a 20-minute collection of ratchet and twerk-tinged adjustments to VH1 favorites like Third Eye Blind, Sixpence None the Richer, and Vanessa Carlton, with Los Angeles DJ, Kyle Mabson.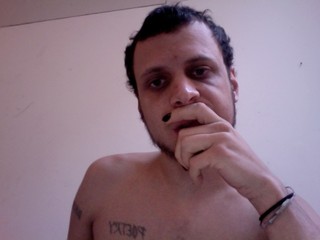 "A lot of what I do is impulsive," Schwarz explains, "Like, I hear something in a song and think, 'I could to this with it'," and then well, he does that with it, whatever that might be. As for remixing Xiu Xiu? "I remember thinking it was a bad idea and it was like 4'o'clock in the morning." So, he went for it. When he posted "I Luv The Valley Oh! (Trap Remix)" on Twitter, not longer after finishing it, it was accompanied with, "UGH WHAT IS WRONG WITH ME?" When it comes to "trap" in particular, this year's big deal musical movement it would seem, Schwarz is beating the trend-chasing opportunists at their own game and then reducing their cynical impulse to remix everything and anything to absurdity, and turning it frighteningly sincere.
"I've got a complicated relationship with 'trap'," Schwarz declares, "I think the term 'trap' is really gross and I think it's boring to make rap with no lyrics." A few days before he took Xiu Xiu into the club, Schwarz posted a quasi-manifesto titled "Schwarz on Trap—Its Popularity, Orgins (sic), and Why I Hate It" to Tumblr. It's a cogent and sincere explanation of the producer's issues with trap, which stem from being a thoughtful white dude pondering his place in black-oriented dance and rap and some sobering experiences in his hometown of St. Louis. It begins like this:
"People often don't understand why I think EDM "Trap" is not only dumb, but totally offensive. In 2007, I was in a legit "Gangsta Rap" or "street rap" or just "rap" group in Saint Louis. A lot of the subject matter of the songs were typical of the genre—guns, drug dealing, other violence etc… although I was taking college courses at the time, and living with my mom in the suburbs, for the majority of the group most of the stuff in these songs was real enough. Real enough, in fact, that the dude who kinda held our clique together went to federal penitentiary after being snitched on and caught in the act cooking crack and in possession of an unregistered firearm...After that happened, I realized I needed to distance myself from that lifestyle and I wanted to make music that was more "positive" and didn't glorify the kind of life where you end up dead or in jail, especially when I had other options."
"I think a lot of 'U R Beautiful' has to do with my frustrations with rap music. Like, I love rap music but I take so many issues with the content," Schwarz says hesitantly. "Beautiful," and his new single, "Tonight's The Night"—which sounds like I.C.P doing Pitbull party-rockin' platitudes in a pool of Auto-Tune featuring M.O.P. – aim for something more inclusive, without making a big deal about it, he explains:"I don't talk about drugs or alcohol, and I want to talk about partying but not explicitly and I try to keep it gender neutral." It's constructive and far from what could be termed "The Macklemore Approach." He sighs, "The last thing on Earth I'd want to be is a nerdy white rapper talking about how other rap music is bad."
Whether we like it or not, Schwarz grunts, we are "about the enter the Thunder Zone." Extreme Animals scream and grind out riffs over buggy projections—collages of YouTube detritus, uncanny valley weirdness, and contorted Top 40 hits from Drake and Katy Perry. Juiceboxxx, who looks like Ian Curtis if he was a bit player in Fast Times At Ridgemont High, finds the strange hard rockin' place where Rage Against the Machine, KISS, Thin Lizzy, and Gang Starr can coexist as one big ball of energy.
Baltimore's DDm closes the night. Schwarz drops DDm's "Killer Queen," an unabashed Bmore club meets trap track that also flaunts its street rap swagger: "Bands a make her dance / But this glock will make them shake," DDm shouts. The rapper, who announced he was gay on the cover of Baltimore's Gay Life newspaper in 2011, has long teased a project to be titled Omar, after the gay thug bad-ass from The Wire. A freestyle over Major Lazer's "Bubble Butt" leads to a woman in the crowd unabashedly twerking, and that leads into "Click, Pow" and "Fake Girls," two Schwarz productions full of EDM synths, Masters At Work "Ha" stop-starts, and Bmore club "Think" break shuffles.
DDm's ends his set with "Killer Queen" as well, and it's just as raucous the second time around, only this time DDm removes his shirt and everybody yells that "glock'll make them shake" line back at him. Schwarz returns to DJ mode for the rest of the night. It is worth pointing out that that Schwarz even does crowd work, calling out people in the audience, screaming along to songs, and encouraging people to buy drinks. It's rare to work this kind of DJ shtick in a scene like this, but typically, Schwarz goes for it.
"This isn't a joke," he screams, dead-eyed, stretching "joke" out as if it has a dozen of Os in it. A moment later, he cracks a smile, looks down at his laptop, and laughs.
Brandon Soderberg is a writer living in Baltimore. He's on Twitter - @notrivia