Are You A Person In A Position To Know Michael Dixon's Hand-Cut Vinyl?
The high school teacher handcrafted This Frontier Needs Heroes' pyramid-shaped eight-inch single for "2012."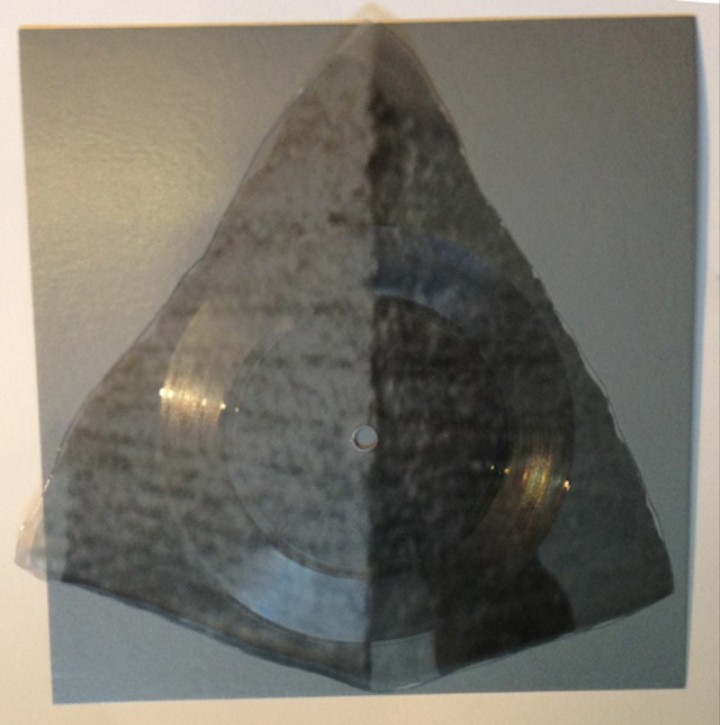 Are you in a position to know recordings? Michael Dixon, lathe cut legend of People In A Position To Know Recordings, hopes that you are, or at least that he can help you find that magical musical place lost somewhere in the analog-turned-digital universe. Dixon just put out a custom pyramid-shaped eight-inch release (complete with handmade glow-in-the-dark artwork) of This Frontier Needs Heroes' gorgeous, melancholy-tinged single "2012," so we sat down with the vintage vinyl aficionado to talk about everything from his reflective records for Ariel Pink to an anticipated tribute release for Kris Kristofferson to (of course) his collaboration with TFNH.
So what do you do exactly? Who are you?
I'm a 33-year-old high school teacher who obsessively releases weird, handmade records by bands I really like. I cut a lot of my own records, one at a time, in real-time, on a 1940s record lathe using materials like plexiglass, picnic plates, mirrors, laserdiscs, et cetera. Then, I letterpress, silkscreen, paint, or otherwise handmake the artwork for them. I also run lathecuts.com, which does short-run, square, clear, plexiglass records for other artists and labels.
What records inspired you to start pressing your own?
My friend in junior high's older brother had moved to Florida (from the po-dunk Texas town I grew up in) and started a band that released a seven-inch. I thought that it was the coolest thing I'd ever seen. When I started playing music shortly thereafter, releasing a record always seemed impossible (which it was if your band was as awful (and as poor) as we were).
It wasn't until I moved to Olympia in 2005 that I heard about Peter King in New Zealand, who is the original lathe-cutter. He's been cutting short run lathe cuts since the 80s. When I found out he would make you as few as 20 records, and that it only cost $70 to have a record of your music (instead of having to buy $800 worth of records you knew you would never sell), I jumped all over it and made a couple records of my home recordings.
From there, I spent a few years buying "as is" (which, on ebay, usually translates to "completely nonfunctional") record lathes for a couple hundred bucks, and eventually saved up a few grand to buy a working lathe. After a couple years of an extremely steep learning curve and an ever-growing pile of broken cutting styli ($100 each!), I finally got the hang of it and started producing decent sounding records.
What's a fun fact about records that nobody knows?
I think my favorite weird thing about records is the number of weird formats that came out over the years and quickly disappeared—Red Raven Movie Records, Philco Hip Pocket (3") records (which were played on the most adorably tiny turntable ever made), Baseball Talk baseball cards with 3" flexi discs on the back, the "Vinyl Killer" Sound Wagon (which was a VW bus that would drive around and around playing the record), etc. There was even a kid's toy called the GE PlayTalk that used a turntable with a magnetic tape head to record sound onto a flat seven-inch disc of magnetic film.
What's the weirdest looking records you've ever seen?
I think the weirdest one I ever saw was in an article I read a few years ago about the soundtrack to the movie The Black Hole. The original prototype was an oil-filled record that would swirl around like a lava lamp or Fillmore-style light show. They never mass produced them because they leaked. Third Man Records and The Flaming Lips eventually got it working and pressed records that way. I'm not here to sing the praises of Jack White, because he and I have a very serious rivalry going on (somebody tell him about it when you see him), but that guy has the resources to make some pretty amazing stuff. His seven-inch inside a twelve-inch record was pretty good.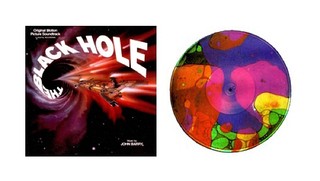 Are there any other places doing what you're doing?
If you mean doing short run lathe cuts for hire, there aren't many. Peter King is still doing it, and is, hands-down, the best. Super sweet guy, making great sounding records in New Zealand. The only downside to working with him is that he doesn't use a computer at all, so you have to call New Zealand or fax him to get ahold of him. Plus, the US dollar is pretty weak compared to NZ, so with shipping, his records get a little pricey (even though what he charges is cheap for what he does). There were a couple other "companies" that were doing for-hire lathe cutting services, but they imploded in spectacular fashion over the last couple of years, leaving a lot of people without records or their money back. That really just left me and Adam Pettis of Corporate Records doing it. But there are a handful of other hobbyist cutters who are trying to figure out how to make mid-fidelity record cutting pay, which isn't easy. There are also some guys doing higher fidelity one-off dubs, but they are significantly more expensive than what we do.
What's the coolest record you've ever pressed?
That's obviously a loaded question, since I think they are all equally cool. This label exists almost exclusively to amuse myself. But some that I am especially proud of are:
1. Ariel Pink/R. Stevie Moore - Lathe cut mirror in psychedelic reflective honeycomb packaging
2. Golden Boots - White Skeleton - X-Ray Picture Disc 5"
3. Wooden Wand - Archives Vol. 3 - 6xLP boxset in hand-made and stained wooden boxes
4. Casper and the Cookies/Keith John Adams split eight-inch faux picture disc in hand-knit bags/hats
5. Lazer Zeppelin - Highway Hypnosis lathe cut laserdisc
6. Amo Joy - Live to Lathe Sessions - Amo Joy played the same six songs over and over and over again in my kitchen while I recorded them live onto picnic plates in the other room.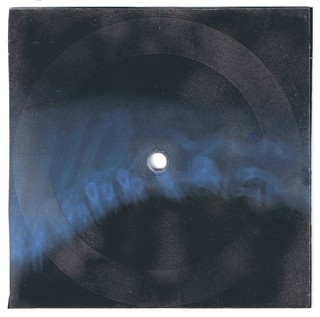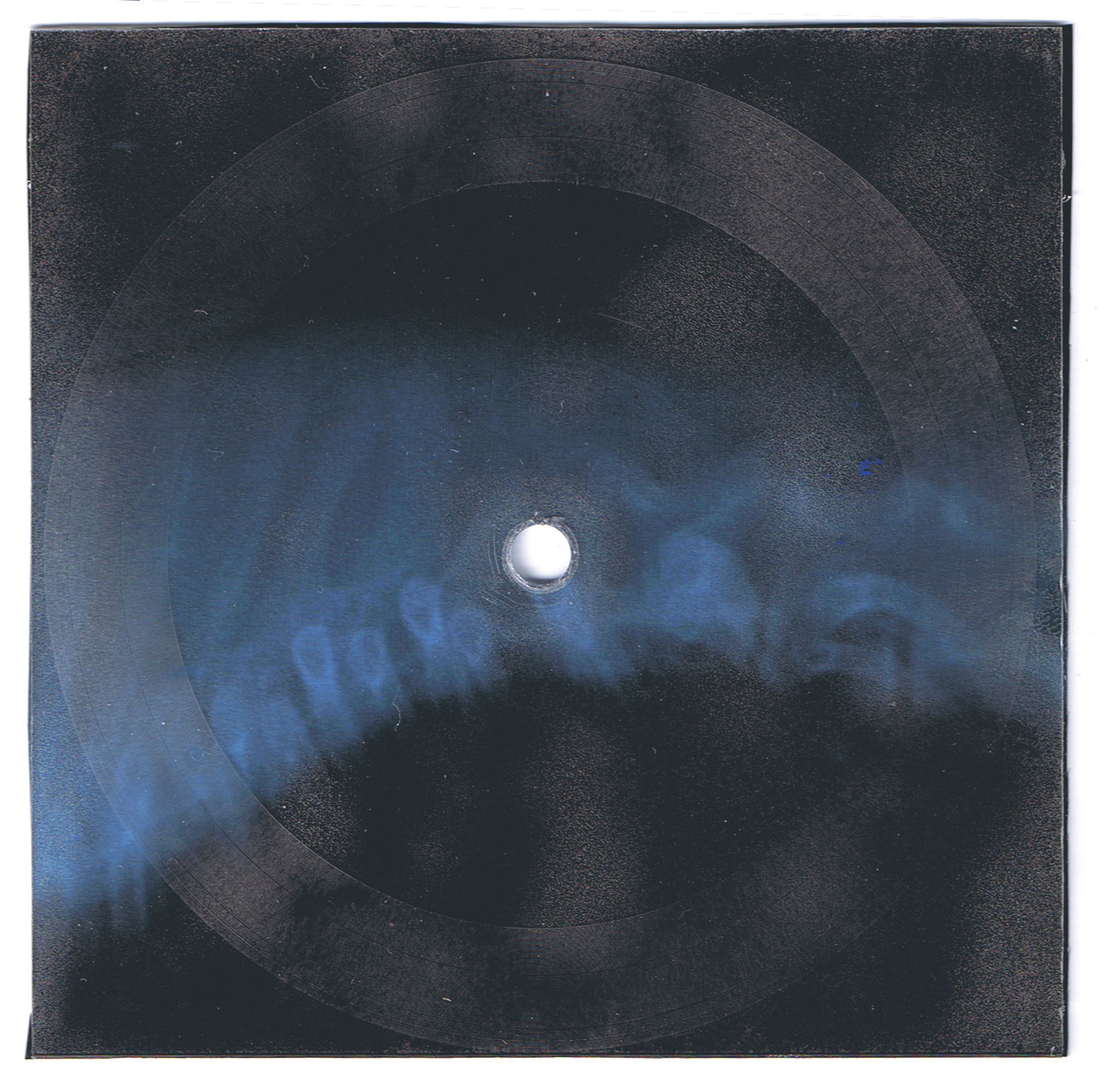 X-ray Picture Disc 5"
How many have you done?
I am pushing over the cusp of my 100th record right now, I've officially released 98, but there are some weird "non-official" records I've put out here and there, and I've got about six in the can for the next month. Starting next summer, I'm going to be living out of a motorhome, on the road for three or four years, so I'm trying to get it out of my system and/or completely burn myself out in the meantime.
How did you meet This Frontier Needs Heroes?
Brad saw a picnic plate record I released for The Blank Tapes while he was at Matt Adams' (Blank Tapes) house right before they left on tour together, and he contacted me about cutting one for a TFNH song called "2012." We collaborated on artwork/format ideas and came up with a cool concept using a gold picnic plate with a transparency that had negative space in the shape of a pyramid. When you put the whole thing together, you had a black record cover with a gold pyramid shining through it. It was beautiful. It was definitely my favorite for-hire record I'd cut. So, when they sold through them really quickly and came back to order more, I asked them to let me re-release it on PIAPTK. But, instead of doing the same thing we'd done, I wanted to release it as a shaped picture disc.
Whats the most recent record you've done?
This Frontier Needs Heroes is my most recent, since it officially comes out today. I'm also doing an R. Stevie Moore Saturday Singles Club, in which I take preorders every other Saturday for a new RSTVMO single, and make only the number that pre-ordered in that 24 hours. That one is really fun, but proving to be much more work than I expected.
What are you working on now?
I'm in the throes of a Kickstarter right now to release a double LP tribute to Kris Kristofferson, so that is really looming large in my mind at the moment, and has been a pretty enormous undertaking. It came out really well and, despite having no well-known bands, is one of the best tributes I've ever heard. I'm paying a pressing plant to make that one, though.
I've got releases from Benoit Pioulard, Fur Family, Keith John Adams, Little Wings, and Scott Spilane's Gerbils (which is going to be the weirdest record I've ever done, the details of which are top secret until they are ready) coming out in the near future.
Buy This Frontier Needs Heroes' pyramid-shaped "2012" eight-inch via PIAPTK or grab a digital download via Bandcamp!