Headlined by hip hop legend Nas performing his seminal album Illmatic, the 2015 Sugar Mountain took place at the Victorian College of the Arts on Sunday with an impressive lineup and use of space.
Held outdoors and indoors across the VCA grounds in warm conditions, the music and art festival also included performances by Ariel Pink, Kim Gordon and Bill Nace's noise rock project Body/Head, How to Dress Well, Swans and Dan Deacon. The local lineup included Twerps, King Gizzard & The Wizard Lizard, Banoffee and the enfant terrible of the 2013 Sugar Mountain, Kirin J Callinan, performing "Terrible Love" – a collaboration with Brooklyn label Terrible Records.
Doors opened at 11:30am and already the sun was starting to swelter when King Gizzard and Banoffee kicked off hard on different stages to strong crowds.
Though the constant heat became taxing, and many acts didn't get to properly sound check, which resulted in some agitated performances. And some acts such as Iceage and Body/Head probably weren't suited to being outdoors in the heat over all the sound and sightlines for most stages particularly the main Dodd street stage was great.
With so much awesome stuff on, it would have been cool to have the festival split over two days to avoid having to pick and choose. But all things considered the festival went off without a hitch and the Sugar Mountain team need to be congratulated in showing how hosting a boutique music and arts festival can be done right.
Here were some especially memorable highlights caught by Noisey. (additional reporting by Josh Gardiner and Tim Scott)
Chela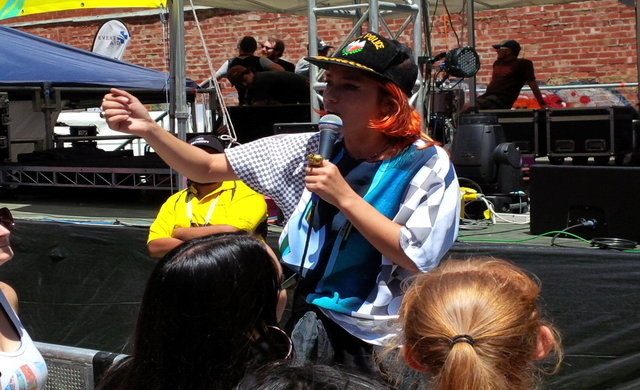 Image: Steven Viney
I'd heard Chela's produced songs before, but never live, which was a complete game changer. By far one of the best performances I've seen in a long time her 80s/90s RnB/electro takes on a punky DIY edge in the live setting and combined with air kicking dance moves is mesmerizing. The set highlight was her directly screaming the lyrics to "When I Die" to her sister in the crowd. "I want to take you with me when I die!" she screamed while sweating and desperately staring her in the eyes. It had the audience almost in tears and smiles. An incrediblely powerful performance that took me from half fan to full fan.
Twerps
Image: Chip Mooney
The local pop four-piece continued to charm with a set that mixed older tracks with selections from their latest album Range Anxiety. The lineup has changed again with Angus Lord from Deep Heat and the Stevens now permanently taking over bass duties but their infectious melody still shines especially with Jules now taking charge of more vocals.
Though they struggled with some sound issues and half the audience was crowded into the shade, Marty's cheeky between song banter about drinking some frothies on a hot day and mention of "some good faces in this crowd" proved why they remain local favourites. (Tim Scott)
Leif Podhjasky
Image: Steven Viney
The art component of the festival was again strong this year and included Robin Fox, Hisham Bharoocha, Ash Keating and Johann Rashid. Leif Podhjasky featured a series of his iconic looking psychedelic art that most will recognize from Tame Impala's album covers/artwork. The centerpiece featured a series of kick drums in a circle that were connected to a digitized, sequencer that would spit out percussive rhythms below a large psychedelic visual piece.

Nonotak
Image: Sugar Mountain
After visiting the Nonotek video art exhibit on display, with it's insanely psychedelic, laser sharp, trippy visuals, I had to check out the live show and see who the hell makes this stuff. By 4pm, a couple hundred people crammed into a dark theatre to watch them do their thing, and it's was just otherworldly and mind blowing. Positioned in the middle of 3D triangular projection pyramid, artists Noemi Schipfer and Takami Nakamoto assaulted the audience with immensely detailed Aphex Twin-y type tech beats while engulfed in synchronized, psychedelic laser projections. Amazing
Ariel Pink
Image: Andrew Bibby
It's mind-boggling how good these songs are and how good Ariel Pink's band is at executing them live. Each song seems to stem from another world/genre/frame of mind, which has the effect of making listening to genre bands quite difficult. Every time I've seen them live the band is better, and in its current seven-piece formation, which now features Melbourne's Shags Chamberlain, they're consistently on point. As an Ariel-fan friend said: "It looks like it shouldn't work, but it just sounds amazing." Sporting spiky high heels, cut jeans and blonde pigtails, Ariel played the obvious sunshine hits from his new album Pom Pom: "One Summer Night", "Dayzed Inn Daydreams" and "Lipstick" which were all extremely accommodating to the festival vibe, which for Ariel is odd. (NB: Those lucky enough to catch the exclusive Sugar Mountain sideshow the previous night at Hugs & Kisses were privy to a 15 songs set spanning several albums where the weirder stuff was brought to the forefront.)
Ash Keating artwork
Image: Steven Viney
Iceage
While it may have been cruel to throw four alabaster young Danes directly into the blazing Australian sun it was still a good way to get a great day of music started. And if anything, front man Elias Bender Rønnenfelt brought some napalm of his own. The guy is a superstar—alternately disaffected (between songs, idly pulling the scrap of paper set list from his back denim pocket) and incandescent (belting out his lyrics like they mean everything to him, every time). It was only four months or so since they were here last but they should make that a routine. (Josh Gardiner)
Bo Ningen
Image: Sugar Mountain

From where we were standing most of the talk was how many, if not all, of those crazy Japanese nutjobs were female. The rest of it was how ridiculously good their mix of prog/math/thunderous rock was. They've got more moves than a Russian chess champion. This was the highlight of the day. (Josh Gardiner)
Theatre crowd
Image: Andrew Bibby

Midnight Juggernauts
Watching the Melbourne three-piece's career like following a professional footballer move from player to commentator or coach. They have the complete skill set and following but understand a music career is a moveable feast. So what do they do? They keep trying to find ways to engage and entertain. This time they have launched a new company, MJX, and are seemingly selling real products. Toothpaste, Kombucha you name it. Their keynote address, translated into Mandarin, was hilarious and brilliant. Followed by the three of them in bubble-wrap boiler suits on a rotating platform surrounded by analogue synths. Genius. (Josh Gardiner)

Kirin J Callinan
Image: Andrew Bibby
Kirin J Callinan and Sugar Mountain have some history. Tonight the enigmatic performer's show "Terrible Love" was awkward as usual but equally as compelling. With an Israeli guy playing a Wii like a theremin, Callinan Skyped in Jack Ladder, Alex Cameron, Dev Hynes and a naked Liam Finn on collaborative performance of 'Don't Dream It's Over'. (Tim Scott)

Nas
Image: Andrew Bibby
It wouldn't be possible to write about the day without mentioning Nas' performance of 1994' Illmatic in its entirety, which seemed to be the sole reason many ticket holders were even at the festival. The audience size tripled at Nas time and he rocked in epically to a 2014 – 1994 countdown. From start to finish the crowd went nuts, screaming every word while eagerly passing around tons of some sort of unidentifiable church-like incense. "It Ain't Hard To Tell", which samples Michael Jackson's 'Human Nature,' was an emotional highlight. And although it got a bit throwback-y at times, with talk of "the old days," Nas showed tons of love to his Aussie fans, and with music this good, who could complain.
Steven Viney is a Melbourne based writer - @stevenviney