Oceaán Needs U to Fall in Love
The British crooner answers our love questionnaire, and turns out one time he stole a street sign (but don't tell anyone).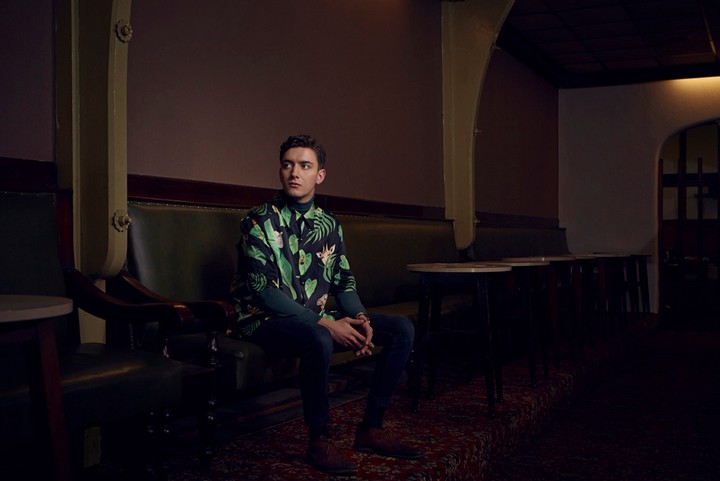 Oliver Cean has been making music for going on seven years, so when the 21-year-old producer found his 2013 single "Need U" gaining momentum, it was a long time coming. Cean lives in Manchester and recently opted to make dreamy, house-inspired music under the name Oceaán, now, the project has gained him an eclectic fan base on both sides of the pond. His ghosted vocals and thrilling, electronic production stay danceable despite a biting, minimalistic style.
His initial self-titled EP came out at the end of March via Chess Club Records and Rough Trade, but the recent release of the sparse, clever video for "Need U" re-sparked attention. Watch the video of two, solo late night commuters turning the city into a dancefloor below, and check if you're compatible with the British crooner by reading his OK Cupid questionnaire for our This Modern Love column.
Age/Sex/Location/Sexual Preference:
21/Male/Manchester, England/Straight
My self-summary:
I'm twenty one, in terms of myself I guess in terms of my personality I'm quite a logical person. I analyze things quite a lot, almost too much I think. Whether it's myself, other people, things that happen in general. I think me analyzing things is sort of the biggest personality trait.
What I'm doing with my life:
I've been producing music for six, seven years now. I've done quite a lot of things whether it be classical music, electronic music, and this sort of project is the culmination of a lot of things coming together. It's just the case of time with Oceaán. I was trying it for myself and I was experimenting a lot with bands and guitars, a lot more classical things. And then it was just a case of where things felt a lot more right, when I hit an age where all the influences up to a particular point had almost all amalgamated into this electronic kind of project. People seem to be enjoying and I really enjoy it!
I'm really good at:
I guess finding the right sort of sonority for a particular part of a song. Say there was a particular vocal line or harmony line, I could fill it without overtaking anything else. I think I'm good at having a division of labor in different parts in my production. Aside from music, I'd say I'm a good cook. I got back into skateboarding too, which is something people probably wouldn't associate with me. It changes all the time though, I'm kind of restless in my interests at times, I move between things quite a lot.
The first thing people usually notice about me:
People usually notice that I don't have the accent. I'm from Manchester, but I don't have a Manchester accent. Because I'm not from there originally, although, I have lived there the majority of my life. They probably think I sound a bit posh-er than I actually am. My parents are from down south but I've always lived in the north, and that divide in the UK is a big thing.
Favorite books:
I don't actually read a lot to be honest. I got quite a lot of books from my grandparents house, some old kind of stuff. I've been read a really old edition of The Invisible Man. It's a cool little book, it's really small and just fits in my pocket. I guess that's probably my favorite at the moment. Also, I got this book called Dark As A Grave Wherein My Friend is Laid By Malcom Lowry. It's kind of an autobiographical thing about him and it just has really good descriptions and is quite observational. I think it links back to my productions in a way, because I'm quite observational and logical, a perfectionist. And in this book he's very meticulous in what he's writing.
Favorite Movies:
I watched Her recently, that's a pretty cool film. Dallas Buyers Clubas well, that's a cool story and a cool film, I actually read quite a lot about that. I guess I'm just thinking of the stuff that's come out more recently, Wolf of Wall Street as well, that's a sweet film. Those three at the moment, they all change very quickly. Me and my brother have always loved the film Contact, I'm not sure why, I think it's because of it's one of those films that drags out, you always think its going to end, but it doesn't!
Favorite Music:
I listened to the new Lone track the other day, he's on the label R&S and dropped a new track the other day, it's called "2 is 8" and it's a great song. I listen to a lot of Oneohtrix Point Never, R+7 is one of my favorite albums recently. I'd say as well James Blake, he's always been a big influence.
Favorite TV Shows:
I'm not sure if you have it in the US, but it's a Charlie Brooker program here called Black Mirror. Each series was like three or four episodes, really trippy storylines and sort of "what if" scenarios. Not so much sci-fi but all this psychological, quite surreal storylines in terms of concept. A lot of things dealt with how the future would be if one thing was different. You must have heard of It's Always Sunny In Philadelphia, it's just so fucking funny. A program like that is so funny even in the UK.
Favorite Food:
There's a Chinese supermarket really close to me and that's a big part of all my daily food. They have these amazing noodles and it's all imported from China kind of stuff, all the pre-packed noodles are what I live off at the moment. I use a lot of that to cook as well. It's called The Golden Pearl.
Six things you could never do without:
My laptop for one, it's got everything on there. I just realized I should probably buy a hard drive, I'm kind of playing with fire there. I couldn't live without Logic Pro, that's pretty much what I write all my music on, I couldn't live without one of my microphones I use all the time. I guess my phone as well? That sounds pretty bad… I have been trying to collect some wall hangings from my room that I love, and my keyboard. With my style of music, everything is there in front of you, there's very little reason to go to a studio or anything. Then of course, my friends around here, they're good.
The most private thing I'm willing to admit:
There's a road work sign in my room which, I still don't know how it's got here. One night my friends went out and then the next thing you know it's here. It's definitely illegal and in my house there's been a sort of unspoken rule where we don't talk about how it's got here. So that's probably as private as I'm willing to admit.
On a typical Friday night:
I don't usually go out on Friday nights, usually I go out in the week. I'm usually recording on Friday, Saturday, Sunday kind of thing. I go out during the day quite a lot during the weekends, but in the evening, I'm recording, sampling and writing. It's usually just me but there's been a few times when some other musician friends of mine were over.
You should message me if:
If you want to be sampled! That sounds really bad doesn't it? How about, if you want me to sing to you? laughs It's crude, but it's got to be something like that.
Caitlin White is a romantic. She's on Twitter — @harmonicait
--
WANT MORE?