"That's really gonna shock you," Lupe Fiasco warned, looking down at the five car batteries resting on the floor and then back up at me. They're all wired to a quintet of picture frames, his "AT&T" series, each housing a blown-up iPhone photo of his hand on a Do Not Touch sign.
"I'll make sure not to get too close to them," I replied.
From the start of this personalized tour of "Bound," Fiasco's temporary art exhibit fixated on museum rule-breaking and creative approaches to enforcement, it's hard to imagine why anyone would even desire to touch any of these pieces in the first place. Yet absurdity seems to be Fiasco's aim, a cute attempt at transforming vaguely criminal mischief into art. Choosing to go by his real name Wasalu Muhammad Jaco for this exhibition, the rapper better known for his platinum singles "Battle Scars" and "Superstar" as well as various antics like his "mainsplainer" beef with SPIN and calling out Obama at one of the president's inaugural bashes, takes impish delight in his art world antics. Museum signage, those posted strictures requesting some modicum of civility, turned into challenges to Jaco, creating opportunities to test these limits in "very specific, superficial, kinda pussy ways."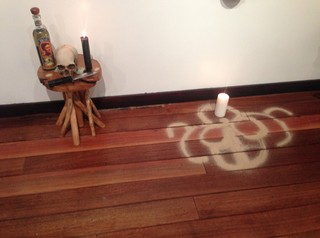 An iPhone camera documented line-crossing, light petting, and other such mild infractions he took at prestigious spaces like Paris' Centre Pompidou, New York's MOMA, and the Sydney Museum of Contemporary Art. "I started to ask questions like everybody does," he explained, "Why is this painting a hundred million dollars? Is it because it's guarded? Does it have value because it's secure?" Photos were accompanied by corresponding pseudo-solutions dubbed Art Protection Systems, creative yet mostly vacant threats ranging from the physical (barbed wire, broken glass) to the spiritual (voodoo curses) to the absurd (a "mafia services agreement" purportedly signed by a contract killer).
"If I really didn't want people fucking with my shit, what could I do?" Jaco asked. "How about a mysterious pile with traps underneath it, like a bear trap or a snare that'll pull you into the ceiling? That would definitely keep you from getting too close to the Picassos." (Blue Ivy Carter beware.) In one corner of the gallery lies just such a pitfall, a mound of leaves and twigs arranged conspicuously in front of a photo entitled "Four Rebels." Despite my superstitions, I'm sane enough to know no gallery was foolish to let Jaco dig a pit in their floor to fill with spikes or snakes or anything else.
Dressed in stylish streetwear brands like Boy London, Pyrex Vision, and Y-3, Jaco explained his deterrents in earnest while effectively, inadvertently debunking them. The voodoo ephemera of sands, skulls and African protection masks were "inactive, not properly blessed" by any New Orleans priestesses. A series of rat traps were so neatly arranged in front of one piece ("Offering Honoring the Creator") that circumventing them took no effort. Furthermore, I'd never even heard of any Pagliuca Crime Family or its alleged enforcer Tony "The Trigger" Sessa.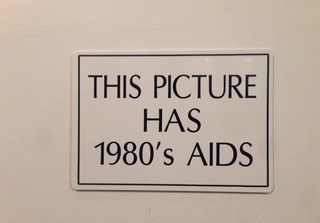 As my skepticism towards the effectiveness of these grew as the tour progressed, only the car batteries seemed real, thanks to Jaco's genuine concern for my safety near them. And that was the problem: when presented with creative deterrents, my nagging primary instinct was to test them. Not even the possibility of electrocution and subsequent embarrassment in a room full of polite patrons of the arts could quell the temptation to touch works otherwise hardly worth looking at. Ultimately, an unrealistic fear of damaging my already fickle cell phone kept me on good behavior. Yet it appeared a central thesis of Jaco's had been disproved. The enhanced security techniques didn't bestow upon the pieces any more value. Perhaps the intent of these over-the-top measures was to strip security of its intended seriousness, a meta comment on the farce of art valuation, though at no point during Jaco's exhaustively candid tour of the work was such a motivation even alluded to.
Conversely, the more mundane obstacles found in most museums like prohibitive signage, surveillance cameras, and security guards seem fairly effective. Unsurprisingly, Jaco's clever goofs landed him in hot water at a number of the institutions cited in this exhibit. "I got in trouble at Warhol," he boasts, "I got in lots of trouble at MOCA in L.A. They were very pissed and tried to [throw me out.]"
That attitude doesn't help Jaco's attempts to imbue an artistic seriousness in what essentially amounts to a prolonged prank. Comments like "I always work in irony, duality, multiplicity, and things of that nature" come primed for eyerolls and ridicule. One series paired photos of him touching Ne Pas Toucher signage and protecting them with so-called "stigmas" about homosexuality and the unchecked AIDS epidemic of the 1980s. He punctuated his point but repeatedly poking me, saying "It's like, 'if you dance like this, you're gay. If you wear that, you're gay. If you touch him like that, you're gay.'" Yet next to these displays heightening ignorance and intolerance was a comparatively more benign stigma, cooties, represented by a photo of a young girl.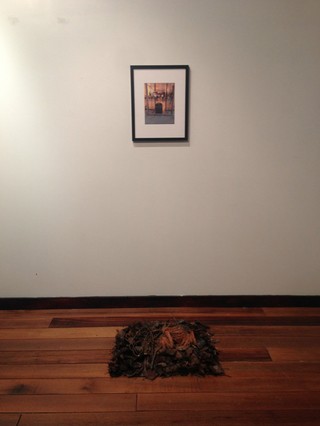 Getting a read on both Jaco and "Bound" proved difficult. One minute he touted the goofy "services" he could provide museums with his Art Protection Systems ideas. The next, he's rattled off the names of expensive cheeses like Bitto, Pule, and White Stilton Gold, amused to have named some of the photos after them, the art world equivalent to that time you and your friends TP'd Old Man Smithers' house in high school. Despite his distaste for the rigidity of museum culture, Jaco spoke excitedly about Francis Bacon and Adel Abdessemed, the latter described as "Damien Hirst times two." Still, art appreciation doesn't translate to artistry, and "Bound" won't endear him to the vultures of the New York art scene.
Moreso than motivation, the motive behind Jaco's exhibit remains as vacant as the value of its contribution. Art terrorists like Jimi Cauty and Bill Drummond of The KLF famously burned a million pounds, documented in photo and video form, and threw it back at the art world as an unanswerable question. Talented pranksters from Harry Houdini to Andy Kaufman to Banksy all made their marks by advancing their target forms even while critically commenting on them. If anything, the adolescently straightforward "Bound" comes across more as the one-note dalliance of a bored museum patron than a crusading artist. Perhaps Jaco thought he'd have more fun participating as Wasalu Muhammad Jaco instead of viewing as Lupe Fiasco.
"Wasalu Muhammad Jaco: Bound" runs through Dec. 21 at the Anonymous Gallery, 60 Reade Street, New York, NY.; anonymousgallery.com.
Gary Suarez is a noted writer and humanitarian. He lives in Queens and tweets on Twitter - @noyokono