Watch Jeff Wootton's Disquieting Video for "Sonik Drips"
After close collaborations with Damon Albarn in Gorillaz and Africa Express, Wootton strikes out on his own. With exclusive artwork by Damien Hirst. Sweet.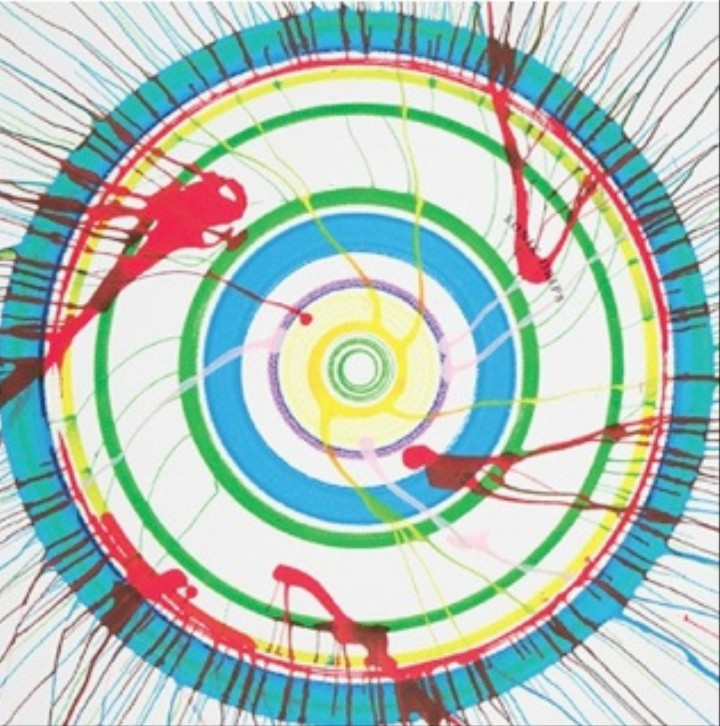 You've probably not heard of Jeff Wootton, but you've most definitely listened to his work. For one thing he was the guitarist in Gorillaz when they hit the road for the very first time back in 2010, when he was just 23. He then went on to continue his work with Damon Albarn as part of the Africa Express collective, not to mention playing with Noel Gallagher's post-Oasis project Beady Eye (he performed "Wonderwall' at the 2012 Olympics too).
Thus far he's released only one solo single—"The Eternal" last November—which was followed by a rework featuring the Yeah Yeah Yeah's Nick Zinner and Bootie Brown from the Pharcyde. Where that song revelled in hypnotic grooves accented by an imzad—a single-string bowed instrument used by the Tuareg people in Africa—his latest song, "Sonik Drips" ploughs a very different furrow. Vocals echo, highly processed swatches of guitar layer and cascade (which makes the name ever so appropriate) and the drums build to an almost breakbeat-like flurry. As for the video, premiering above, Wootton's visage flickers between nocturnal cityscapes and butterflied imagery. The combined effect is disquieting.
One of England's most celebrated artists, Damien Hirst (another man irrevocably tied to the Britpop era), decided to contribute to Wootton's work by creating 10 pieces of original art inspired by his music—four of which you can see below for the first time.
"After listening to the tracks I had an idea to use color and let it speak like the music, like a visual spinning equivalent of the sound," explains Hirst of the collaboration, which you can see for the first time, below. "On a small scale the spin paintings work like the movement of grooves on a vinyl LP. Like a vinyl album being played track after track, so I made each spin to be a visual print of each track on the album. But on a larger scale It feels familiar maybe because this spinning motion is something we know, it's what makes the planets and stars move in space and also the atoms in our bodies."
Wootton also had this to say about his solo project, and specifically "Sonik Drips":

"Art is an important part of music to me, the Velvet Underground and Andy Warhol projects taught me you could mix the two—something I have tried with my album with Damien Hirst," explains the Manchester-born artist. "I wanted to make something that was sonically-speaking a visionary piece of work—something related to futurism. You know, future thinking music… I only care bout the music. But maybe nothing is original, I guess, you just tell the same story in a different way, but there's an unlimited way to tell that same story and that's what I wanted to do.
"'Sonik Drips' is I describe my guitar sound and loops I create," he continues. "This was built on a guitar loop and it is one of the more experimental tracks on the record, and the vocal is samples we triggered on an MPC which is prominently a hip-hop sample machine, I ran the guitar loop and then triggered vocal lines by feeling with the loop. Its one of the tracks I'm most proud of on here, its a new sound with a lot of elements, electronica, bass sound… its a new level."
The four pieces Damien Hirst inspired by four of Wootton's songs and pick up a copy of The Way of the Light, out on 2.26, here.
Jeff Wootton Tour Dates
March 23rd Manchester, Night & Day
March 24th London, 100 Club