Here's Stolen Babies' New Video, Plus a Conversation About Sibling Rivalry and Accidental Voyeurism
Stolen Babies played inside a tank of water for the filming of their new video, "Second Sleep."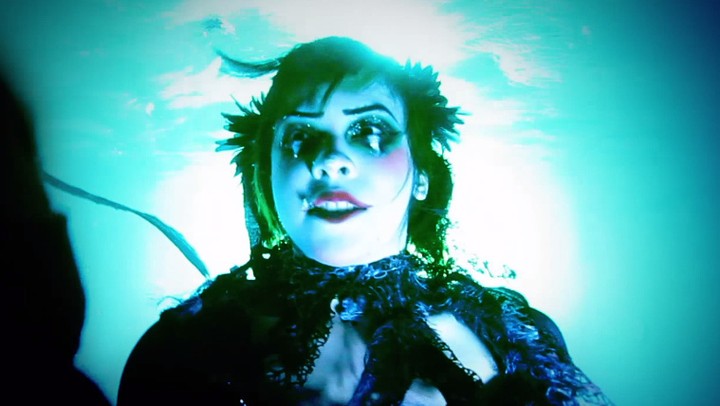 Stolen Babies are a musically accomplished, sonically challenging trio that relies on off-kilter, often unsettling melodies as much as traditional rock elements. Dangerously seductive Dominique Lenore Persi plays an accordion, giving the songs on the band's second full album, Naught, a haunting polka vibe. The band is heavily influenced by the soundtrack work of Danny Elfman and the freak rock of Mr. Bungle.
In keeping with their, "Hey, what can we do that's weird and unexpected" aesthetic, Stolen Babies played inside a tank of water for the filming of their new video, "Second Sleep," a creepy, personal song about having watching the world fall apart before your eyes and not being able to control the situation. The chorus of the song features the line, "The ship is sinking" over and over again, which explains why Stolen Babies shot the video underwater. But we had to ask again anyway.
Noisey: Who decided to film the video for "Second Sleep" underwater?
Rani Sharone: The idea came to me while we were at a diner on tour. I was zoning out looking at my glass of water when I saw Dominique through the water and there it was. We were already throwing around concepts for the video and nothing was really getting us excited until I said "Hey let's shoot underwater!"
Dominique Lenore Persi: Plus, we wanted the video to feel surreal like a dream you can't take control of and don't feel completely present in, and to us nothing really captured that feeling better than being underwater.
Did you take any precautions so you wouldn't electrocute yourself or, I dunno, drown!
Rani Sharone: Not really. we just showed up and jumped in. There were so many variables with shooting underwater that we never took into consideration, like, uhhh, breathing. Just keeping the drum set down was a chore. It took almost an hour for the bass drum to fully submerge. [drummer] Gil [Sharone] was up first, and when we saw the playback of his first take we knew it was going to be pretty cool. Those underwater performances were tough as hell and were extremely physically draining. I still can't believe how great of a job Gil and Dominique did. They were under the longest. Dominique went last, after 4 a.m., and just found complete serenity underwater.
What's the song about?
Dominique Lenore Persi: It's about witnessing a slow motion wreck. The worst kind of dream, but not quite a nightmare, where you are a helpless spectator, watching mistakes being made without having any control.
What are some of your influences that would surprise fans of your music?
Dominique Lenore Persi: We've been pretty open about being influenced by a lot of different music, so I'm not sure what would surprise our fans. With that said, I don't think we've mentioned our infatuation with 80s-era Alvin and the Chipmunks.
Gil Sharone: Don't forget Bell Biv Devoe.
Do you remember what someone wrote in your strangest or worst review?
Rani Sharone: You know how Veruca Salt's dad had that big warehouse of workers going through endless boxes of chocolate bars to find a golden ticket? Well we have a similar situation going on where we have a bunch of over privileged art school students who work for us as interns that weed out only super-good reviews full of praise and forward them to us. They keep the strange and horrible reviews for themselves.
Gil, you've done a considerable amount of studio and session work and Rani has been involved in film soundtracks? Are you currently working on any other projects besides Stolen Babies?
Gil Sharone: I'm working on a real cool project with Chino Moreno from Deftones, Chuck Doom from Crosses and Todd Wilkinson from Team Sleep. We're all working around each other's schedules but already have a good amount of material on deck. I'm looking forward to talking more about it soon. Stolen Babies is my main thing but I'm always doing other sessions or collaborations when I can. Same goes for Rani with his scoring. He just did a remix for the new Puscifer album that Dominique and I played on, too.
You've all worked with Maynard James Keenan on Puscifer. How did you meet the mouthpiece of Tool?
Gil Sharone: Mat Mitchell, who's Maynard's main man with Puscifer came to see Stolen Babies a while ago and dug our vibe. When they started putting the first Puscifer album together Mat asked us if we'd like to be a part of it.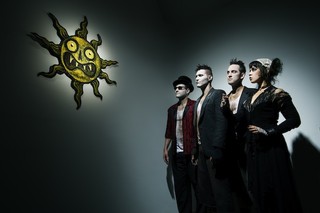 Stolen Babies. Photo via
It's hard enough to live with your brother let alone be in a band with him. What's the most classic confrontation you and Rani have gotten into?
Gil Sharone: Once Rani said he wanted to cut his face off so he didn't have to look like me anymore. There are posters up at our studio covering the holes in the walls he made following that episode.
Your last record, Naught came together in a crazy, haphazard fashion over the course of several years. Are you working in a more organized or structured manner now?
Dominique Lenore Persi: Not necessarily structured, but we're back to the good old way of playing live and developing the songs with each other in person much like how we wrote before Naught.
Rani Sharone: Definitely! Naught was our Frankenstein's Monster of an album. We never want to work that way again.
Do you think some rock fans find your music a little weird or creepy?
Dominique Lenore Persi: Creepy is relative, I think. I could be watching a performer with massive amounts of traditional plastic surgery, wearing one of those "Juicy" velour jumpsuits and playing Karen Carpenter covers and be extremely creeped out. Boy bands are unsettling to me. If people aren't used to something, they think it's weird.
Guys, how does Dominique's accordion add to the band's sound? Have you ever thought to yourself, "I wish she'd throw that damn thing in the trash can!"
Rani Sharone: It is an essential part of the band's sound. Every household in America should have an accordion. I did wish she threw the damn thing in the trash can once. She did. We miked it, sampled it, slapped some delay on it and we couldn't be happier with the outcome.
Have you written any new material since the release of Naught?
Dominique Lenore Persi: Absolutely. We've been jamming as a three-piece and it lends itself in a very exciting way for the new material.
What's the coolest thing you've seen Dominique do onstage?
Rani Sharone: Off the top of my head, one memory sticks out. We were playing a big metal festival in Poland back in 2008. The crowd wouldn't let us get off stage. They were demanding we play one more song but we had no other material that our touring guitar player at that time knew. So we did a quick huddle and she said let's play that old polish ska tune our old band covered. We did and she busted out the whole song from memory in Polish and the crowd went fucking nuts. That was pretty awesome.
You once told me a wild story about something that happened at a hotel in Virginia at 2 in the morning on your last tour with Devin Townsend. Can you elaborate?
Gil Sharone: That must have been the time where we checked in to this shit hole motel and Rani opened the door to his room where he found a black couple bangin.' You could tell by their reaction that they weren't supposed to be there. The girl screamed. The guy jumped out of the bed and over to the window. And I'm just holding the key going, "They gave me the key to this room!" The two people did the walk of shame. They had to walk right by us with their heads down and it seemed like we were interrupting an affair or some discreet meeting because the people looked too guilty.
Stories