Remember SLC Punk? Sure you do, it was that movie you rented back in 1999 and left on in the background so that your parents wouldn't hear you making out. But from what you remember, it was vaguely about punk because Matthew Lillard is on the cover with spiky blue hair and it has the word "punk" right in the title, so that's a dead giveaway. Anyway, the film's totally coherent director, James Merendino, wants to make a sequel called Punk's Dead and has started a campaign on Indiegogo to raise $250,000. Will Punk's Dead join Orgy and Melissa Joan Hart as the next project to fall hilariously short of its crowdfunding goal?
Here, let James tell you about it:
"You can actually contribute. Make sure that this movie happens. So few of us Gen Xers and Gen Y who keep asking why, we don't feel like we're doing much of anything and here's a way that you can. You have control. You can shape the future. It's not just some Mayan prophecy where the world's just gonna end. It's gonna keep going. It's about believing in something. It's like believing in God or Satan or your parents or your family or your friends or your loved ones or your life or death or the beginning of time, everything. It's all gonna be there. We're making everything. This is gonna be the ultimate—this is gonna be like '2001: A Space Odyssey' for punks!"
Not sold? Here, let James throw some neon words at you in Lucida Grande font!

BUTTON!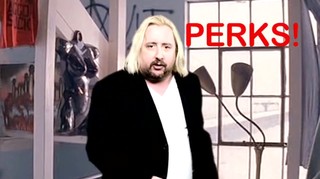 PERKS!
Speaking of perks, what exactly do you get for donating? Good question. For $250, you can be a VIP (Very Important Punk) and get a stream of the movie the day before it's released. For $1,000, you can get an old, soiled wig worn in the original SLC Punk. And for $5,000, two lucky bands can play in a scene in the movie. Sorry, those have both been claimed.
As of right now, the project has raised $11,385 and is a mere $238,615 short of its goal. But hey, with 44 days left, it could still make it. After all, most of the cast has agreed to come back like, uh...
This guy:
And him: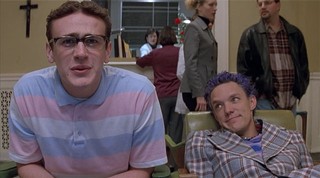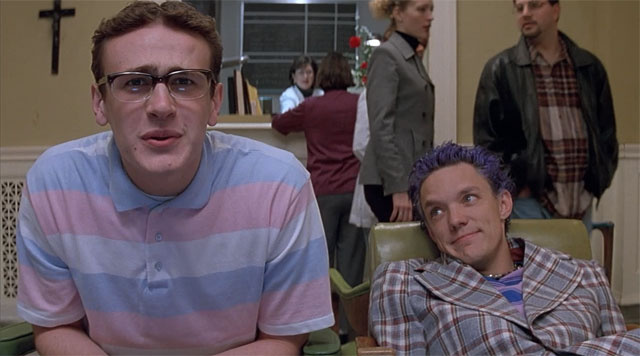 But personally, we're holding out for Jason Segel.