Images: Annie Llewellyn
The Mummies are a gnarly surf-garage punk band from the California, Bay Area who rocked out through the 90s dressed in grubby old bandages and equipped with the shittiest equipment the second hand market had to offer.
Taking their brand of "budget rock" on the road in an old ambulance, they became notorious for wild live shows that frequently had them abusing the shit out of the audience.
After a decent rest in their coffins at the beginning of the new millennium, the Mummies have made an exciting comeback and much to local garage enthusiasts' surprise, they recently came to Australia for the first time to show the little bastards down under the true meaning of pyramid rock.
While they were in Melbourne we took them to some graveyard and had them give us a bit of gossip from the crypt.
Noisey: I'd describe the Mummies as a surf/garage rock band like the Sonics meets Dick Dale but with a kind of UK punk stage presence.
Larry Winther: Who's Dick Dale? And what is this Sonics you speak of?
Trent Ruane: Oh they make a good burger, I'm not crazy about the fries though.
Are the Mummies a bridge between garage rock and straight up punk music?
Trent: We're more like ambassadors, like a United Nations.
Do you guys listen to punk?
Russell: Just Back From the Grave compilations, Ty Wagner...
How are you finding the Australian people?
Trent: They are kind of hard to understand, but thumbs up to them. We know that they make a good Vietnamese sandwich.
Tonight you're playing a large venue, where the stage is separated from the audience and there's security. Is it a challenge for you guys to give the audience at a professional venue the typical Mummies experience?
Maz Kattuah: Now that you've told us what it's like, we might not go.
Trent: Actually we're looking forward to playing in a room away from the people. They can do our thing, we can do their thing. Or maybe we can play in the bathroom, with a cubicle each.
Do you identify as bad boys?
Russell Quan: We want to be a force of good, not evil.
Trent: I no longer identifying as a man, just a fucking arsehole.
Do you have a favourite record that you've made?
Trent: That we've made? We've never listened to them.
Russell: Oh Skinny Minnie is pretty good.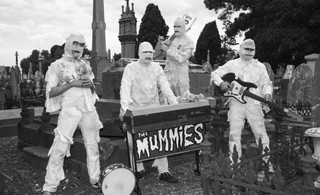 You guys, Supercharger and The Gories are probably the leaders of the pack as far as 90s US garage goes but are there any smaller bands from back then you'd like to mention?
Russell: Oh, Black Fly, Mother's Little Helpers, The Peeps, The Fingers, The Vanilla Whores .
Trent: The answer is no. We don't want our audience listening to other stuff.
In the 90s where was a bunch of other interesting stuff coming out of the Bay Area like prominent thrash metal bands etc. Did you guys have any interest in that kind of thing?
Trent: None whatsoever. We're starting to get into it now, and some of those bands rehearse in the same studio as us. Testament stole our sound. It was disastrous for them.
What do you think of the new wave of American garage music like King Kahn and Thee Oh Sees etc?
Russell: Yeah, pretty good (all laugh)
Which Australian bands are you into?
Russell: The Masters Apprentices, oh wait that's Adelaide not Australia.
Maz: We like the Easybeats this week. We heard they're big.
Do you guys party?
Russell: Well we are into drugs, we have to say that much, right?! Caffeine, ibuprofen! We like acid too, citric. What kind of music are you influenced by?
I like Girlschool, Diamond Head and stuff. British Metal.
Russell: Uh huh! The 80s! How about American groups like precious metal and stuff like that?
Yeah and I like Dio.
Russell: It's a bit cheeky calling yourself that, you know it means god right?
Yeah I do.
Trent: Have you got everything you need? Is this good enough? Our motto is "good enough"