I've got this bad habit of people-watching whenever I go to a concert. Depending on the act, I may or may not spend more time staring at the intoxicated obscurities of the crowd than the actual band itself, and of course, the more diverse the crowd, the happier I am. Upon visiting Guelph, Ontario for the fourth annual Gain Music Festival I found myself resorting to my arguably creepy habit as a means of amusement - or at least this was the case until I was interrupted by the unmistakably nostalgic set of local indie rock group, Odd Years.
When I first walked in to downtown Guelph's three-level venue Van Gogh's Ear late one Friday night, I expected nothing more than my usual displeasure with a local never-heard-of-em line up; and at first that's exactly what I got. Despite really enjoying the sets of some notable headliners such as Toronto's own Teenage Kicks and Trouble & Daughter, my night mainly consisted of alcohol and people-watching in order to get through some forgettable performances. The crowd that vacated bar may have seemed like nothing out of the ordinary to a regular person, but to a self-proclaimed master of comparisons such as myself, the endless clusters of Macklemore haircuts and skinny jeans were almost too much to handle. In my own college town of London, Ontario I found myself constantly surrounded by annoyances like EDM, fist pumping, and endless praise for whatever no-name DJ happens to be in town. So when I found myself surrounded by touque-wearing beard-growers dancing around to alternative folk-rock I was somewhat taken aback.
I was first exposed to the alternative baroque sound of local act Common Deer, whose energetic performance left the somewhat thin first-floor crowd raising their beers in appreciation. Upstairs, Torontonian folk/pop rockers Trouble & Daughter played the second half of their set. Bright lights and a swaying crowd increased the rooms' temperature, leaving guitarists and former Ill Scarlett member John Doherty drenched in sweat. As he downs a beer and plays the opening chords of the next song, an overly annoying group of college girls aimlessly shriek and attempt to sing along despite their ignorance of the lyrics. One of the groups drunkest began approaching uncomfortable bystanders for hugs while one particular Courtney Love look-a-like stumbled around the dance floor clinging on to any unsuspecting male she could get her hands on. It was only a matter of time until she made it to my group of friends, explaining to us in an incomprehensible stammer just how drunk and high she actually was. After taking a sip of my friends' beer (which we carefully disposed of) she was on her way.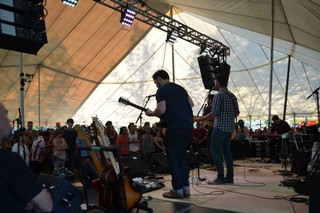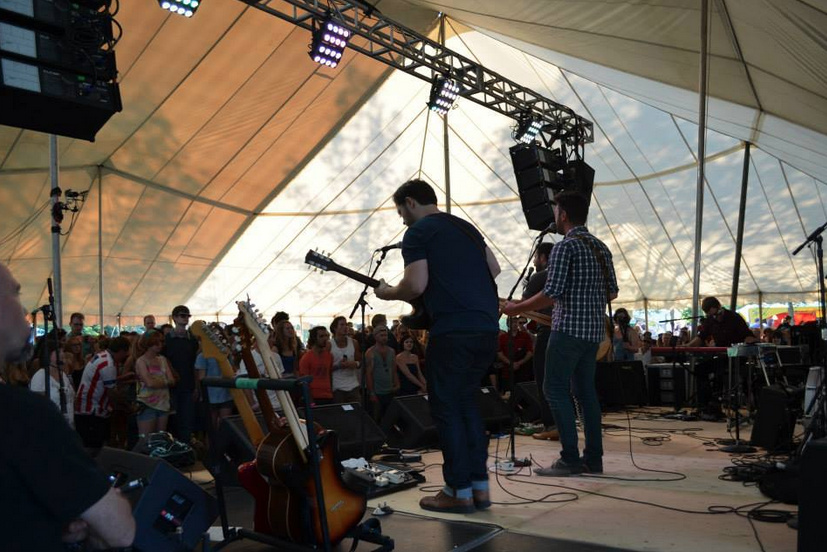 By this time we had escaped back to the beer-stained haze of the first floor, it became clear that the consequences of the consumed alcohol had started to take effect. It was quickly reaching midnight and the crowd got stranger and stranger: a confusing mixture of middle aged men, suited up young adults who had probably just gotten their first "real job" and obnoxiously drunk college students stood among one another as the festival was nearing its close.
Just as the clock struck 12 and my tolerance for unpolished indie rock was almost non-existent, local group Odd Years hit the stage. With a quick introduction from lead singer AJ Johnson, the band dove right into their infectiously catchy rock and roll jam session which was defined by great hooks, clean harmonies, and diverse melodies. Their calm, laid back performance ultimately acted as a gravitational pull, bringing the crowd from all three floors closer and closer to the stage which they now owned. Consisting of members from Cuff the Duke, Minotaurs, and Lowlands, this hometown outfit literally saved my Gain Fest experience with their clean indie-rock sound.
For the next hour or so, the band continued to play tracks from their debut album Drawing Lines and even succeeded in getting the plethora of hipster dopplegangers to dance and sing along. Songs like "Take You Anywhere" exposed the bands charisma, energy, and unique style of songwriting while "The Landlord" left everyone smiling and nodding their heads in pure admiration. Unlike the prior performances, Odd Years maintained my attention from start to finish by giving me a harmonious experience I never saw coming.
At a music festival that truly lacked the quality that such an event should possess, Odd Years gave the crowd something to celebrate and a memory on an otherwise forgettable night.
@AdotLalama is a writer living in Guelph who rides a griffin to class