Photon, the first laser tag arena, opened in 1984 in Dallas, Texas. Compared to today's watered-down kid's birthday party game, it absolutely ruled. Photon was a team sport, a capture the flag concept that involved attacking the enemy base while defending your own. The game lasted six and a half minutes, the arenas were standalone facilities measuring as much as 10,000 square feet, and players had to wear 15 pounds of equipment. You had to be a member to play: At its peak, Photon had more than two million registered members at more than 40 arenas. The hardcore players would create their own player names. Photon's creator, George Carter, explained that the media at the time compared it to a "Martian disco."
If Photon resembled a musical pleasure palace of the future, it's because the game took advantage of custom, state-of-the-art light and sound technology, relying on the tight scripting of its soundtrack for cues like "intruder alerts." During these events, automated alien forces would start unloading mayhem on any player who didn't hide in time. Elite players learned to avoid these moments by memorizing the game's engrossing soundtrack—a recording that wouldn't have existed if the members of Fleetwood Mac didn't enjoy an occasional night of high-end go-karting.
***
George Carter is a career inventor who, he told me, has "never had a real job." His website lists accomplishments, innovations and patents in the fields of personal watercraft, all-terrain vehicles, custom wheels, concession cars and, of course, laser tag. Right out of high school he invented a motorized surfboard, creating the basic engine technology that would later be used in jet skis. He also created the bumper boat and a concept for a ski lift manufacturer called the "Skycycle." These days, he's working on a shooting simulator for military training and a spill containment technology for deepwater oil rigs.
Carter's first business, prior to Photon, was a dirt-track grand prix concession car course in Phoenix called the Baja Raceway. The racetrack was across the street from an amusement park called Legend City, which included the music venue Compton Terrace. Jess Nicks, Stevie Nicks's dad, owned the amphitheater, and Fleetwood Mac played the venue several times, beginning on August 29, 1980, according to setlist.fm. As Carter recalls, the band and associates arrived in limousines at the Baja Raceway after the show. It was around midnight, and the track was closing.
"We stayed open just for them," Carter said. "We stayed open 'til like two in the morning. They spent a bunch of money and had a great time. One of the people with them was their accountant [or] manager—he gave me a card and said 'get in touch with me, we're interested in this business.' I'd heard that a hundred times before, that people were interested. But he actually called me a couple months later."
Sure enough, a celebrity investor group that included Lindsay Buckingham, Mick Fleetwood, the actress Beverly Sassoon and others ultimately helped fund a new "chaparral grand prix" race track in Dallas, chosen for its growing economy and cheap land. At the grand opening, Lindsay Buckingham gave away signed helmets to those present. But George Carter was already gearing up for his next venture.
Even cooler than race tracks in the '80s was science fiction. Star Wars had just come out, and futuristic stuff was, as Carter explained, "the biggest movie draw and everything." In 1982, Carter began developing Photon, and the business would ultimately launch in Dallas in 1984, around the same time that the movie E.T. was released. The plan was to build a sci-fi action game that would pit players against each other in an arena and automatically keep score. To properly create the full immersive experience, Carter needed sounds for the guns and a futuristic soundtrack.
He asked Ken Caillat, a member of the investment group and one of Fleetwood Mac's main producers and engineers, if Caillat would be willing to put something together. The music had to keep time for the game, so each track needed to be exactly six and a half minutes long. Other than that, Carter just wanted something that sounded high-tech.
Caillat recalled first spending time developing the gunshot sound effects, experimenting with fireworks and other explosives to get the right feel. Caillat was and still is primarily an engineer and producer rather than a songwriter. In addition to his work on seminal Fleetwood Mac albums Rumours, Tusk, Live, and Mirage, he's played a role in numerous projects, including Michael Jackson's Bad and each of his daughter Colbie's albums (yes, as in "Bubbly" Colbie Caillat). The Photon soundtrack is the sole instance of his work as a composer and songwriter, he told me.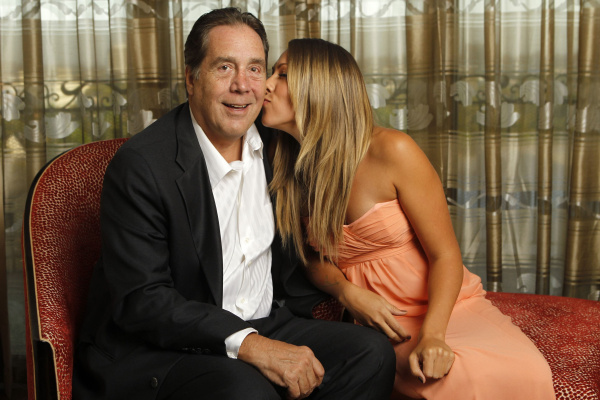 Ken Caillat and his daughter, Colby
He hired some session musicians and, along with his friend and collaborator Gary Chang, put the whole thing together over the course of a week or two. He and Carter hired a woman to voice the game cues, which started with the greeting "Welcome, Photon warriors." Although Caillat noted that "he didn't really think much of it" and no longer had copies of the music, he recalled clearly how it sounded, mimicking some of the rhythms to me and offering a description of the atmosphere.
"I envisioned it starting slow and with a lot of space because you were inside a building that had a lot of kind of rocks and boulders and things you could hide behind," he explained. "I wanted it to be a little bit spooky when it started, but in the end I wanted to pick up the pace and you get caught up in the sound."
The general formula for the songs, as Caillat noted, is a build from minimal, atmospheric sounds to dramatic crescendos in the form of guitar solos or swelling synths. Although the music was recorded as a soundtrack rather than album or song-oriented pop, it's a revealing set of compositions, giving a sense of what the "future" sounded like in the early '80s (maybe it's just decades of conditioning, but it still scans as futuristic-sounding to me).
You probably have an idea in your head as to what space sounds like, and this is pretty much that except with some cool guitar solos. Track one is the immediate standout, with its dramatic, almost melancholy closing guitar line, but things really get cracking on the latter half, which sets a template for sci-fi robot music à la Daft Punk. Tracks six and seven offer bouncing, digitized funk, while track eight's ominous synths build to a sadly beautiful conclusion, like a recreation supernova in the sky.
"I guess I used my experience with Fleetwood Mac to kind of create something that was exciting," Caillat said of the composition process. "Every one of them would end with a guitar lead or a synth lead at the end of the song. I really thought it would be a lot of fun to play the game."
Perhaps even more interesting than the music is the technology Carter and Caillat engineered to play it. They had to build a custom setup using computer technology that was cheap enough to replicate at each franchise—not an easy feat in the '80s, when serious computing was still done on mainframes—so they came up with a solution that involved networking three high-end but relatively affordable IBM towers. One controlled the sound, lights and fog machine, while the other two were responsible for monitoring and scoring the gameplay.
The soundtrack was played off of laserdiscs, a technology so new that the first Photon's recording was actually etched on a glass prototype disc about a quarter of an inch thick. For those of you who never got to watch movies on laserdisc during middle school science class growing up, imagine a CD (you're old enough that you do know what a CD is, right?) the size of a dinner plate. Or, more accurately, those dinner plates they put actual dinner plates on at fancy restaurants. This was the horsepower Photon was working with.
"We were pretty cutting edge for things back then, the way we processed things," Carter said, later adding, "For the '80s it was pretty advanced stuff."
Carter imagined Photon as something cool enough that people would want to watch, so the arenas had observation decks for onlookers (laser tag was "a lot more theme-y back then than it is now"), and some were equipped with actual lasers for laser shows. Caillat told me he considered opening an arena with a restaurant where people could eat dinner while overlooking the players. For a brief moment in time, there was even a tie-in TV show produced in Japan, which Carter lovingly described as "probably the world's worst semi-animated TV show," adding, judiciously, "it was terrible." A home version of Photon was the top selling toy in the country for Christmas of 1986.
Kyle Kramer is an intergallactic warrior. He's on Twitter - @kylekramer