Drake's Involvement in Nicki Minaj's "Anaconda" Video Is in Violation of Canada's Strip Club Policy
This is what happens if you don't cover your lap with a bandana in Canada.
Yesterday was a dark, dark day in Canadian strip club legal history, the day that one Aubrey "Drake" Graham CLEARLY violated the Canadian Lap Dance Protocol, Section 1, Clause 18, which clearly states that "any recipient of a private dance must protect both his pants and the dancer's posterior through the use of a small piece of fabric or cloth." For those of you who aren't thoroughly fluent in the legalese that accompanies the entry of all Canadian strip clubs, let me break that down for you: in Canada, you can't get a lap dance unless you have a bandana on your lap, just in case you jizz your pants during the dance and fuck up everyone's night. Nobody really mentions Canada's Strip Club laws, because they're essentially like Fight Club, in that you're not allowed to talk about them, and they were written with an inordinate amount of verbose details by Chuck Palahniuk. But they're a very real thing and not something I just made up for the sake of this article, so pay attention!
I understand that Nicki Minaj's "Anaconda" video, in which Drizzy Drake receives the incriminating unprotected lap dance, was likely not filmed in Canada, nor does Nicki Minaj have the unique privilege of being a Canadian, but that doesn't change the fact that Drake has Canuck blood running through him, and, as such, should be held to the strenuous laws and punishments applied to those who choose to break the laws. Because if we don't hold our most powerful and successful Canadian global ambassador to the same standards as we do our lowliest Editors, then why even bother having laws at all? What would our "founding father," John A. McDonald say if he found out about this? I'll tell you what he'd say, he's say "punish that dude," because he was a fucking lawyer! But that's enough Canadian history, let's dole out this punishment!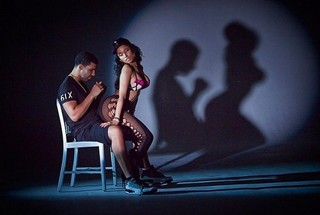 Any man who forgoes the use of a bandana on the lap of a patron automatically becomes temporary property of the strip club and is subject to "glue duty" upon his first offense. Glue duties, which involve a captive man coating the bodies of the dancers with a thin and translucent coat of glue that will pick up the coins left onstage. Unlike the American system of using dead trees as currency, Canada's monetary system is built around plastic and metal, with anything under $5 being represented with coins. As such, during a dancer's routine, she is constantly being pelted with "loonies" and "toonies" which end up coating the floor of the stage. Instead of having the dancer bend down and pick up these coins (that's demeaning), they are stuck to the dancer's body via the glue and collected backstage directly off her body. Nobody wants to apply the glue, since it smells like the inside of an empty beer bottle.
Your second offense in defying Canadian Strip Club Protocol™ results in the offender being locked in the strip club for two days while cleaning up the Papi Room (the term "champagne" was swapped with "papi" in late 2010 following Drake's adaptation of the "Champagne Papi" moniker) after the 2 AM last call. Since it's a Canadian strip club, you're not allowed to do much except cuddle in the Papi Room, but the difference is that you don't need to use any fabric or cloth to protect your nether-regions while you engage in said "cuddling" which undoubtedly leads to some voluminous spills. Clean-up duty at the Papi Room is typically enough for most second offenders to get the message and straighten up, but for some, the lesson has to be pushed to its limits to be properly taught. Under the Canadian Strip Club Law, I'm unable to write out the act in full, but let's just say that it's the type of punishment that inspired the person that inspired the theme of House of Balloons.
Slava Pastuk is drinking a flute of papi and no one can stop him. He's on Twitter - @SlavaP
--
Drake Vs. Lil Wayne Vs. Noisey
Drake Brought Everyone Cool Out at OVO Fest Including Himself
Stories