Fifteen Records That Look Exactly Like Fifteen Other Records
The fine art of the rip-off.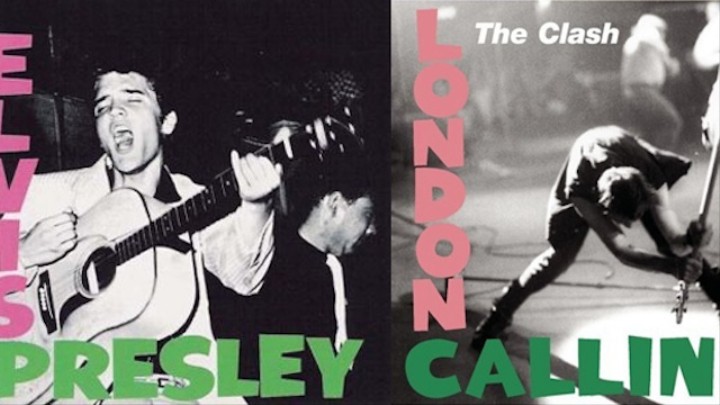 When you look at anything all day, every day, you naturally begin to notice patterns. Records are no exception. Here are a few sets of album covers that have caused me to do a serious double take.
1. Elvis Presley G.I. Blues (1960) / The Replacements Pleased To Meet Me (1987)
Although the subject matter differs a bit, I'm thinking the artist of this iconic Replacements LP had a thing for the king:
2. Elvis Presley Rock 'N' Roll (1956) / The Clash London Calling (1979)
Twenty one short years and rock 'n' roll officially went from hip-shaking to instrument breaking. Thank you, British rock: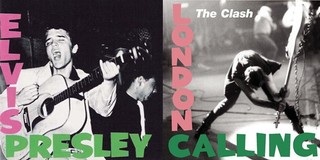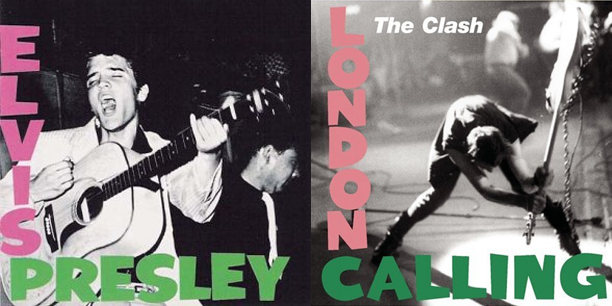 3. Johnny Cash At Folsom Prison (1968) /Milemarker Non Plus Ultra (1998)
Record nerddom starts to get pretty weird when you recognize similar covers based on close ups of Johnny Cash's sweat drips: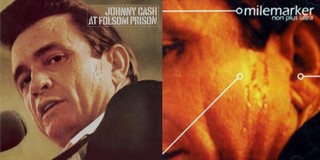 4. Roy Ayers Ubiquity He's Coming (1971) / Smif-n-Wessun Dah Shinin (1995)
There's no question as to why Brooklyn hip-hop duo Smif-n-Wessun would want to shout out the mega-talented legend Ayers, and from the looks of things Ayers is being cooler about things than firearm manufacturer Smith & Wesson was, who notoriously sued the duo and forced them to change their names to "Cocoa Brovaz":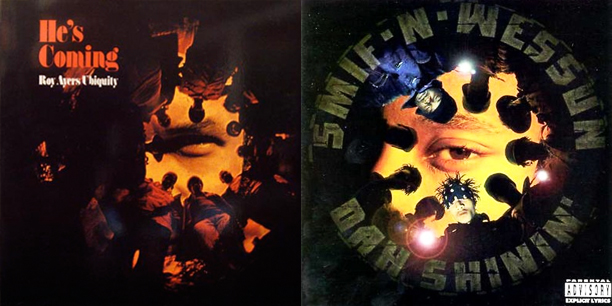 5. Ramones S/T (1976) / Nobunny Love Visions (2008)
"But I wike da Wamones, why won't Nobunny hang out wit me?"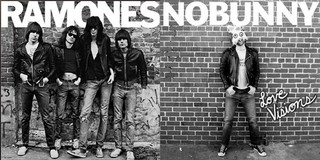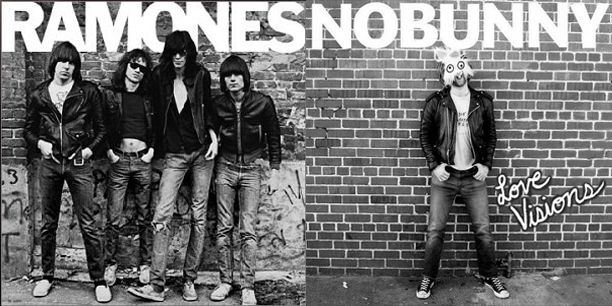 6. Earth Wind and Fire All 'N All (1977) / Iron Maiden Powerslave (1984)
When he wasn't painting cataclysmic album covers, did Iron Maiden's house artist Derek Riggs privately celebrate a love for danceable fusion R&B? Here's likely proof: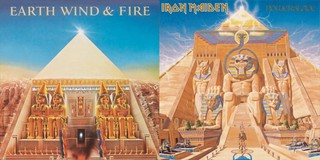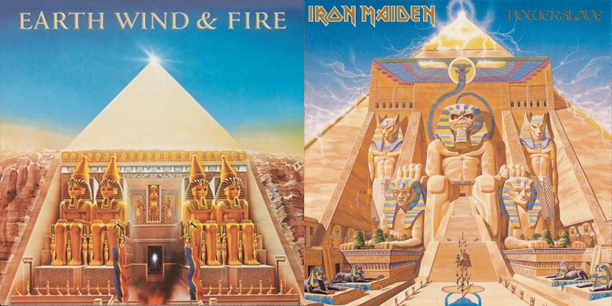 7. Nick Drake Bryter Layter (1970) / Boris Akuma No Uta (2003)
Here's a pretty respectable shout out from experimental Japanese metal heads Boris to the late master of melancholy folk rock, Nick Drake: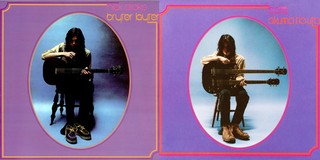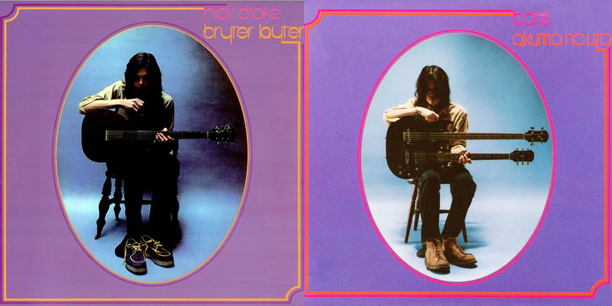 8. Jay Jay Johnson The Eminent Vol 1 (1955) / Jejune, Jimmy Eat World split 7" (1997)
If you thought it was confusing when Jay Jay Johnson started going by the name J.J. Johnson, then the whole situation just got even more confusing. 90s indie twinklers Jejune and sensitive rockers Jimmy Eat World took advantage of all the J's and this split 7" was born: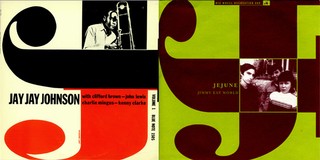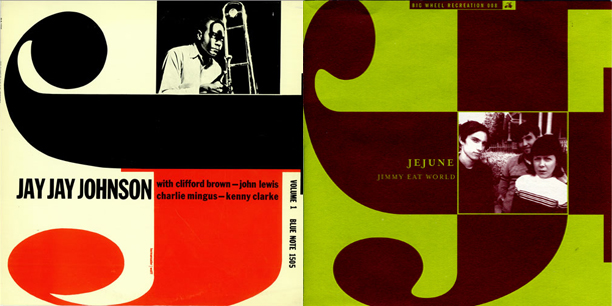 9. Horace Parlan Us Three (1960) / Faraquet This Time Around 7"(1999)
Here's another similar example: Horace Parlan's insanely good and incredibly obscure Blue Note Jazz release gets remembered on the cover of D.C. post rockers Faraquet's late nineties single: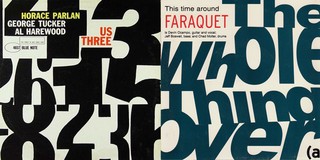 10. My Bloody Valentine Loveless (1991) / Squarepusher Solo Electric Bass 1 (2009)
This is what happens when a musician half-heartedly parodies a classic album. This is either a strikingly poor attempt to do just that, or a concerning coincidence: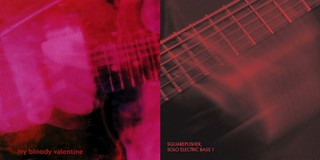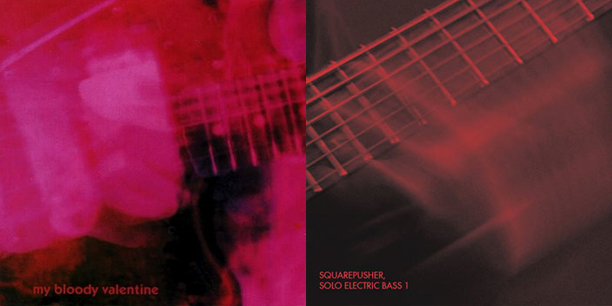 11. Herb Alpert's Tijuana Brass Whipped Cream & Other Delights (1965) / Soul Asylum Clam Dip & Other Delights (1988)
When you are a big record industry executive like Herb Alpert (Alpert = the "A" in A&M records) I'm sure you find ways to get your albums into nearly every one's hands. Copies of Whipped Cream… exist in a great surplus so it was only a matter of time before artists would want to ride that wave (think Meet the Beatles and all 5,000 of the parodies that record spawned). Although countless people have cashed in on the Whipped Cream… concept, Soul Asylum's substitution of "Clam Dip" gets the win: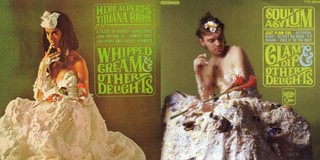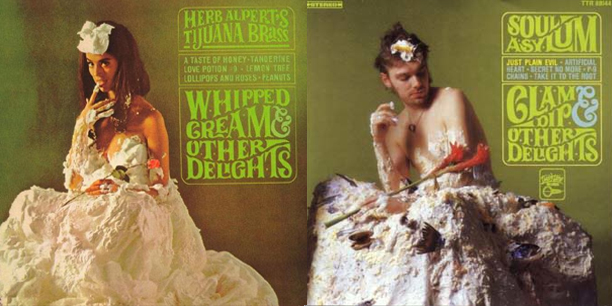 12. Love Forever Changes (1967) / Los York's 68 (1968)
This is a super interesting scenario. Love releases their quintessential album in late 1967 and Peruvian psych rockers Los York's release their album titled "68" a few months later in early 1968. I think what happened here is pretty clear: Love's Arthur Lee scored some Peruvian mushrooms and made some friends in doing so: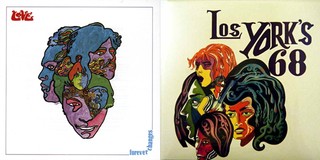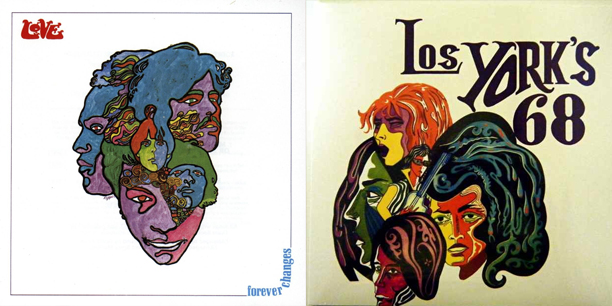 13. Ambergris S/T (1970) / Pavement Watery, Domestic (1992)
Unless the dudes in pavement had access to a strikingly similar and handsome rooster, their album is a straight rip of Ambergris's one and only 1970 release -- pavement just wrote on the album. Dan Melchior apparently has resorted to this technique for many of his releases (including this one):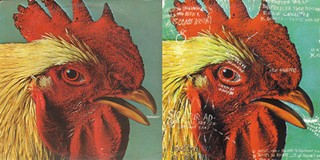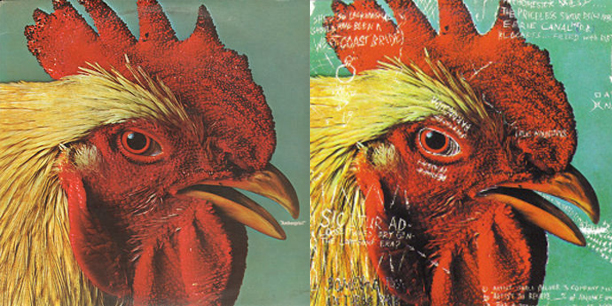 14. Housemartins London 0 Hull 4 (1986) / Lifetime Hello Bastards (1995)
Housemartins - 0, Lifetime - 1: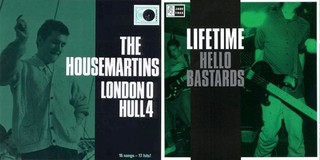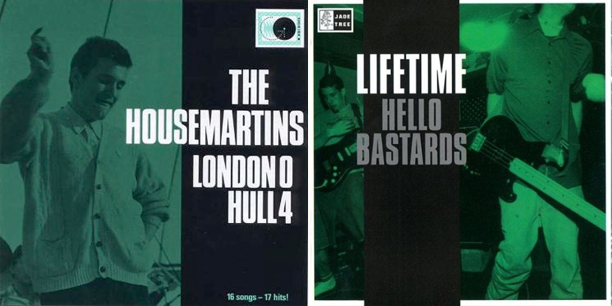 15. Lifetime Jersey's Best Dancers (1997) / Ergs Jersey's Best Prancers (2007)
When NJ's pop-punk crowd pleasers the Ergs decided to parody the legendary 90's album by NJ pop punk pioneers Lifetime, there was almost a severe issue. Ari Katz of Lifetime allegedly called up Ergs drummer/singer Mikey Erg and left him the following voicemail: "We're the only band from NJ who can rip off album artwork from other bands. You understand me?" When Mr. Erg returned Mr. Katz call, they arranged to meet for a cup of coffee at a quaint cafe in Red Bank, NJ to discuss their differences. Supposedly, the meeting ended in laughs and bro hugs and no further action was ever taken by Katz. Still, though: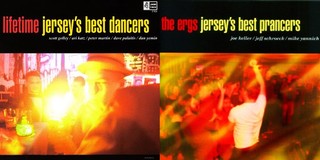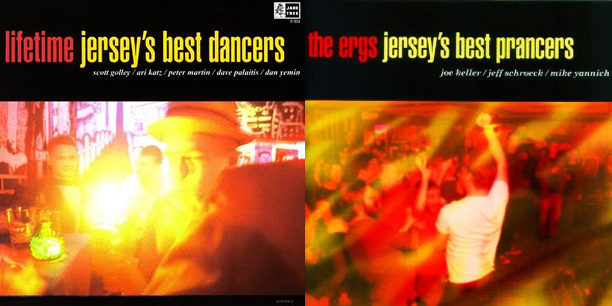 Previously - 420 Rules!
If you live in New York, you can go bother Jeff at Black Gold Records in Carroll Gardens, Brooklyn.
Stories