Elizabeth and Jeremy. On a bed. Maybe it's their bed.

When Summer Camp emerged some three plus years ago, everyone thought they were from Scandinavia, partly because their video for "Round the Moon" stole scenes from a 1970s Swedish teen film, and mostly because their MySpace page said so. Plus, their music suited this falsehood: they made dreamy, lo-fi Polaroid pop. Summer Camp's early songs—and those that ended up on 2011's Welcome to Condale—concerned a cast of young characters from Condale as they groped their way towards adulthood. It was a patchwork of firsts: first heartbreak, first kisses and kiss-offs, premature separations and awkward encounters at parties. The LP also included a glam-rocky stomp entitled "Brian Krakow," where, unlike in My So-Called Life, Summer Camp made Krakow the nerd with all the swagger and all the power from the off.
Anyway, it turned out SC were London-based, real life lovers Elizabeth Sankey and Jeremy Warmsley, and while their second, eponymous album (out on September 9 in the UK and October 6 in the US) continues to be concerned with love and stuff, there are no fictional characters to hide behind. With the addition of producer Stephen Street (The Smiths, Blur), songs like "Night Drive "and "Fresh" (below) are clean and sparkly; less John Hughes VHS vibes, more high def. And Graham Coxon would be particularly enamored with the guitar lick on "Everything Has Changed."
So, to celebrate the imminent release of their second record, Noisey made Jeremy and Elizabeth plunder their photo albums and dust off their scanner, to take us on a trip down memory lane which features dragons, Dwight Schrute, leg warmers, and chinos.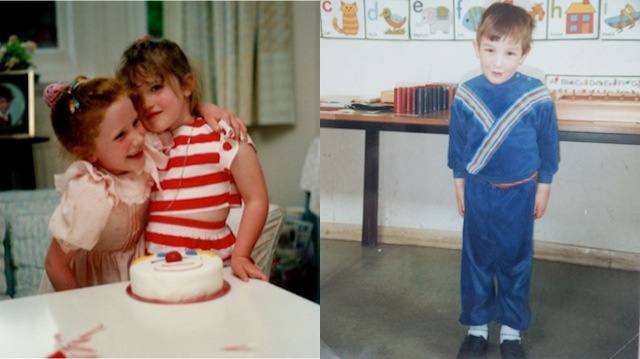 Elizabeth: I've always been a fan of crop tops. Also digging my sister's crochet hair-bun-covering-thing.
Jeremy: My "style," such as it is, has always been based on bright colors and/or really looking like a bit of a twat. Here, in this rare photo, we see the beginnings of this philosophy.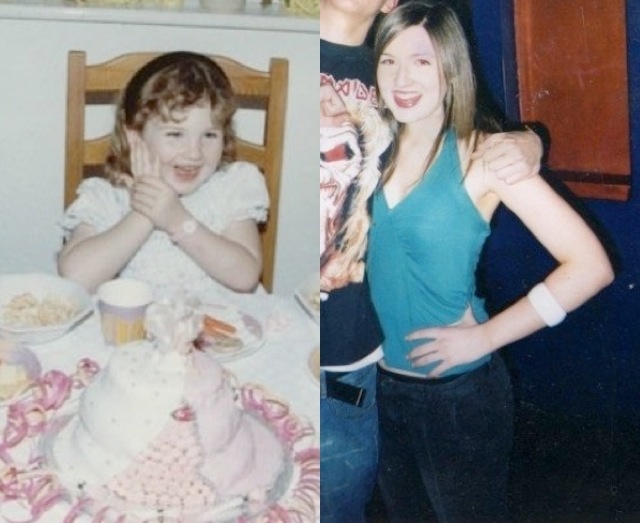 Elizabeth: I remember that black velvet Alice band very vividly [left; an "Alice band" is a "headband" in Britain]. It would dig into the sides of my massive head causing untold pain to my skull. I also remember the dress I'm wearing here would almost cut off circulation to my arms. Party dresses and hair bands: the scourge of the 90s party kid. Cute watch though, and I think someone's mum made the Barbie cake. On the right is me aged seventeen. That was my favorite outfit for a long time. I loved that big white plastic bangle SO MUCH. And those are cropped trousers I was sporting. I wore them with white ballet shoes and sometimes—oh God—leg warmers. Leg warmers, the word that hates women. Also, I had just discovered hair straighteners *hair shudders*.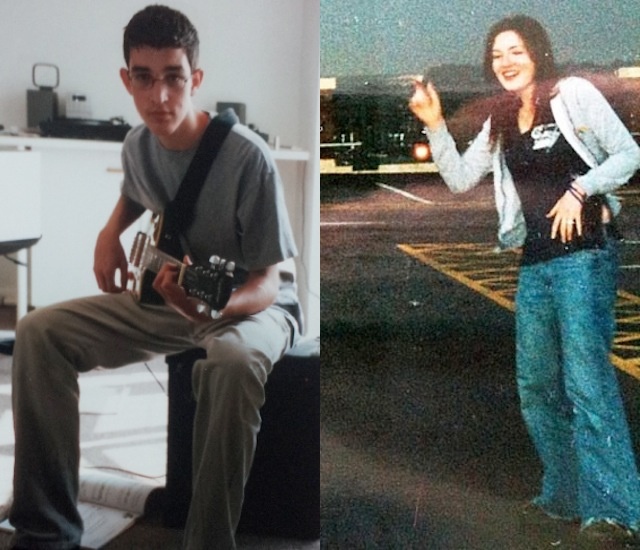 Jeremy: Me at sixteen. I wasn't really interested in clothes at that age. Or having photos taken of me. Or anything other than playing guitar, judging by my face here. I used to wear chinos a lot. Now, I wouldn't put them on even if wearing them caused me to fly. Chinos? More like Chi-NO-THANK-YOUs.
Elizabeth: Another photo from when I was seventeen. I'm just dancing on top of a car park, no big deal. When I was a teenager I used to buy loads of second hand t-shirts and cut them up, 'cos I was really, really, really cool. I also wore flares. These ones got so ragged and ravaged around the bottom, but I kept wearing them until one day my best friend stroked my hand and said, "You need to let them go". R.I.P. horrible bootcut jeans.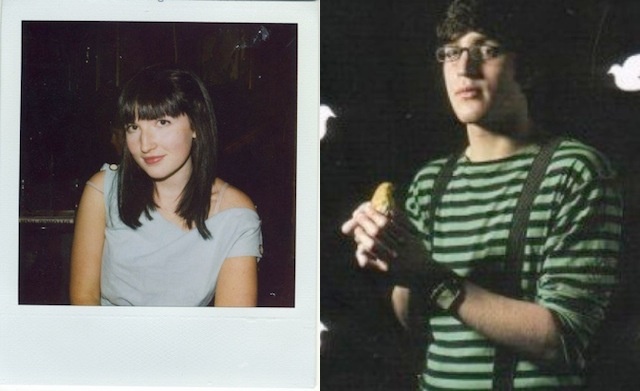 Elizabeth: My only ever "break-up hair cut." One night I dyed it black and chopped in a blunt fringe on my own. This was in my playsuit phase. I'm wearing this weird turquoise one which looked a bit like a surgical gown. Not in a good way. Also, PRETENTIOUS POLAROID KLAXON.
Jeremy: Before Summer Camp I had a previous life as a solo singer-songwriter/producer type. I wore braces and a t-shirt almost every day for about three years. I remember consciously thinking, "This'll be great! I'll be that guy that wears braces!" Not sure why I thought that would be a good thing, or whether I thought about if it would actually look good. Also not sure why I'm holding a stuffed bird on my album cover. I think style is all about learning from your mistakes. Growing as a person—together.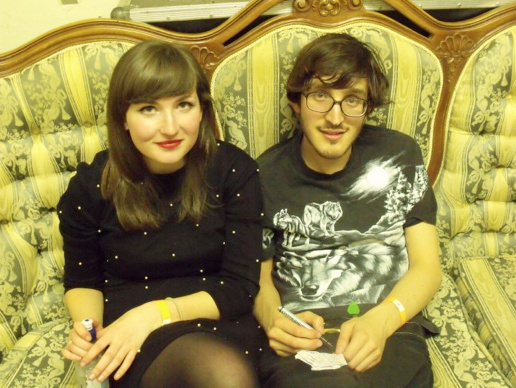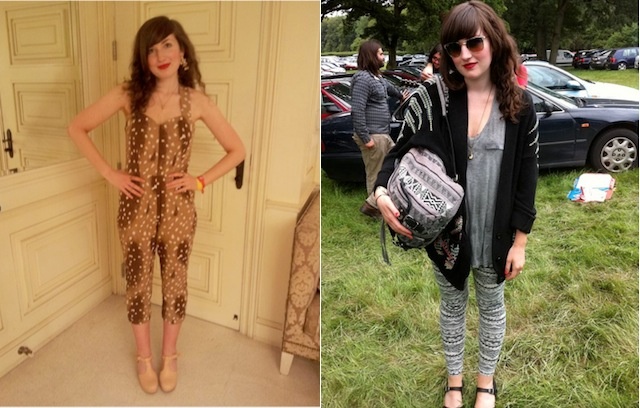 Elizabeth: This is us after our first official gig as a band at the Lexington in London. I think we look as freaked out as we felt. I loved that dress, but it was way too hot for the stage, I lost about 3lbs in fluids that night.
Jeremy: At our first ever photo shoot about a month before this the stylist brought me an amazing t-shirt with a dragon on it—very much in the style of the classic "3 Wolf/Moon" t-shirt I'm sporting here. Now I have loads of these kinds of shirts, mostly found for me by Elizabeth. I was really shocked to find that some people find these shirts "pretentious" or "ironic." I love them in a very sincere and genuine way. Wolves are awesome. Dragons are awesome.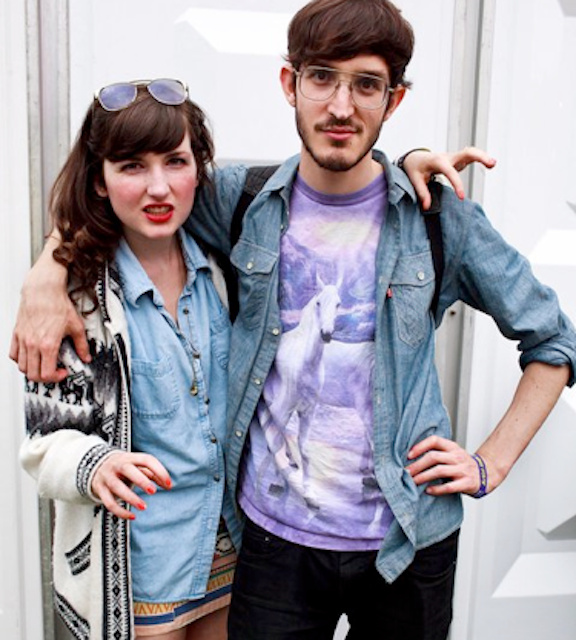 Elizabeth: A phase I went through early on in the band was my "jumpsuit" phase [left]. When we played in Thailand an amazing label called SRETSIS made this for me. It's the only time I've ever had something fitted. Sometimes I take it out of my wardrobe and tell it how much I love it, while crying and listening to Bonnie Tyler. My ill-advised Aztec print phase [right]. Let us never speak of this again.


Elizabeth: This was at Wireless festival in London. That cardigan is from Peru, my parents got it for me. I love it so and have worn it at so many festivals that it's now covered in grass and holes. #hippyproblems
Jeremy: I loved those glasses. Rainn Wilson as Dwight Schrute in the US Office was the inspiration there. Somewhere between a serial killer and a health AND safety inspector. R.I.P. those glasses—you were dropped and accidentally stepped on too soon. Also for some reason I always wear a t-shirt and denim shirt at festivals. I don't know why. (The t-shirt is another unironic animal print one. Purple horses! Who doesn't love purple horses on a t-shirt?)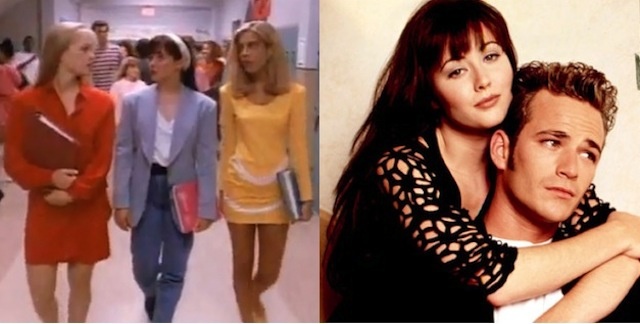 Elizabeth: I have a lot of people whose style I love. At the moment it's Brenda Walsh from 90210. I love her matte make-up and mom jeans, and all the crochet tops. I'm also really into the style of Kat Stratford from 10 Things I Hate About You and *DROOL* Shelley from Twin Peaks. I wrote a whole blog post about her style.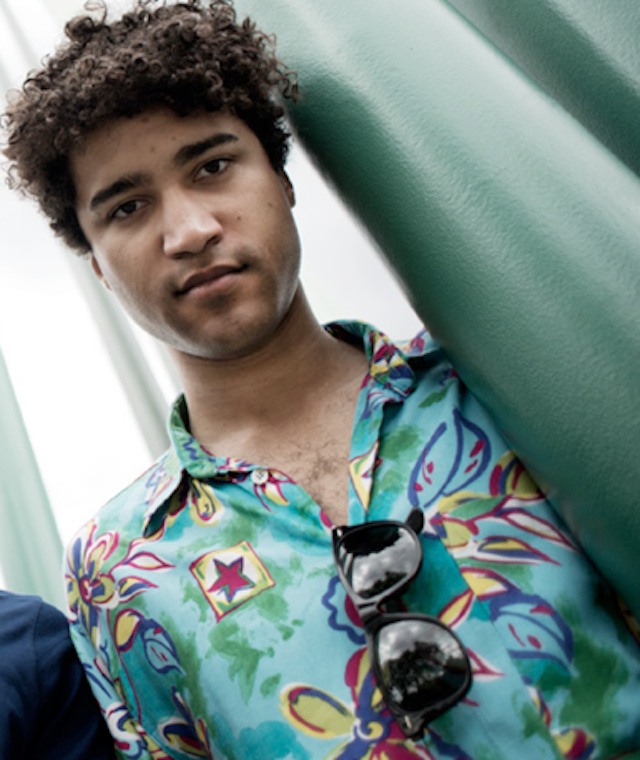 Jeremy: As someone with terrible eyesight and an aversion to putting plastic discs on my eyeballs, glasses choice is just a big part of my style as my clothes. A big glasses hero for me Tom Cruise in Mission:Impossible 4. I can't find a screengrab anywhere, unfortunately, so instead I included a pic of Elton John in a truly revolting pair of orange monstrosities. Into it. (Colin Firth in A Serious Man and Graham from Blur obviously rocking the house either side).


Jeremy: I've always loved how Marcus from Theme Park dresses. He always has the best shirts. Sorry for ripping off your style, Marcus.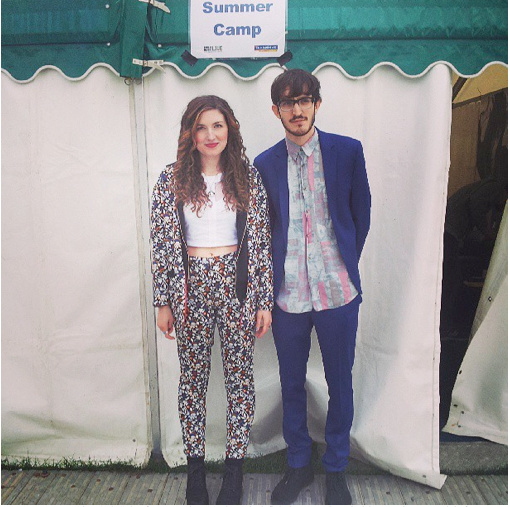 Elizabeth: This was us the other weekend. We're all about "color" and "suits" these days. I was so chuffed [excited] to find these trousers and matching bomber on ASOS. I go through phases with stylez and at the moment I just want to wear high-waisted pants and cropped tops. And I love a print, I shan't lie.
Jeremy: Wearing "suits" that feature "color" at shows is definitely a conscious decision. Putting on a suit before a show feels like a ritual, like a boxer taping up their wrists. And obviously they're going to be colorful because dark suits are just boring.
When Elizabeth isn't making music she is also a regular contributor to Noisey. She writes about the profound importance of TLC, has insightful comments about Aerosmith's video for "Crazy," and ponders Beyoncé's evolution from tragique to trés chic. Stuff like that. You can read all her work here.
Kim is Noisey's Style Editor. Elizabeth and Emmy the Great once made her wear her retainer onstage and made fun of her lisp. She's on Twitter - @theKTB.
Style Stage is an ongoing partnership between Noisey & Garnier Fructis celebrating music, hair, and style.