A Deranged Math Teacher Named Sky Smith Gave Me Money to Throw a Concert in My Mom's Guest House
His dad was an Elvis impersonator, and he was basically the Paul Verhoeven of pop music.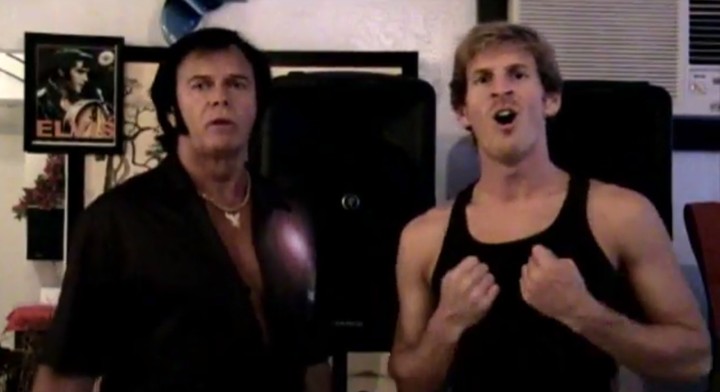 The GAP, Pacsun, Hollister—basically, every store at the mall—refused to hire me in high school. It was 2008, the housing bubble had burst, and I was flaming 16-year-old homosexual. When even landing a barista job is competitive, businesses aren't going to hire an awkward, feminine teenage boy who customers are going to find both annoying and weird, especially when there are cheerleaders looking for employment. But I needed to a job if I wanted to drink and drive (vodka and gas are expensive), so once I realized I would never fold clothes at Abercrombie & Fitch for $8.50 an hour, I decided to hatch a plan.
A few years earlier, my mother had bought my oldest brother and his girlfriend a house behind her puppy store in Hollywood, Florida. Naturally, my brother and his girlfriend eventually moved out to open a puppy store in Jacksonville, leaving the house empty. My mom is a hoarder, so she filled "The House," as everyone called it, with belongings she hoarded (plastic Christmas trees, dog beds, tables, dog cages, etc.). Because the House was in an impoverished neighborhood, where all the residents were either illegal immigrants or drug dealers, the neighbors wouldn't call the cops if I threw a party at the House. In comparison, most my friends lived in bourgey gated communities, where residents called the cops if they heard loud rap music or saw drunk teenagers passed out in the lawn. Since parties would never be broken up at the House, I could charge $10 at the door. I started throwing parties, and within a few months, I was making $900 a night—enough to hire a bouncer, cleaning lady, bottles of liquor, and walk away with $600 in profit.
Sky Smith and his dad performing a duet of Eddie Money's "Take Me Home Tonight"
When I didn't use the House to raise money for my checking account, I put together talent shows to raise money for charity, so I would have something on my college applications. Somewhere along the way Sky Smith, a former math teacher at Dr. Michael M. Krop Senior High School, heard about the House and contacted me. He said he was a "pop singer," and he wanted to rent out my house to put on a concert. Without watching his YouTube video, I said sure because I like money.
Sky Smith's hit "Scream"
A few weeks later, I was with my friends setting up chairs in the House when someone pulled out their phone and showed me Sky's video for his single song "Scream." In the video, Sky lays on a pile of hay, looks into a mirror, grabs his crotch, and lays in bed with a young girl who looks young enough to be his student. Suddenly, the money didn't seem exciting, and I wondered if I had let a monster into my house.
But it was too late. A few minutes later, Sky arrived with one of his ex-students. He set up his equipment. We ate cake with him, and then his dad, an Elvis impersonator, gave a speech about how he was so proud that his "son was following the family footsteps." Miraculously, we were perfectly safe. Locals questioned his choice to put the girl in the video, but I think the video was asexual. Sky was simply a math teacher who wanted to be a pop star.
Sky Smith performing in "The House"
Over the next few months, my friends and I became obsessed with Sky's songs. The next time Sky rented my house, his audience considered nearly entirely of my friends. They said they came to make fun of Sky—I, for one, was laughing—but after the show ended, we continued to stalk Sky online, although we never saw him again. We watched the video where Sky and his Elvis-impersonator father sing, "be my little baby" to each other, and the video where Sky rolls around in fake snow in his apartment in Miami. Six years later, I still remember Sky Smith's videos and songs more than anything Sky Ferreira has ever created.
Sky Smith's holiday hit "It's So Cold (Happy Halloween)"
There are many bad music videos, but there are few videos as memorable as Sky Smith's entire oeuvre—the only artist who has created more memorable content is Paul Verhoeven, the director of Showgirls, Basic Instinct, and Robocop. These artists remind me of Roger Ebert's review of Danny Devito's Death to Smoochy: "Only enormously talented people could have made Death to Smoochy," Ebert wrote. "Those with lesser gifts would have lacked the nerve to make a film so bad, so miscalculated, so lacking any connection with any possible audience." According to Ebert's philosophy, any man can make trash, but it takes a genius to create a true piece of crap. Sky Smith might not be a good singer, but he is undeniably a great artist.
Mitchell Sunderland is still listening to Sky Smith on repeat. He's VICE's Weekend Editor and on Twitter — @mitchsunderland
--
Want more?
To Paris, With Love: We traveled to Paris Hilton's House
Aaron Carter: Starting Over, Starting Now (at a Mexican Restaurant)