Watch #BASED Bmore Producer Schwarz's "Tonight's the Night" Video
He keeps the posi-vibes coming, can u handle it???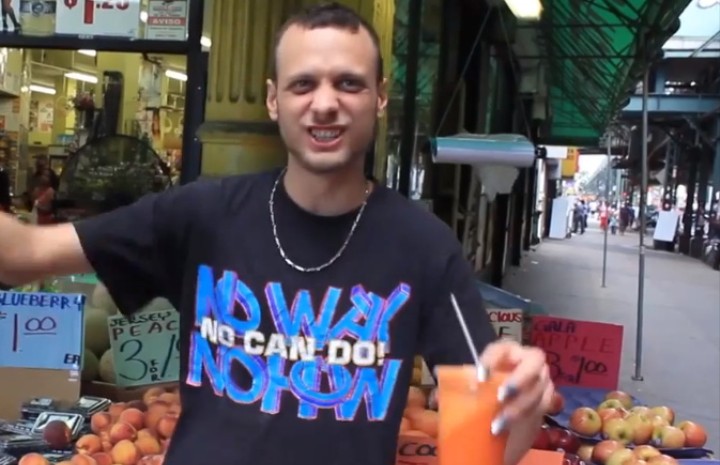 Baltimore producer and DJ Schwarz , who we declared too weird for even the Internet, in a profile last week , has released a video for his latest single "Tonight's The Night," the high-energy follow-up to the brain-busting #BASED party jam, "U R Beautiful," from earlier this year. The weird posi-vibes headspace of Andrew WK gets occupied by the platonic partying of Pitbull here, with a doses of Bmore club, Black Flag, Insane Clown Posse in "Miracles" mode, Araabmuzik in-quotes gabber, and plenty of maximalist sincerity. Telling lyrics: "Put one finger in the air if you ain't a fuckin' bitch/ We in the club, club hot as balls/ Takin' off our shirt, sweatin' down our drawers/ It's the fuckin' weekend so you know we're gonna party." It's only a matter of time before Miley Cyrus is onto this shit, right?
In the video, you get a glimpse of what Schwarz is like when he's DJ-ing—lording over a crowd and hyping them up with his Fatman Scoop grunt. Meanwhile, "Release Yourself" tattoos are revealed, smoothies are made, half-shirts are worn. And look out for cameos from Fat Tony, Cities Aviv, and Jessi Wade of Dark Sister. Watch the video for "Tonight's The Night," directed by Brian Agamie above, and grab "Tonight's The Night" on iTunes or Bandcamp, out on Juiceboxxx's Thunder Zone label now.
Stories