Remember last year when everyone's favorite song was "Everything's Embarrassing" and we all got really excited about Sky Ferreira's debut album finally coming out but it never happened? What is going on? Now that I think about it, Sky first started teasing us in 2010, with singles like "17" and
"One."
Back then her debut album was mooted for a late 2011 release. During the intervening three years she's continued to bait us by appearing on a bazillion magazine covers and a couple of EPs,
As If!
and
Ghost.
That's one protracted session of foreplay. I tracked down the 20-year-old triple threat (singer/actress/model), who's also the owner of an excellent eyebrow-hair combo, to find out what she's been playing at with the whole debut record thing, plus we get to the bottom of a few online rumors. Oh, and global warming.
Noisey: Hi Sky, how are you?
Sky: I'm good, I just got home to New York.
From?
Well I was in London for a few days, then Paris for a day, then flew home for a day, then back to London, so I just got home, I might be a little delirious, sorry.
You've been calling New York home since moving from LA. Do you find it inspiring?
It's the energy here more than anything, LA is a lot slower which is good when you need to focus. Like, I'll work on a record here and get all the ideas together, but then go and make it in LA, you know? It's far too easy to be distracted here.
So is NY to blame for the delay in your much anticipated debut album? What can we expect from it? Can you describe it for me in a word?
One word? Ummmm… in fact just write that, just write, "Ummmm." With four "m"s.
So it's hard to explain?
I mean it's all over the place. But I guess it's ten up-tempo songs, all still pretty electronic, although for some reason it comes across more pop-rocky live. I'm still trying to make it sound more like the record when we play it, which hopefully will get done because I have some shows coming up pretty soon. I've actually just been finishing the artwork for the album, it's simple, but intense. There's not much to it. but there is a lot to it. Does that make sense? Probably not. You just have to see it.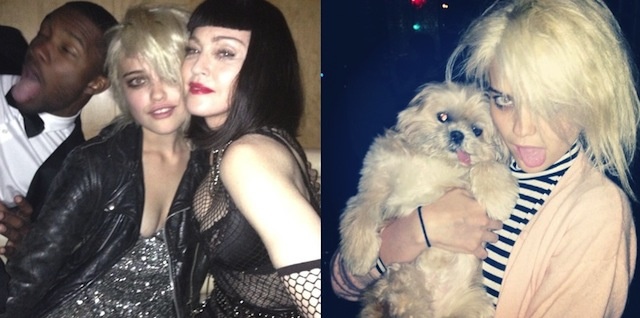 Madonna at the Met Gala in May; Sky with a puppy. All stolen from her Instagram.
So you have creative control over the artwork and the whole aesthetic?
Yeah I have full creative control over everything actually. That's very important to me. I just don't have control of the budget, annoyingly. I said to my label, "I want to make a video for every song on this album, that's my goal." They said I could make two big budget videos, but I was like, "No, we're going to need a video for every single track." So that's what we're doing I think.
You say the album is all over the place, were you influenced by a lot of different people while making it?
Actually I tried my best to avoid listening to music while we were making it so I didn't sound like someone else. That happens when I listen to something constantly: you think you've made something really good, but actually you just start to sound like what you're listening to. So I tried my best to avoid music where I could and just experiment with different sounds and ideas. Like taking four different sounds from different genres and just throwing them together. Sometimes it would really come together; sometimes it would be a disaster.
Sky's current Forever 21 campaign.
I did some research and saw that, according to the internet, you're musically influenced by Emma Bunton. Discuss.
Ha! That is not true, but it's online so I should go along with it. I was a big Spice Girls fan and she was my favorite, so sure, why not? I was talking to someone about this recently actually, and the things people make up online! For example do you know Eli Roth [who is directing an upcoming movie starring Sky] gets sick at the sight of blood? Absolutely not true, that's ridiculous. Also once I read I was part Korean, so then I called my mom and was like, "Do you have something to tell me?"
So we're not going to be hearing a cover of "Wannabe" on the album, but Bunton is still something of a style icon, no?
Emma Bunton is why I bleached my hair, obviously. Although recently someone left the bleach on too long and I had to cut it to save my hair's life. I've pretty much never had a haircut so now its going through an awkward stage where there are weird layers that didn't exist before. Sometimes it gets mullet-y, I don't really know what's going on…
Maybe you should just do a Miley Cyrus?
No way. You would have to pay me a lot of money, no thank you, forget it. Or like an Amanda Bynes? You know everyone thinks she's going crazy, but I think she secretly might just be the greatest actress that ever lived and this whole thing is just really smart.
You're known for basically looking great all the time. How much thought goes into what you wear on and off stage?
Honestly, it depends on how I feel that day. Sometimes I'll wear the same thing for two or three days straight. Sometimes on stage I'll want to dress up, but sometimes not. Like after spending hours in a van, then getting to the venue, I'll think, "Do I really wanna get dressed up in the bathroom of this dive bar right now? On a really hot day?" As long as no one has checked my Instagram, no one is going to know that I'm wearing the same thing I was wearing this morning. It just gets so hot here in New York too. Like last week, I actually vomited because my body couldn't handle the change in temperature. Global warming is real, you know? For ages I just didn't believe it and just felt bad for the next generation who were going to have to deal with it, but it's totally real. It's happening.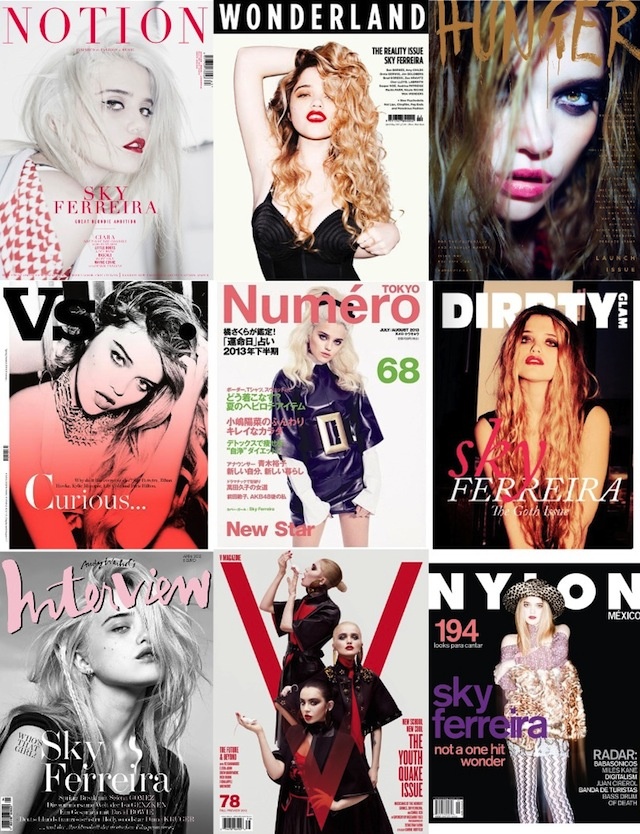 I know fashion is a big part of your life, we're always seeing you at events and looking smoking in campaigns and on magazine covers. What's most important to you: singing, acting, or modeling?
I really like fashion, but I couldn't live without music and film, those creative areas are very important to me.
So what can we expect next from you?
I'm filming a music video in the next few weeks, then I have shows in London—some surprise performance situations which I can't talk about—then I'm doing Pitchfork Festival in July. Oh and I'm turning 21, so there's that. I want to throw some big Kim Kardashian-style party. Like hire out a huge club and have all the girls from Jersey Shore there.
Sky Ferreira's Tour Dates
6.17 - Hoboken, NJ - Maxwell's
6.26 - London, UK - Scala
As far as we know, Georgie has never puked from the effects of global warming. You can find her every Friday at noon on EVR, playing great music and hosting Pop Goes The Future. She's on Twitter - @GeorgieOkell.
Style Stage is an ongoing partnership between Noisey & Garnier Fructis celebrating music, hair, and style.