Photo courtesy of Tomo Vresak
The head-exploding wad of cred NYC avant-garde jazz maestro John Zorn has packed over the last three-odd decades is holier than thou. From molding downtown Manhattan's experimental and jazz scenes, to collaborations with noise queen Yoko Ono, ex-Sonic Youth'er Thurston Moore and Faith No More's Mike Patton, then on to Bladerunner, his trio with Dave Lombardo (formerly of Slayer) and bass ace Bill Laswell, this visionary sax titan, at 60, remains one vital dude.
Naturally, Zorn also has killer taste. He's been running Tzadik Records for the last twenty years, handpicking upstarts from out of the blue and releasing their records. Under the "Spotlight Series" moniker, Zorn has uncorked the noisy prog-jazz of Many Arms, Guerilla Toss's spastic punk and the genre-hopping guitar sheddery of Lou Reed guitarist Aram Bajakian, just to spout off a few.
Now another of Zorn's protégés are about to crank out a fresh slab for Tzadik. D.C. Klezmer-jazz punks Les Rhinocéros are approaching the release of their third LP for Tzadik—fittingly titled III and due 6/23—and like the first two, the trio go full throttle on its brainy world music riffage, jazzing up traditional Jewish melodies and mangled electronics with skronk heaviosity. Les Rhino's apeshit mashup is crystallized on its new sonic ripper they call "Coltun's Pinky Crusher" (premiered below) and crush it does.To figure out just who the hell these dudes are, we caught up with bassist Michael Coltun to clue us in on Les Rhino's secrets.
Continued below.

Noisey: The new Les Rhinocéros record is called III, and the first two albums were named I and II. What's up with that?
Michael Coltun: I like the idea of having albums numbered chronologically. Although the Les Rhinocéros albums don't really coincide with one another, the album numbers are there to show progression. All three of the Rhino albums are pretty different from each other, not to mention a different core lineup on I versus II and III, and it's nice to see how the band has grown from I to III.
Les Rhinocéros's music has traditional Jewish melodies ingrained in it. Where does that come from?
I think it comes from growing up surrounded by Eastern European/Klezmer/Jewish music playing around my house or when I would go to synagogue. Although I'm not really a religious person, I find that I have a strong connection toward Jewish melodies and it's easy for me to write them, it just kinda comes out.
Speaking of that influence, you guys are fittingly on Tzadik, John Zorn's label.
Tzadik is one of favorite labels and it's such an honor to be a part of a creative community of artists. Tzadik is a label that releases albums by artists who might not be able to release on more conventional channels. The label gives us 100% freedom to make the music we want to make, which is a beautiful thing.
How'd you wind up on there?
After we had finished the first album (October 2010-ish) I had mailed a CD out to a bunch of labels, Tzadik being one of them. Less than a week later I got an email from Zorn telling me how much he liked the album and wanted to release it on Tzadik. Because at that point there wasn't a series on Tzadik Les Rhinocéros would have fit on, he created the Spotlight series, "a series focusing on young bands with great dedication, passion, talent and imagination." Five years later and our third album is being released on Tzadik!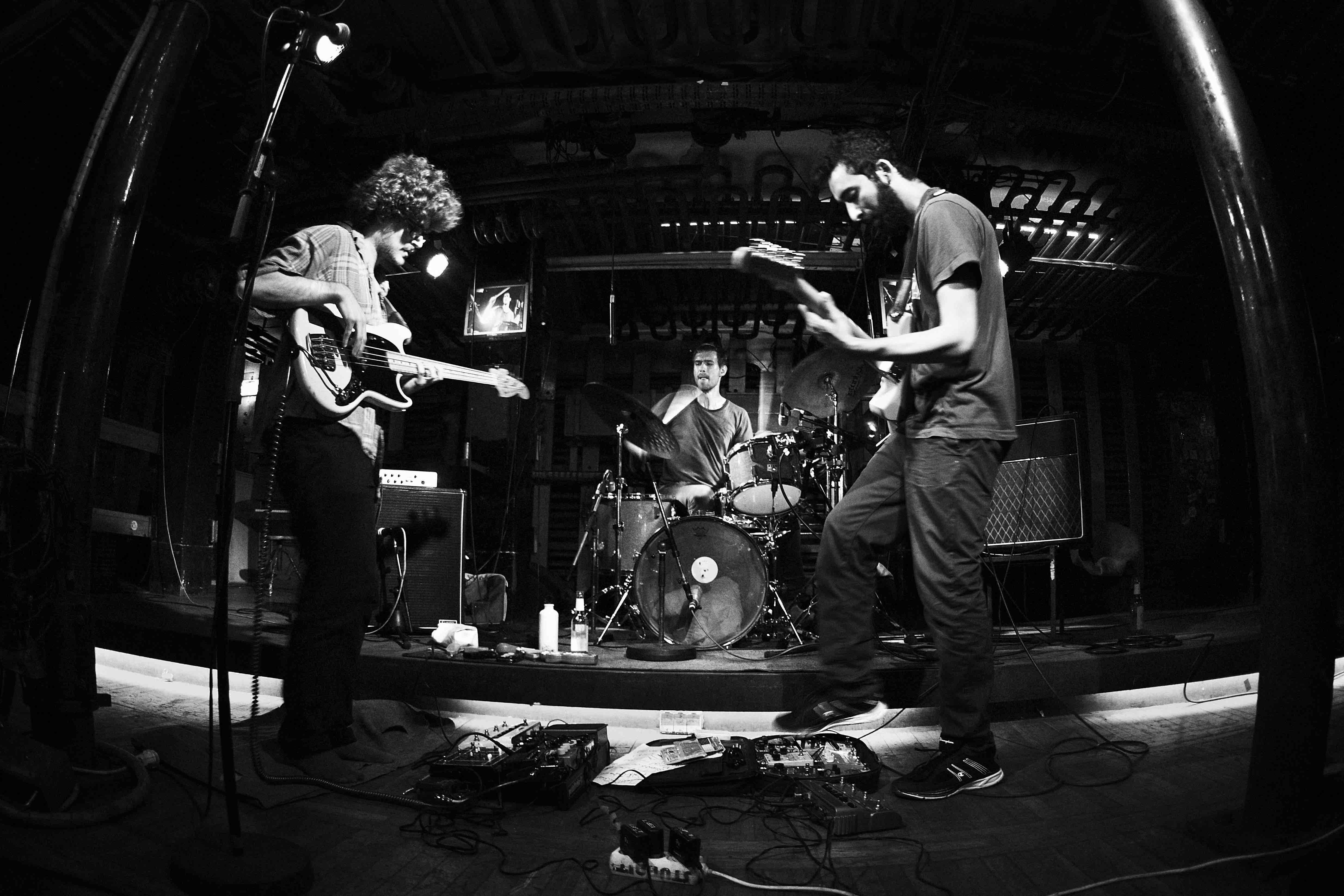 Photo courtesy of Frank Schmitt
Are there recordings of Zorn's and other Tzadik records that helped shape your sound?
My dad played a lot of music around the house when I was growing up. Everything from Thelonious Monk to West African music to Bill Frisell to The Beatles to Nordic folk music and so on. One thing my dad later told me was that he use to play John Zorn's Naked City when my brother, sister and I would be going to karate class, I was around 6 or 7 years old, he said my brother and sister would be screaming for him to turn it off whereas I would be digging it! I revisited the first Naked City album when I was in middle school and got really into a lot of Zorn's other works around then, specifically the Masada projects and his Filmworks. The Secret Chiefs 3's Xaphan: The Book of Angels, Vol. 9, was another big one for me, as well as the Kletka Red album Hijacking, both on Tzadik. Those albums definitely had a big impact on me.
There's another band on Tzadik called Deveykus, who've been called "Jewish doom metal." How would you describe Les Rhinocéros?
I think it would be pointless for me to narrow-down one specific genre since there's so many different sounds all mixed together. Yes there's rock, jazz, world music, noise and whatever else is in there, but I'd like to think it's something different, something on it's own combining all those elements. Since all three of us (myself, Jon, and Amit) come from different musical backgrounds and listen to so many different types of music, all of these styles just get mixed in together. Someone once said that we sound like "World music from a country that doesn't exist". I'll take that.
Les Rhinocéros III is out 6/23 via Tzadik and catch'em on their East coast album release tour here:
6/7 - Richmond, VA @ The Camel
6/8 - New York, NY @ The Stone (8 PM set)
6/10 - Northampton, MA @ Hinge
6/11 - Cambridge, MA @ Lilypad (Early show starts 6pm)
6/12 - Philadelphia, PA @ HOUSE SHOW
6/13 - Washington, DC @ Paperhaus
6/14 - Baltimore, MD @ The Creative Alliance