Worst Gift at Soybomb - Photo courtesy of Becky Martyn - Flickr
This story originally appeared on Noisey Canada.
Whether you realize it or not, your city desperately needs an underground music venue. Whether its a warehouse, a punk house or some sort of other strange, mixed-use space, less-than-legal venues are the lifeblood that drive music forward. From punk and hardcore spots through noise installations and late-night raves, underground venues have helped define almost every forward-thinking music since forever. While so many of us take these venues for granted when we're crushing brews in front of some local band at 4 AM on a Thursday morning, there are people working hard behind the scenes to make these spots happen. And without them, we'd all be worse off.
That said, you youngsters with brand new credit cards and dreams of greatness should definitely start a new underground venue. No matter what city you live in, it'll almost definitely be better off with another place promoting strange new music. To guide you along your path (that, spoiler alert, will not last forever), we spoke to some underground venue proprietors to gain wisdom about opening a secret spot.
Step 1: Address a Need
Though it started as a series of semi-secret shows in the Emily Carr parking garage, Vancouver's Emergency Room found a warehouse space in East Vancouver and became one of the city's most vital venues, incubating its noise scene and providing a place to play for then-new bands like White Lung, Nü Sensae, and Shearing Pinx. Justin Gradin, whose band Mutators was a fixture at the time, was also the guy who signed the lease on the venue. "At the time in Vancouver there was nowhere to play if you were a punk or noise band," he recalls. "There were shows where the power was literally shut off during a performance, and everyone would be told to leave. At this same time the opportunity arose to take over a warehouse space, and I felt it was necessary."
Years later, inspired by the Emergency Room, a few young men opted to start 360 Glen for similar reasons. "None of the clubs in the city were doing what I thought needed to be done with to respect live and electronic music," says co-founder Brent (he asked us not to use his real name). "No clubs were willing to give me a room on a weekend night without charging a hefty fee and/or imposing crap aesthetic and/or sound restrictions." Similarly, a promoter in Ontario (whose venue is currently being shut down, so he'd rather not use its name or his own) said he founded his space to fill a niche. "When I realized that there were no venues that really represented what myself as a promoter or the bands I generally book (DIY punk) stand for," he explains. "Not one venue in my city actually supports all ages events or the music community I am a part of. They'll say they do but as soon as they realize that it's not as profitable, they can it."
Others founded venues almost by accident. Jason Wydra, proprietor of Toronto's Soy Bomb space (which is more of a house that occasionally throws parties with bands), explains that he simply wanted a place that could facilitate him, a bunch of roommates and a half-pipe. The shows happened more organically, and he says the venue has "grown unnaturally." David Mattatall, a Vancouver DJ (catch him at the monthly amateur strip night Rent Cheque) and musician, had a similar fate when he founded his now-defunct venue and record shop. "Zoo Zhop started as a jam space and living quarters for my band, which broke up, and then I was stuck with a lot of space and rent," he recalls. "I decided to turn the space that we had into as full a time a venue as you can get away with.… So I guess if you want to be forced to do something interesting with the space, over commit."
Step 2: Know Your Neighborhood
Naturally, you don't want to rent a space in the middle of a residential neighbourhood. Instead, you want a location that's separated from neighbors without being impossible to access. You'll also have to work within what's available. "The location chose us, but if I were looking, I would choose something in an industrial area," Gradin says. "The more generic looking the building the better."
"It was a perfect location in the city," Mattatall recalls of Zoo Zhop. "Neighbors? Across the street was the courthouse, but the courthouse doesn't care if you make noise at night because no one's there. Next to us on the north side was an empty storage unit for [Vancouver strip club] the No. 5 Orange, so who the fuck knows what's going on there. To the south was Don Pottie, and amazing artist who was nothing but a huge supporter of the space and he'd give us cover any time the police came by. He was just a great man. He passed away in 2012. He was an absolutely great man. The support of him as a neighbor was very helpful, for sure."
"The right location really was a confluence of proximity to people but distant enough from neighborhoods where people might complain," our secret friend from Ontario says. "That, and a landlord that seemed cool with what we might get up to. " Speaking of neighbors—if you have them, don't be an asshole. As Wydra explains, it's important to keep the peace. "Be an ambassador with your neighbors," he says. "If there's a problem, don't have that little pissy attitude like 'well fuck off then.' Have that attitude like, 'Sorry, how can we make this work?' Buy them a case of beer or mow their lawn."
Step 3: Read Your Lease
Once you've found a spot, the next step is signing a lease. While that's obviously a case-by-case situation, make sure you at least read the damn thing. Or better yet, make changes to it. Before he moved into Zoo Zhop, Mattatall went over his lease with a fine-tooth comb to make sure it suited his needs. "When we moved in as a jamspace, we knew we'd have shows a couple times," he recalls. "I edited the lease before signing it in a way that was favorable to any discoveries of what we were doing with the space. We lived there, and I removed any reference to that being disallowed from the lease. The nuisance clause was like, I changed it from 'being a nuisance to neighbors' to 'being an unreasonable nuisance.' I just added everything to make it beneficial to us."
Gradin, too, lived in the Emergency Room for a while after signing his lease. "I shot at the rats with my BB gun, and [roommate Jeremiah Hayward] got us the Disney channel by using a bass string as an antenna." The unnamed Ontario dude smartly formed a limited liability corporation with his partners, the name of which is listed on the lease as the tenant. "When you're operating under the radar, you're kind of presupposing that there's something wrong about what you're doing," he says. "And that's why we signed a month to month lease."
Step 4: Know the Law
Depending on where you live, the laws will vary. But operating an unlicensed venue will inevitably attract some unwanted attention from the powers that be. At the very least, make sure you've read up on the rules. "If you're opening an underground / illegal venue, know everything you can about bylaws in your city," our Ontario friend says. "Know how you could get fucked over and do everything you can to hold that off as long as you can."
"Know what you are zoned for," Gradin adds. "When the cops would come to the ER, and I would say that I was hosting a private function they would always check two things: if I had security (doesn't need to professional, just someone at the gate that looks the part), and what my zoning was. I was zoned to be a recording studio/rehearsal space, so we were allowed to make noise. It is not expensive to get this, and will help in the end."
As Mattatall puts it, your city might be able to shut down your night, but it's harder for them to close your space altogether. "If a city actually wants to shut down a venue, they have to take you to court," he explains. "That's going to cost the city tens of thousands of dollars, because lawyers are costly. So the city is not going to do that, I knew the city wasn't going to shut us down. They were going to harass us, and the police have their own methods, but the city wasn't going to shut us down. It's not an arrestable offense, it's not anything the police can take you to jail over. And it's not anything the crown council can take you to court for a criminal charge. It's nothing. So the police can really just shut down a night."
That said, if you do get in enough trouble that you have to go to court, don't look like a fucking skid. "If you do get called into city hall, try and not look like a guy who runs an illegal venue," Gradin explains. "I went in once with two broken ribs and a black eye, but I wore a dress shirt and tie, and they took me more seriously. There was another guy in town who ran an illegal venue and he dressed like a goth Bart Simpson. He always seemed to have trouble with them."
Step 5: Be Careful with Booze
Chances are, people are going to drink at your venue. Even more dangerous, you might opt to sell booze yourself. This can also be a major red flag, so be careful. "If you're selling booze illegally don't get caught," Mattatall says. "But honestly that's not a huge crime either. Why it's a big deal for legitimate venues is that if they lose their liquor license, they lose tens of thousands of dollars in potential liquor sales, outside of the fines. The fine is that you obtained a liquor license and you abused it. It's a huge fine within the province of British Columbia. I'm not a lawyer, but with an illegal venue you haven't taken a license. They can't take away a license, they can only go after the individual selling the beer."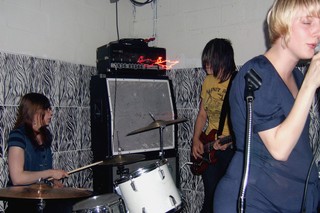 White Lung at Emergency Room - Photo courtesy of Sarah Cordingley Flickr
We should all emphasize the point that Mattatall is not a lawyer. But he has more points: "The province can shut down legitimate venues because they can revoke their liquor license. We never had a liquor license. There's no revocation. It's up to the police to decide if they want to lay charges for anything, but the police don't know what charges are applicable, if any—they'll take your beer, maybe. That never happened to us, because we never got caught. Don't get caught! Don't put the bar in an open space. Put the bar as far away from the door as possible. Make it easy to shut down quickly." If you plan on selling beer without carding (you anarchic miscreant), be aware of the consequences. "Find out what the fine is in your city for selling alcohol to minors," Gradin adds. "Save this money up from shows, and always have this money in a safe place."
Step 6: Stay Secret, or Don't
Once you've got your venue up and running, it's almost definitely going to be a hotspot for a niche clientele. And once that happens, the thirsty journalists will start sniffing. Though somewhat ironic to mention in this piece, be careful who you talk to, and know the limits of what you want to say.
Our anonymous Ontario promoter is in the midst of disassembling his venue because local journalists hyped up his space, thus drawing too much attention to it. "People wrote about it when we asked them not to," he says. If he start it all over again, he says he would've "not posted the address ever and pushed back on journalists who wanted to write about the space with greater effort."
Then again, Mattatall found success with an opposite approach. Knowing his rights within Vancouver, he openly promoted Zoo Zhop as much as possible. "I went into it knowing I could continue to be a pain in the ass forever, and I did that," he says. "And Zoo Zhop was so flagrant. We advertised openly. I went to city council and they knew what we were doing."
Step 7: Be Stubborn
Mattatall's attitude is the main reason Zoo Zhop survived through its whole four-year lease. "Every mistake I made, we figured out how to make it work," he recalls. "Don't let the man get you down. Be fucking persistent. Find out the rules, the actual rules surrounding things, so you can be stubbornly confident what you're doing isn't going to get you in much trouble."
The unnamed Ontario promoter adds that you should cover your ass every step of the way. "If you're doing something illegal, it's only a matter of time before you get pinned, so make sure you are protected."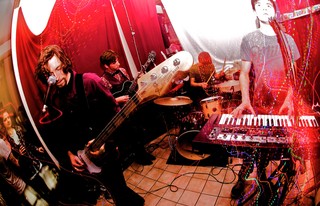 Telephone Girls at Zoo Zhop - Photo courtesy of Steve Louie Flickr
"Don't take no for an answer—figure out another way to do it," Wydra adds. "If we were doing everything with the proper permissions, we wouldn't exist. We couldn't afford it. It would be completely unsustainable. It's really not sustainable now, it's just an expensive hobby of mine. I'll never make up for the cost of audio gear with the money I make from gigs. Gradin sums up the whole thing nicely with his own simple DIY platitude. "Don't be scared, don't over think it, just do whatever you want."
Step 8: Lower Your Expectations
Even if everything's running smoothly, you probably haven't started the new ABC No Rio or 925 Gilman St.—your venue is almost definitely going to fall apart for one reason or another. "Expect to fail and lose all of the money you are investing," Brent says. "There is no way to feel secure if you have an underground venue. A waiting-in-Home-Depot-parking-lot-for-someone-to-hire-them temp labourer has more job security than an underground venue owner."
For Mattatall, Zoo Zhop's demise simply stemmed from its lease running out and the landlord doubling the rent. Gradin says the Emergency Room shut down during their last-ever show. "We had a couple of break ins, and we were all getting a little exhausted of the whole show thing, and we decided to have a final party," he recalls. "When the cops showed up they asked me what was happening, and I said a private party, and that "everything was under control." The cop points to a group of teenagers by the ER entrance—one of them is puking while the others are smoking weed and drinking... Vancouver is an anal place. They want you to obey the rules, pay for parking until ten o'clock, and to never dance. Thinking for yourself here is a problem."
Since Soy Bomb is operated as a collection of informal house shows, the pressure is off and things are relatively chill. "A lot of people make the mistake of trying to run DIY spaces and turn them into a viable venue, like a legal space that you can have a business model," Wydra explains. "I don't know anything that's lasted that's tried to do that. I think one of the things we've prided ourselves at Soy Bomb is, because we don't take it too seriously, because it's not a business for us, we get to curate and pick the stuff that stokes us the most."
Step 9: Change the World
Cleaning up puke, apologizing to neighbors and hiding from cops might make the whole thing feel like a thankless undertaking, but ultimately it's these efforts that keep independent culture alive. "It lets you think that you're not in this regimented system of doing things—there's this freedom," Wydra says. "There's no bouncers, there's no last call. It's more of a vibe of a friendly gathering. Something special is going on, and it's not just restricted to adults. That imprints minds severely. It did me, and it has hundreds of thousands of kids growing up in North America and the rest of the world."
Aside from being a facilitator, these are also the spaces where new ideas are born. "They provide everything!" Mattatall exclaims. "There is no culture at these bigger venues, because the idea is that culture is bacterial. It's alive. The rudiments of all the stuff that's at the other place happens at these smaller venues. Big change doesn't come from above, it comes from below. It comes from a million different little venues. And when you don't have that environment, things get stagnant."
Josiah Hughes is a writer living in Calgary - @josiahhughes