Photo by Rachael Wright.
There is only one thing more difficult to accept this weekend at Los Angeles' FYF Festival than the fact that Frank Ocean would not be headlining Saturday night: the realization that Silent Alarm, the critically adored debut album by Bloc Party, is already ten years old. The London foursome are back follow a hiatus and took to the Lawn stage just before 10 PM Saturday night to play their third comeback show in LA. They've dumped their bassist and drummer and hired an entirely new rhythm section. Ten years. How did we get here?
Here's what we learned during the band's one-hour celebratory set.
1. New Bloc Party is not old Bloc Party.
The band performed at least one new song, allegedly named "Exes," according to previous NME reports. They are heavier, slower, straight-up-rock tunes with thudding basslines and lyrics like "It's ok/ You just need faith." The latter name-checks the Ace Hotel. Which branch, we don't know.
2. A decade on, Silent Alarm is still full of bangers.
The crowd pogoed like maniacs for "Banque" while the stage backdrop turned to gold, providing a rich catharsis for all the emo feelings we've been storing since being left alone on the indie dancefloor in 2005. Even second album gems "Hunting For Witches" and "Waiting For The 7.18," about public transport, were reminders of a golden era of British indie rock where bands from the North London town of Ilford would crop up on the soundtrack for The OC. OHGOD WE ARE ALL SO OLD NOW WHY.
3. FYF Fest patrons do terrible British accents.
Set highlight "Helicopter" didn't even need lead singer Kele Okereke to sing opening line "North to south, empty/ Running on bravado," before the audience joined in. He let the crowd chant every word to the riff as he took a well-earned breather. The shirtless LA bros channeling faux Cockney accents, however, left a lot to be desired. Okereke, in true polite Brit style, showed his appreciation regardless with a, "That was nice!"
4. Kele Okereke is full of laughs.
The frontman looked incredibly happy ending set closer "This Modern Love" with a big smile on his face and a genuine thrill for their fifth album release next year. He was properly funny throughout his hour onstage as well. Kind of. "Good evening Fuck Yeah Fest. My name is Frank Ocean," he says by way of introduction. "Nahhhhhhh, not really."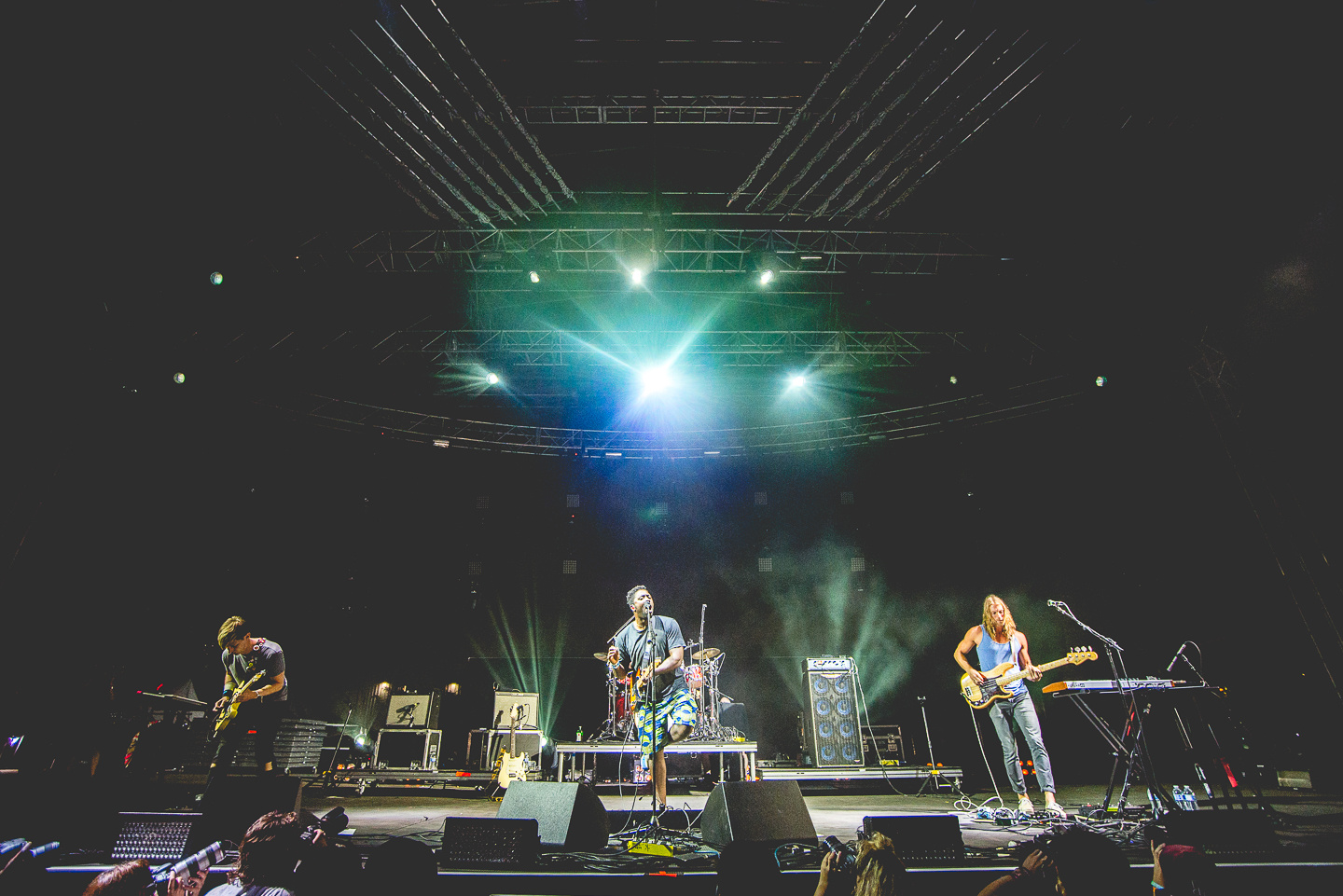 Photo by Jennica Abrams.
5. Bloc Party could be two or three different bands, sometimes during the one song.
Let's just say when it comes to song structure, Bloc Party are feeling freer than ever before. The foursome follow the muscular "Banquet" with "One More Chance" from 2009, a piano house-led plead to reignite a failed relationship. They then return to spikey, guitar-heavy "Octopus" from 2012 album Four. "Ratchet," the post-punk lead single from the 2013 EP Nextwave Sessions reminds of English rebels Pop Group. Remarkably, the dancing crowd pull the same shapes regardless of tempo, pace or genre.
6. Bloc Party look like two different bands, maybe three.
As Okereke sings on "Positive Tension," "Fings replace fings." And indeed, fings have replaced fings. New drummer Louise Bartle brings phenomenal skills to the kit and has a slacker Chloe Moretz thing going on. Former Menomena bassist Justin Harris, on the other hand, also noodles like a boss but resembles a buff, sleeveless Swedish adonis. Okereke and guitarist Russell Lissack never change. Together they're like a musical Scooby gang of misfits.
7. Bloc Party are massive in LA.
Bloc Party fans wearing Bloc Party T-shirts milled about the site all day. When the band finally hit the Lawn stage—the one located furthest from Kanye and the main stage—a mammoth crowd surged towards them. Okereke reminded everyone that Yeezy is playing on the other side of the field. Half the crowd left. But not the better half, who stayed to relish the extra room they now had to windmill, cartwheel and generally have the time of their lives.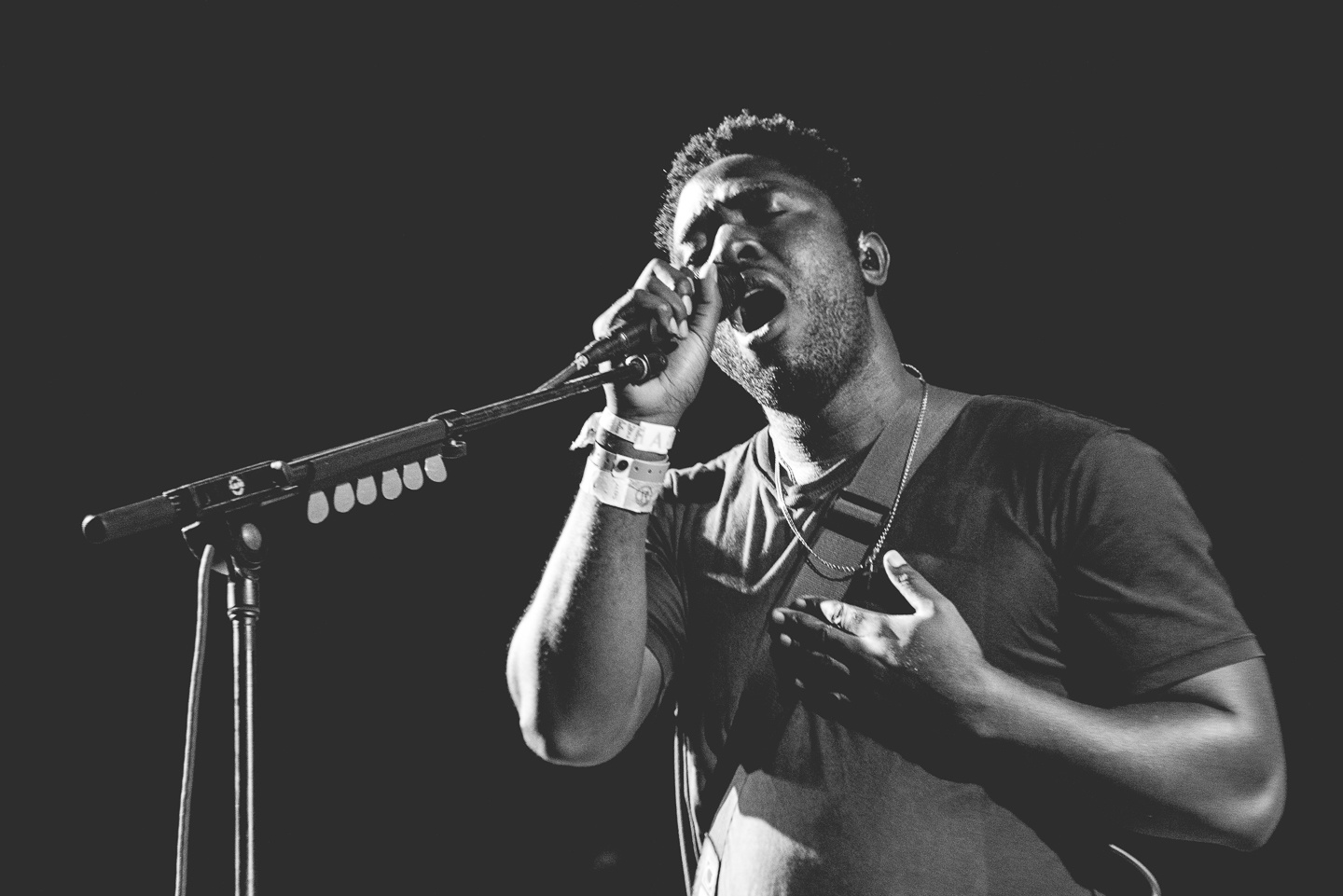 Photo by Jennica Abrams.
8. Bloc Party are kinda timeless if you think about it.
A decade later, tracks off Silent Alarm don't feel attached to a particular time and place. In fact, were Bloc Party to form today and become the next emerging "big thing," some might describe them as a post-Alt-J hard metallic band. That's right: Bloc Party defy the ages.

9. Bubbles work at Bloc Party gigs.
At least three sets of punters are spotted blowing bubbles. Unexpected but welcome—just like the band itself.
Eve Barlow is Scottish and has a shit Cockney accent too so is really not in a position to judge. Follow her on Twitter.