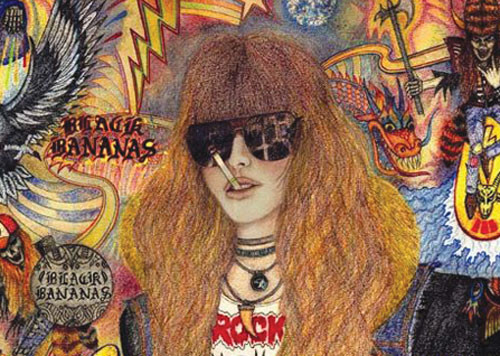 And this is the way music should sound. Like the hottest, toughest girl drove you somewhere on her three-wheeler and now you're getting slow-fucked by a nitrous-filled dildo.

BLACK BANANAS

PRETTY GOOD DANCE MOVES

WARNING LIGHT

BACKDOOR STAN

GANGRENE
Vodka & Ayahuasca
Decon
Rap is a good genre because it re-ups concepts that are boring in fresh and interesting ways. Maybe you thought poverty in cities was tired? And then you were like, "I am terrified of NWA!" Maybe you thought badly behaved teen-punk nihilism/freedom peaked with
Suburbia
, and then you were like, "Can someone explain Odd Future to me?" Maybe even now you're in your leather chair at your oak desk saying, "Surely an American talking to me about adventures on obscure psychedelics definitely ends with Carlos Castaneda," and I'm blowing this joint in your face.
CX ZOLA  
KID SISTER
Kiss & Tell

Fool's Gold
In the ten minutes and 56 seconds it took to listen to this EP I went from being tied up by a Suicide Girl to sipping prosecco at the Boom Boom Room with some betches.
MATILDA
THE INTERNET
Purple Naked Ladies

Odd Future
This record is mostly some spacey sounding R&B made by Syd the Kid, the gay lady DJ/audio engineer of Odd Future, and Matt Martian from Jet Age of Tomorrow. Are people on the internet still wringing their hands about Odd Future and whether or not it's OK to like them? What the fuck is up with that? How did a bunch of gay bloggers and 12th-wave feminists turn everyone into neo-Puritans?
NICK GAZIN  
MC PROTOTYPE
Chasing Dreams

C&M Promotions
America probably needs more rappers who spit about scallywags, skateboarding, and being a nerd, but as catchy as this shit is, it doesn't make me want to put my penis into anything. No one wants to hump to a song about Bernie Mac.
JONATHAN YOST      

PHENOMENAL HANDCLAP BAND
Form & Control
Tummy Touch
You know that jizzy smell that's ubiquitous to gay dance clubs and porn shops? I swear my speakers blasted that out like a fog machine the whole time I had this on, which was roughly 35 seconds.
HOT GYNO  
PRETTY GOOD DANCE MOVES
Limo

MAD Dragon/Township
If there were a
Beverly Hills Cop
video game, and it had a soundtrack, this would basically be it. Do you ever honestly not know if you like something or not? I was gonna turn this off after two seconds of playing it, but then some cool noises started happening and I let it ride. Then after a while it all got so bad that I turned it up SUPER loud because I thought it was hilarious. By the time the saxophones showed up at the party I was like, "Hey guys, glad you could make it. Beer's in the fridge, Andy's got the vape going in the garage."
JIMMY JAMES DEUX  
PORCELAIN RAFT
Strange Weekend

Secretly Canadian
OK, I'm sick of this. You can't just listen to a Slowdive album, think, "Hey, I can do that!" and then record yourself moaning into the corner of the shower while your girlfriend plays tambourine out in the kitchen. You can't do any of these things anymore! Stop trying to be in bands! Go soak your crystals in a clean bowl of tap water, and plan B will appear to you in a dream.
HEY SALLY  
WARNING LIGHT
Wild Silver

Stick Figure
I usually spend my hangovers listening to the Pogues' version of "And the Band Played Waltzing Matilda" on repeat until all the bad decisions come up in one sobbing flume of whys and "They were just boys!" (Try it at work sometime, most Townes Van Zandt works too.) This is some pretty good instrumental morning-after music, but way less of the river-of-screaming-tears variety than the cruising-the-museum-or- something-on-a-little- bit-of-Valium type, which is good, because I've been getting some pretty ugly looks from the receptionist lately.
CAPPO DELMONICA  
FLOSSTRADAMUS
Jubilation

Fool's Gold
Flosstradamus and Kid Sister both released EPs at the same time, and the Kid Sister track on this Flosstradamus EP is better than any of the songs on her own EP, and also the best song on THIS EP. So if A + E + X = 4, that means that Flosstradamus and Kid Sister are Go-Bots? Wait, that's not right. The correct answer = Although this EP is nothing special, I still played it loud enough to make my throat hurt the next day.
LOLA GYNO  
CHARLIFT
Something

Columbia
Sometimes I'll see Chairlift's front woman, Caroline Polachek, out at my weekly goth nights, and I'll be like, "OH SHIT, BITCH IS DARK." So now when I listen to this new album, which is super lively and colorful, I can't help but think it's riddled with hexes and maybe those backward subliminal messages. If they have an undecipherable, satanic voice in this thing telling me to obsess over it, it's working.
KRISTEN K.        
YOUNG MODERN
Live at the Grace Emily

Grown Up Wrong!
Why wasn't Jesus born in Adelaide? They couldn't find three wise men and a virgin. What's an Australian's idea of foreplay? You awake? What's a Tasmanian's idea of foreplay? You awake, Mum? Why do so many Australian men suffer premature ejaculation? Because they have to rush back to the pub to tell their mates what happened! What's the difference between a G-spot and a golf ball? An Australian man will actually search for a golf ball.
JORDAN RAEDELLI  
VOIVOD
To the Death 84

Alternative Tentacles
How killed do you think I would get if I walked around Montreal with a sandwich board that said "Early Voivod just sounds like shitty Venom"? There'd be more LARPing swords sticking out of me by day's end than virgins at Les Tams-tams.
SPRUCE BRUCE  
TRAILER TRASH TRACYS
Ester

Domino
TTT are rightful heirs to the Cocteau Twins' throne, but they make sure to scrape over a few chairs from Yazoo's and Stereolab's royal courts so everyone can sit comfortably and create atmospheric songs perfect for make-out scenes in your personal fantasy version of
My So-Called Life
.
BLONDE CAMERO  
CRYSTAL STILTS
Radiant Door

Sacred Bones
The candy-colored packaging acts as a diversion from the fact you're carrying around a doggie bag of festering leftovers that only drunken desperation could compel you to eat. As you choke back your nausea for another bite, you wonder what the hell is up with your friend who is way too fucking positive for the 8 AM leg of this bender. Does he have a bag he hasn't told you about? And can someone close the curtains again and tell these people that friends don't let friends handclap?
CLEOPATRA RECORDS SAMPLER  
CRAIG FINN
Clear Heart Full Eyes

Vagrant
POP 1280
The Horror

Sacred Bones
If these doofs wanted a good review for this bullshit album they shouldn't have kicked me out of the band when I started working for VICE. This music is great for those weepy moments when you realize that you've outsourced your talent to a multinational youth-media conglomerate. After all, you could've been pounding out brain-melting tech-sludge in the back rooms of roach-infested flophouses. Instead you're sitting at a desk writing a bad review of a good record out of spite. Actually, fuck it. I'm giving myself the barf-face on this one.
BEN SHAPIRO  

BLACK BANANAS
Rad Times Xpress IV
Drag City
And this is the way music should sound. Like the hottest, toughest girl drove you somewhere on her three-wheeler, laid her jean jacket on the ground, and now you're getting slow-fucked by a nitrous-filled dildo in some awesome forest full of pointy guitars that grow pinecone-size joints. Btw, if you haven't picked up on the fact that this is Jennifer Herrema's new band there may not be hope for you yet.
BLONDE CAMERO  
SUNN O)))
Void

Southern Lord
My 13-year-old bowels weren't strong enough for this when it first came out. The laborious low-end drone probably would have pummeled my innards to the point of defecation for sure. So I am thankful this was rereleased when I am more physically equipped to sit through almost a full hour of metal-influenced amp worship without a diaper.
WILBERT L. COOPER  
FIELD MUSIC
Plumb

Memphis Industries
What's that fairy tale about the devil where people keep meeting him, but no one can remember his name? That's a thing right? Or did I just make that up? Either way, I just played this all the way through twice while drinking beers in my room and the first time it came to an end I was like, "Goddamn, I played that whole thing and my brain and ears didn't take one second of it in." At the end of the second rotation I couldn't even remember the name of the band. I think it made me unable to conceive as well.
DAVID FLINCH  
If your favorite parts of Finn's band the Hold Steady included pseudowitticism, heavy religious undertones, and a lot of syllables squeezed into too little musical breathing room, then celebrate, for the savior hath come! This feels hastily made, (impossibly) even more talky/narrative than his past work, and I was hard-pressed to find one track that didn't feature a shout-out to the big man upstairs. What happened to that awesome accordionist?
ALEX HOLMES      
THE SCREAMING TRIBESMAN
Bones + Flowers / Date with a Vampire / Top of the Town

Grown Up Wrong!
The Screaming Tribesman are adrift in a speedboat off Sydney Harbor Bay. While rummaging through the boat's provisions the drummer finds an old lamp. He rubs the lamp and a genie appears. This genie tells them that he only grants one wish. Without giving much thought to the matter, the drummer blurts out, "Turn the entire ocean into Foster's!" The genie claps his hands with a deafening crash, and immediately the entire sea turns into beer. The genie disappears, and only the gentle lapping of beer on the hull breaks the stillness as the band considers their circumstances. The lead singer turns to the hapless drummer and says, "Nice going, mate! Now we're all going to have to piss in the boat."
JORDAN RAEDELLI      
DARE DUKES
Thugs and China Dolls

Self-released
Once as we were walking past this café where an amplified acoustic guy was playing behind the window with the tiny audience facing the street, my brother made the jerking-off motion to the audience, who laughed, and the guy stopped his set and turned around to see. Maybe it was Dare Dukes? Who knows, it's impossible to distinguish between café pussies. Also, this record was brought to you by a Kickstarter campaign. Please leave the boring café before you guys waste six grand on anything else; the jerking-off motion is being made at you too.
LITTLE LOCKY  
ANI DIFRANCO
Which Side Are You On?

Righteous Babe
Receiving this promo in the mail filled me with the same feeling as ripping open an envelope containing STD test results. But you know, it's nice that someone out there is still concerned with what salt-and-pepper lesbians are gonna play at their next vegan potluck. Here it is.
WIND DANCER  
GRAFFITI 6
Colours

Capitol
Like, no joke. Someone—sorry, someones were really into Maroon 5 and started their own phenomenally embarrassing band called Graffiti 6. This is completely for fucking real. This world, right?
JOHN PAXSON  
RHYTON
S/T

Thrill Jockey
Does anyone ever leave a psych-rock show thinking, "God, I wish all the band members could have been playing elaborate solos at the same time"? No. They don't. My fantasy is that solos longer than 20 seconds would trigger a
You Can't Do That on Television
-esque slime bucket installed in the rafters of major venues. That probably won't happen anytime soon, so I've just started bringing a plastic spray bottle with me to shows.
A. WOLFE  
BHI BHIMAN
Bhiman

Boocoo Music
This new record by a singing guitar guy includes new familiar versions of the organ one, the handclap one, the shorter lo-fi one, the rocker, and the sad one, plus it's filled out with what they used to call "album tracks." Available when he's next opening for a band with a pretty good drummer, a singing keyboard guy, and a guitar player with a pedal board.
ANTONIO SALIERI  
BACKDOOR STAN AND THE MOPVIPVOPS
The Fishman

Hog Maw
Backdoor Stan is this Russian guy I see around town playing the harmonica. He's basically the king of the assmen and a lot of his songs are raging butt anthems full of angry love, usually equating people with animals like Fishmen and Chicken Heads. Love is animalistic, so it makes sense. You're either a hen pecking at seed or a fish flopping on the docks. 
SHTAYAN
DWARR
Starting Over

Drag City/Yoga
Ah, mid-80s South Carolina. A place where a bullnecked factory worker sporting Klaus Kinski hair and a bootleg Eddie Van Halen Frankenstein could record moody, nuclear-war sex jams with a drum machine, electric piano, and the noodliest guitar lines this side of Yes and still end up with cover art that looks like a gig poster for my redneck cousin's Cryptic Slaughter cover band. This barely released 1984 opus and Dwarr's follow-up,
Animals
, seriously don't sound like any other music I think has ever existed. It's like the RC Cola of weirdo semi-outsider metal.
LEROY GUMPTION  
VARIOUS ARTISTS
(I THINK?)
Minimal Teef

???
This CD-R mixtape showed up in an envelope with no return address or postmark over the stamps, which seems vaguely not legal. I have no clue where it came from, there's no label on it or contact info of any kind, and each of the supposed bands is completely immune to googling. All of which would be A-OK if it were a bunch of shitty noise acts from Bushwick and not impeccable Euro-style synth-wave stuff that sounds like outtakes from the French
Bippp
compilation. Quit fucking around with my heart, Minimal Teef guy. This isn't tenth grade, and I'm not giving you a blowjob to find out what the deal with these songs is (probably).
DEBRA ALLEN  
PETE SHELLEY
Sky Yen

Drag City
I'm going to level with you. If this wasn't the guy from Buzzcocks this review probably would have read, "What's with the bee parade, bozo? Forty minutes of this buzzing beeshit? Get outta here." As it is, though, I'm like, "Bee me on, bee man." Unfair? So's life, phlegm-wad.
BUZZ McCALLISTER  
VARIOUS ARTISTS
East of Underground: Hell Below

Now-Again
Oh, no big deal, just a recording of a little battle-of-the-bands competition from 1971. IN THE MIDDLE OF VIET-FUCKING-NAM! Each of these four bands was made up of US soldiers on their way to, in the middle of, coming back from, or avoiding "The Shit" (or, as my uncle likes to call it, "Let's talk about something else"). While that might not make East of Underground's cover of "California Dreaming" any more in key, there's something that's gotta be said for lighting up a joint and listening to agitated semi-amateur funk from guys who may or may not have reached over and put their hand in a pile of goo that a moment before was their best friend's face. Liner notes by Sam Lipsyte too!
FEELIN HUSKY  
THE ATSEROIDS GALAXY TOUR
Out of Frequency

BMG
Listening to this album without being able to eyeball that sexy bitch Mette Lindberg is as pointless as watching Dylan play at the Gaslight while wearing earplugs or fucking the couch with a condom on.
MAMA CAT PANTS  
STRANGE MEN IN SHEDS WITH SPANNERS
S/T

Drag City/Groovy
This is basically the sound of bored, broke British dudes who spent all of their dole checks on little electronic boxes instead of real instruments. Some of the most collectively gnarly, damaged, solitary, burned-out robo-klang that you're likely to find. Also who doesn't love a band with a good old-fashioned absurd, convoluted name? These guys have the third best, right after Too Fat to Fit Through the Door and People with Chairs up Their Noses.
SKIP COCHRAN