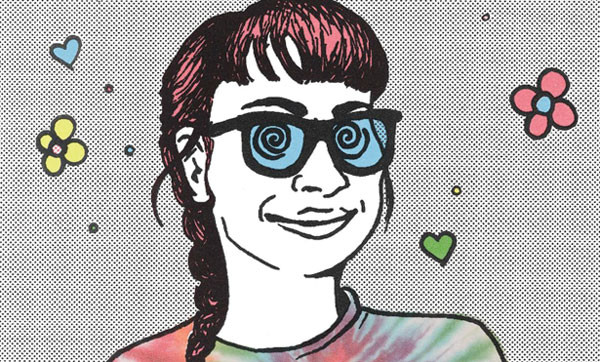 When you are in the middle of an itchy cock of a day, are an ass hair away from freaking out, and are making things a whole lot worse for yourself by stewing on shit, just calm your mind for a second, just calm your mind for a second.
KING DUDE
BRIGHT LITTLE FIELD
PEACE
PAWS
DONNIS
Break Hundreds & Hearts Fool's

Gold

Oh, so this is what we're doing now? Rappers rapping over crazy-ass dance beats and shit? Yeah, OK, I can fuck with this. Donnis had previously been about as interesting as hair gel, but holy fuck is he onto something now. It seems like he finally gave up on trying to be the next David Banner and now just wants to be the southern Danny Brown. We ain't mad at that shit. We happy at that shit. Pop somethin', roll somethin', and get twisted, my dude.
RAY ANASTASIO
KIRKO BANGZ
Procrastination Kills 4

Warner Brothers

I think about Kirko Bangz a lot, mostly about how his lips look like they'd feel nice wrapped around a vagina. He mostly raps about nonsense, like jewelry and beverages, which is on that silly-urban kick a lot of rappers are throwing out there these days. But that's not what I'm thinking about while listening to this mix tape—I'm thinking about making the sex, furiously and many times in a row. Let's be honest with each other. Let's just be real here. I bet this guy's dick looks like a tube of cookie dough.
HOT GYNO
MAIN ATTRAKIONZN
Bossalinis & Fooliyones

Young One

The title of this album irks me because it looks like it might be some garbaggio Bloodhound Gang, quasi-mafia bullshit, and the music is so far from that. One of the biggest pluses with these dudes is that they pick beats like cheap broads looking for wholesale designer wear at Century 21. There's some sort of strange science behind it, and yet it was disappointing as hell to see that Clams Casino didn't produce a single track on this one. (Are they internet beefing or something?) They did find some good replacements like Joe Wax on "Cloud Life" and La Musica de Harry Fraud on "Do It for the Bay" and "24th Hour." You better run like hell from this project if you're looking for some backpacketty lyrical exercising, because there's a shit-ton of "bounce and smoke an ounce to this" all over this. Whoever said hip-hop had to be so goddamn serious anyway?
KATHY IANDOLI
ERAAS
S/T

Felte
If you play this record alone in your apartment at night and hiss "eraas" three times like a snake, Anthony Hopkins will appear dressed as an Orthodox priest and perform an exorcism on your tortured soul.
STONEY SPICE
DIAMOND RINGS
Free Dimensional

Astralwerks

This guy looks like a homosexual teen trying his hand at David Bowie dress-up time in his mom's silk scarves and pajama pants. No, wait, he's like a baby seal covered in glitter, voguing. Saying we hate this would be like wiping our asses with a rainbow flag. Gotta pick your battles, ya know.
SOPHIE SAINT THOMAS
BLACK MARBLE
A Different Arrangement

Hardly Art
Certain bands were made for fall and winter, and this is one of them. Carry this around and put it on and stare out the window, letting your eyes go numb and dead in a pile of damp, fallen leaves. Really sink down, put a blanket over your head, and pretend like you can smell snow, even when there isn't any. Get real
Harold and Maude
about it.
KELLY KELLY
BOYS NOIZE
Out of the Black

Self-released

There's no way to draw a cute little face for this level of barfiness, which is reserved for that feeling when you're lounging around in boxer shorts, with no undies on underneath, just having an easy-breezy day, and then your vagina throws up all over the chair you're sitting on, and you're like, "FUCK!!!! Do I have bacterial vaginosis AGAIN???"
HEY SALLY
COLD SHOWERS
Love and Regret

Dais

I listen to this and all I can think about are starry night skies and motorcycles in the desert and razor blades and smooching hot babes in the bathtub between cigarette puffs and, like, really cool boots and Kiefer Sutherland in
The Lost Boys
and, honestly, I give this an A-fucking-plus. I want it all around me, wrapped around my neck like a thick, gothy anaconda strangling the life out of me. I want the anaconda to have Kiefer's head and I want it to breathe hot pink vapor all over my body. Take me, Cold Showers, take me to your postpunk heaven draped in dark gossamer. I'm yours. 
OJ SIMPSON
ELLIE GOULDING
Halycon

Interscope

I first learned that Ellie Goulding could walk on water back in 2009 when I heard her cover of Sam Sparro's "Black and Gold." No fucks were given for the original (sorry), but Ellie's take on electronic music and in-betweeny folktronica is nothing short of brilliant. By the time her debut album,
Lights
, hit the States, everyone was swirling over the bastardization of "EDM," and the album's title track was enveloped in an accidental pop hug. Ellie could have turned her art into saccharin BS with her follow-up,
Halcyon
, but she didn't. Instead she opted to perfect her sound on the title track, "Figure 8," "Dead in the Water," "Hanging On" (sans Tinie Tempah, please), and everywhere else. You can dance to her, you can eat your feelings to her, and then you can eat your feelings while dancing to her.
KATHY IANDOLI
PAWS
Cokefloat!

FatCat

When you are in the middle of an itchy cock of a day, are an ass hair away from freaking out, and are making things a whole lot worse for yourself by stewing on shit, just calm your mind for a second and think about all the girls across the whole wide world who have to pretend to like their significant other's TERRIBLE FUCKING BANDS. It must be so exhausting.
BUTTHOLE SUNRISE
PONTOONS
Slow

Self-released
I can't fully endorse this album because for the most part it's just random "college-sounding" music or sounds like some sort of introductory smart rock that you'd get into while sitting in your parents' basement, in between listening to the old albums and honing your own tastes. But I will give them this: They've got those little Lemonheads-esque vocal drops down. Maybe you don't know what I'm talking about, but if you do, then you do.
EMILY GILMORE
KING DUDE
Burning Daylight

Dais

Next time you're on a first date, at that point when you've run out of bullshit to talk about and the only reason to stick around is to get drunk enough to start violating each other's bodies, lean over to the person you're with and, real creepy-like, whisper this question into his or her ear: "If you were to ever tie someone up and kill them, what song would you put on while you did it?" Chances are your date won't have a chance to ask you the same in return, because the wuss will have already sprinted down the street, simultaneously tweeting about how much of a creep you are while filing a restraining order. If he or she does stick around to ask, you should probably get married. And your answer should definitely be "King Dude."
WOLFIE VIBES
METZ
S/T

Sup Pop

Have you guys read that book
The Bad Guys Won!
? It's about the 1986 Mets championship team, and it's pretty incredible. Those dudes were the biggest bunch of rowdy, drug-addled creeps and goons, and all they did was drink, fuck, snort, and party... and, yeah, baseball. I guess I kind of let my understanding of the '86 Mets influence my expectations of Metz's
Metz
. Unfortunately, this record has nothing to do with partying. When I listen to this, I don't want to do anything fun. It's almost as if the band cracked some kind of surefire formula for getting anything remotely enjoyable out of their songs. These guys probably don't even like sports, and if you bring up sports in conversation, they probably complain about how athletes are overpaid and steroids and the state of America and blah blah blah. Come on, Metz. Shut the fuck up already. Get your gooses loose. Get Metsmerized and come by to rip a few gankers with me.
LMFAO
NO DOUBT
Push and Shove

Interscope

Fuck no would we actually be reviewing a No Doubt album, and this came out last month anyway, but I just had to let everyone know that I had a dream that VICE columnist Kate Carraway tweeted that she deleted someone from her Facebook because they were shit-talking No Doubt. (Only it wasn't a dream; this actually happened in real life.)
KELLY MCCLURE
PEACE
The World Is Too Much with Us

Suicide Squeeze

About a month ago I stuck my arm in one of those blood-pressure machines, and it said I was fat and going to die soon. This album provides a similar sensation of constriction, making me feel slightly trapped and uncomfortable, but in a satisfying way. It's kind of like when you have to poop real bad but purposefully hold it in because you know the pooping will be that much more satisfying on account of the wait.
OJ SIMPSON
CHELSEA WOLFE
Unknown Rooms

Sargent House

I've never gone out of my way to listen to anything labeled a "collection of acoustic songs" because I don't sell repurposed hair clippings on my Etsy shop, nor do I have any fucking idea what flax actually is, but I can get behind this in a big way. With every gravelly, misanthropic strum of phosphor bronze, Chelsea annihilates another coffee-shop open mic, another Starbucks playlist, another Barnes & Noble CD rack. Hey, baby. Let's hate the world together.
GIRL REPORTER
PAUL BANKS
Banks

Matador

Paul Banks is all over the place. First he's in Interpol, then he's Julian Plenti, and now he's like, "OK, fine, I'm just Paul Banks." Whatever the hell he wants to call himself, he knows how to write and play all the right notes. His music sounds like falling in love. Whatever. It's in print now. It's out there. Some other doofus who writes for us tried to give this a bad review and we killed his body. Seriously. We murdered his life. He's done. Chum for the sharks, at the bottom of the Atlantic.
RANDOM SUPAMUDEL
TALK NORMAL
Sunshine

Joyful Noise

A lot of these noisy girl bands really, really, really don't care what you think (for real, guys). Talk Normal is no different. They totally do not give a stinking shit if you "don't get it." They didn't want you as a fan anyway, bitch. Which is all good over here because you'd have to pay me in gold-plated orgasms to sit through this burning-pile-of-trash-on-the-side-of-a-road-in-Somalia in its entirety.
ALEX HOLMES
TY SEGALL
Twins

Drag City
In college, I shared a dorm room with Jim the Drug Dealer. Nitrous tank next to my bed, sheets of acid on the nightstand, 'shrooms in the freezer—that kind of stuff. Fucked up at all times, we lived on Rice-a-Roni and Swedish Fish, listened to the Stooges, and aligned our chakras with magnets. San Francisco treat Ty Segall was there. He played swampy fuzz-garage rock for us, spat out some bratty Beatles-y "Tomorrow Never Knows" kinda vocals, and then sucked down a balloon. "That'll be $2, please." Then his face melted onto his guitar like molten lava. Namaste, motherfuckers.
JENNIFER DARLING
MATT AND KIM
Lightning

Fader

Bands like this can't help but make me think of those late-night infomercials for
HOT JAMZ
CD collections—specifically, that one with the old dudes from Air Supply talking about the "mellow sounds of the 70s and 80s." How much you want to bet that 30 years from now we'll be falling asleep to the same shit, only this time it'll be hosted by the Shins, who will be sporting bald-guy ponytails and raving about all the mediocre, pussyfied songs of the 00s included on the
Faux Pos Puss Rock Queefz Volume 8
compilation, defined by its insincere optimism and spunk.
GORDON LIGHTDONG
TILLY AND THE WALL
Heavy Mood

Team Love

Fuck Tilly, fuck the wall, fuck "being whimsical," fuck Gregory Hines, fuck tap dancing, fuck this album, and fuck the Zooey Deschanel movie that one of these songs will inevitably end up in.
HAN DOLO
LETTING UP DESPITE GREAT FAULTS
Untogether

Self-released

There should be a drinking game where you play a song and everyone has to slap down a card with the name of the band that has so obviously influenced the tune in question. In this case, whoever drops down the Something Faggoty card first would be the winner.
INDIAN BUMMER
MAC DEMARCO
2

Captured Tracks

Full disclosure: I've heard a lot about Mac Demarco, and even answered emails from, and about him, but I guess I've never actually listened to his music before now, because this doesn't sound anything like what I thought he'd sound like. This is all dreamy vocals and surfy, tin-toned guitars. I've heard stories about Mac getting drunk at shows and shoving drum sticks up his ass, so having that backstory in mind while listening to this makes it even better. Listening to sweet singing is great when you can be pretty sure that the person singing it was thinking about something disgusting at the time.
KAYLE MAQLUE
ANDREW BIRD
Hands of Glory

Mom + Pop

There are so many funny stories to be told about Andrew Bird. If you've ever lived in Chicago, for any amount of time, you've probably seen him on the train or in Trader Joe's looking wistfully at the produce. One day my friend was like, "OMG, I just saw Andrew Bird holding a can of peas!" Remember when he played that concert and dropped his violin and everyone thought it was such a tragedy? I don't know what the big deal is with this birdy, or birds in general. Those sons of bitches are everywhere, just look up. I saw one earlier today—a pigeon, in fact—and was so grossed out by it. They're constantly pecking at the sidewalk and are always covered in mites and squawk like your best friend's annoying kid whom you secretly hate. People who keep caged birds as pets should be shot. They have wings, asshole. And they suck.
GOITER FACEHEY SALLY
MOUNTAIN GOATS
Transcendental Youth

Merge

I wonder if John Darnielle is talking in the mirror when he pushes out "Let people call you crazy for the choices that you make." I mean, have you seen his Twitter feed at all this year? He might be losing it a little bit. Also, he turned down an interview with us because he has "issues with our content." Why don't you air your foreskin out in the breeze and calm down there, buddy? Nobody likes dick cheese.
BECA GRIMM
SUN AIRWAY
Soft Fall

Dead Oceans

Sometimes you don't want to listen to music in order to feel emotions, be transported to different psychological rooms in your mind, or grow culturally rich as a person. Sometimes you just want to listen to music because otherwise the sound and feeling of the dentist-drilling-into-your-jaw-without-Novocaine that is modern life is just too jarring. This meets none of the aforementioned criteria.
RYAN GOSLING
MARTHA WAINWRIGHT
Come Home to Mama

Cooperative Music

Oh. It seems that someone lent Sheryl Crow a tUnE-yArDs CD. That was a nice gesture, I guess.
GIRL REPORTER
BAT FOR LASHES
The Haunted Man

EMI

I like this band, and I like this album, but I'm not exactly sure why. In general, you can listen to this and ponder pleasant things, but it won't make you really think about or feel anything, unless you're 17 (aka blissfully dumb). So it's good and safe. Play this after you break up with someone and everything else makes you want to put your head in fire.
HEY SALLY
CODY CHESTNUTT
Landing on a Hundred

Vibration Vineyard

I had never heard Cody ChesnuTT's music prior to listening to this album for the purpose of writing this review, but I knew of him because those two slutty girls in the movie
Me, You, and Everyone We Know
asked for an album of his to be played while they fellated the young half-black boy who was being used as their BJ guinea pig. I'm sorry, Cody ChestnuTT, but all you'll ever be to me, and probably a lot of other people now, is that guy who almost soundtracked a pre-teen, tag-team blowjob, but then didn't. Off the top of my head though, this sounds like something nice someone's parents would really be able to stand behind.
HEY SALLY
BRIGHT LITTLE FIELD
Treatment Bound

Bar/None

This career-spanning uke-tribute to the Replacements would serve well in an attempt to get that alt-girl from youth group down with some over-the-Misfits-T-shirt action post-hayride or whatever. But this is weird, unnecessary, and leaves me jonesing for the originals to wash clean the sucky-scum residue left behind. It's possible the Bright Little Field covers could lasso in a few never-otherwise-would-be Westerbergheads, which is a redeemable concept in theory. I recommend you just listen to the actual Replacements instead.
BECA GRIMM
MIKA VAINIO
Fe304—Magnetite

Touch

Pan Sonic was part of that let's-see-if-we-can-make-the-audience-shit-themselves-with-this-freaky-sine-wave school of noise musicians who, granted, weren't ever much to look at but pursued a far nobler goal than their Whitehouse-biting counterparts, who were just doing it to yell a lot and get laid. Mika went a little off the rails when they split and started doing minimal glitch covers of Kate Bush under the name Ø, but this seems like he's prodigal-sonned his way back into the grumbling, swooshy drone game. Which is good because I've been eating a lot of cheese this week and am stopped up like a fairground port-a-john.
FÅIRGRØUND PØRTÅJØHN
VARIOUS ARTISTS
Fifty Shades of Grey—
The Classical Album

EMI

Do you ever find yourself in a situation where you're so eager to shit all over something that you're not even sure where to start? This is an album of classical songs personally selected by E.L. James, who wrote that ode to crusty-cunted housewives everywhere. But actually it's good that this is a thing, because if you're ever nosing around someone's iPod and spot it in there, you'll know that if you hang out for long enough you'll be handcuffed to something with a pair of plastic fuzzy handcuffs purchased in the children's-costume aisle of Target. Here's an idea, E.L. James: Why don't you take a few copies of this and flog yourself to death with them?
CHRISTIAN GAY