Dispatches from the Land of YouTube Celebs and Metalcore Acts: Allison Weiss' Warped Tour Diary
Finding time to go to prom, do yoga, and deal with the sweltering heat.

photo by Raeanne Haro via Allison Weiss's website
July 19 - Chicago, IL
I joined up with Warped Tour a day before my first show on the Acoustic Basement stage, a strategy I chose due to the time-honored Warped tradition of posting-the-schedule-at-11-AM-day-of-show. The Legend of Kevin Lyman says he chose this method based on his own experiences. As a kid, he worked Lollapalooza, and had to see his favorite band play every day at 11 AM to nobody. So when he started Warped, he came up with a plan to make sure that every band, even the little ones, had a shot at the best time slot. Pretty cool. Anyway, I planned ahead, and I arrived a night early.
First things first—I dragged a suitcase full of merch, a duffle bag full of mostly underwear, and my guitar across a dusty parking lot full of buses until I finally found the one that would be my home for the next two weeks. I hopped on and immediately met my busmates. There's Rob Lynch (acoustic punk dude from the UK), Chuck (who handles merch for the entire tour), Whitey (the Warped tour pit reporter who films everything), Jake (aka Front Porch Step, one of the hottest acts this year), Gil (I still don't know what he does), and a handful of YouTube stars who are famous for being themselves on YouTube (Cyr (#CyrSociety), DeeFizzy (#FizzyFamily), Johnnie Guilbert, Kate Witcher (#PandaMinions), and Bryan Stars who doesn't have a hashtag, he's just plain famous on the internet).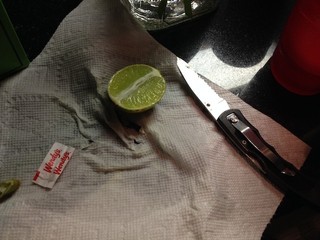 (Keepin' it classy with the Wendy's salt packet)
Night one was pretty chill. I did a tequila shot to prove that I'm down to party, and then I promptly fell asleep at approximately 11 PM. Rage, y'all.
July 20 - Shakopee, MN
The official Day One. I stepped off my bus in Shakopee, MN and was pleasantly surprised to see catering directly to my left. I remembered from last year that sometimes it feels like it's a mile away from anywhere, but not today.
Breakfast usually rules. It's simple. You've got your fruit, yogurt, oatmeal, etc. Everything a growing boy needs. There's even an egg station. You have to make your own eggs, but it turns out everyone is good at making eggs. Picture your favorite band. Now picture them making the shit out of some scrambled eggs. Warped Tour Breakfast.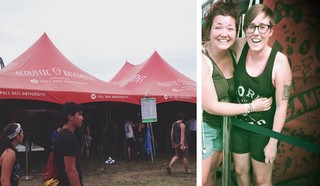 I played late. My set was at 4:40 PM, and it was a total blast. I seriously had no idea that so many people in Minnesota knew who I was/cared at all, but it was a great start to the tour. I hung out, shook hands, signed babies, etc. There's a phenomenon on Warped Tour where bands do "signings," which means they hang out at a specific tent and sign autographs. I have a couple "signings" lined up this summer. The funny thing is, I set up all my own stuff and sell my own merch anyway, so I'm not sure if there's a point to doing a separate "signing," but we'll see.
July 21 - Cleveland, OH
Day off. Alternative Press Music Awards in Cleveland, OH. My whole bus went, but I stayed behind. I don't regret it. I got to hang with my pal Jenny Owen Youngs (who had just played House of Blues with Against Me! the night before), drink some good coffee, eat a nice dinner, and take a long hot shower to prepare me for the upcoming 10 straight days of shows in the hot, hot southern summer heat.
July 22 - Columbia, MD
Best show yet, worst venue ever. Merriweather Post Pavillion is probably a beautiful place to see a show, but when you're working it, it's just a series of ups and downs through the woods with all your gear.
Most bands have figured out how to haul a ton of stuff from place to place. There's your standard dolly of course, but then there are carts, and wagons, and carts pulled by tiny motorcycles, and four-wheelers, and bikes, and boxes on skateboards, and probably more ways that I haven't even seen because they move so fast. I didn't bring a dolly, and I didn't want to buy one for $30 at Wal-Mart, so I spent my morning carrying a huge box of AW t-shirts up a hill on one shoulder.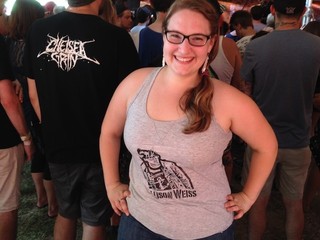 The show this day was crazy. The tent was full of kids who knew all the words and sang them out loud right back at me. This also happened for Front Porch Step, except there were more kids and they were even louder. I never knew anyone could feel more than I did, but then I saw Front Porch Step. He screams every word, and his fans scream along. It's pretty spectacular to watch.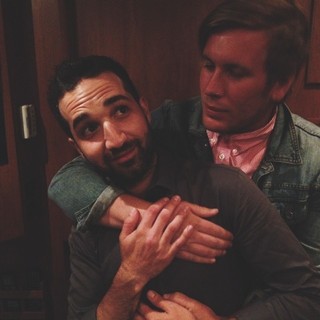 (Gil and Rob getting ready for prom)
That night was the Warped Tour Prom. I never went to my real prom in high school. I was too awkward and uncomfortable, a feeling which I still carry with me to this day. So I decided to skip it. That is, until everyone on my bus was pre-gaming and having such a dang good time! So I changed my mind and I put on my best outfit (literally a pair of pants instead of shorts—wow!) and headed to the party.
It was fine.
Prom, you know? I pretty much did what I would've done at any school dance. I hung in the corner with the misfits and talked about how lame it was. I know. It's lame to talk about things being lame, but sometimes you just gotta be lame. So there I stood, totally lame, having a lame time at lame prom.
July 23 - Virginia Beach, VA
Apparently, this was the hottest day yet on the tour. Last year, I did the first half of Warped, on the west coast. They don't have humidity over there, just palm trees and blue sky and beautiful days. Here in Virginia Beach, they have fucking humidity.
My set was first thing in the morning, at high noon. I usually play my loudest songs on Warped. There are just so many metalcore bands doing their thing out there, it's hard to make a quiet acoustic song even matter. So I go loud. Today, this resulted in a soaked outfit by 12:25. It's cool though, I planned for that shit. I'm the kind of person who likes to be prepared. I don't mean "be prepared" in the Boy Scout sense, where you have a solution. I just mean be prepared to feel terrible. If I know ahead of time that something is gonna suck, I'm down for it. No big deal.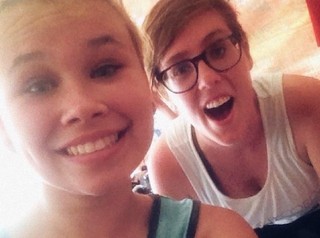 Honestly, I spent the rest of that day on my bus doing computer work and enjoying the A/C. I have it reeeaaal good on here. Warped is taking care of me. It really is a privilege to have a place to sleep and a place to hide away when the crowds are too big and the sun is too hot.
That night, just before bus call, I did my favorite thing yet on tour: yoga. I know, you guys! I moved to California and I got into all this hippie shit! You know what? I'm not ashamed. Warped has a sick instructor out on the road with all of us. She's got tattoos, pink hair, and a foul mouth. In other words, my kind of yoga instructor.
We had a 10-hour drive that night, and our driver pulled us over at 7-Eleven for the first time since I joined up. It was a mad dash to grab as many snacks as we could in 10 minutes. We all loaded up on junk, the bus started rollin', I made myself a PB&J, and climbed into my top bunk for another night of rumbly sleep.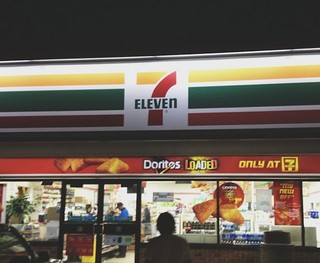 Allison Weiss is currently on Warped Tour, playing the acoustic stage and eating all of the junk food. Follow her on Twitter - @allisonweiss
Stories