Seminal Maryland doom crew The Obsessed are back, and they're coming out swinging. The band was originally formed in 1976 as Warhorse, and changed their name in 1980 to become The Obssessed; they went on to release heavier-than-thou classics like their self-titled slab, Lunar Womb, and The Church Within (as well as quiter a few singles, splits, and demos) before officially disbanding in 1995. Since then, various live and compilation releases have floated on by, but the question on every fan's lips was always the same: when is The Obsessed getting back together?
Their answer came via Facebook, of all things, when estwhile frontman and bonafide doom god Scott "Wino" Weinrich announced that the current members of Spirit Caravan would coalesce into a new Obsessed incarnation that will play material from both Spirit Caravan and The Obsessed. They'll debut the new lineup at this year's Maryland Doom Fest (which will take place in Frederick, Maryland from June 24-26).
Now, the trio—including bassist Dave Sherman and drummer Brian Costantino, with Weinrich on vocals and guitar—has announced their first tour together under The Obsessed's banner. They'll be joined by boogie-woogie stoner rock OGS The Atmohc Bitchwax and West Virginia mountain rockers Karma to Burn. Full dates below!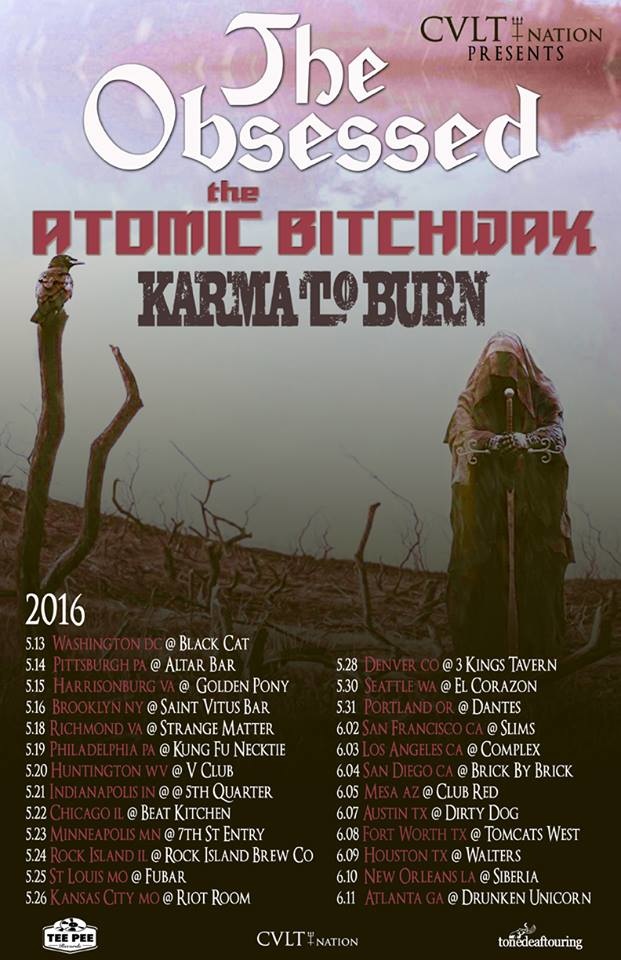 5/13/2016 Washington DC @ Black Cat
5/14/2016 Pittsburgh PA @ Altar Bar
5/15/2016 Harrisonburg PA @ Golden Pony
5/16/2016 Brooklyn NY @ Saint Vitus Bar
5/18/2016 Richmond VA @ Strange Matter
5/19/2016 Philadelphia PA @ Kung Fu Necktie
5/20/2016 Huntington WV @ V Club
5/21/2016 Indianapolis IN @ 5th Quarter Lounge
5/22/2016 Chicago IL @ Beat Kitchen
5/23/2016 Minneapolis MN @ 7th Street Entry
5/24/2016 Rock Island IL @ Rock Island Brewing Co.
5/25/2016 St. Louis MO @ Fubar
5/26/2016 Kansas City MO @ Riot Room
5/28/2016 Denver CO @ 3 Kings
5/30/2016 Seattle WA @ El Corazon
5/31/2016 Portland OR @ Dante's
6/02/2016 San Francisco CA @ Slim's
6/03/2016 Los Angeles CA @ Complex
6/04/2016 San Diego CA @ Brick By Brick
6/05/2016 Phoenix AZ @ Club Red
6/07/2016 Austin TX @ Dirty Dog
6/08/2016 Ft. Worth TX @ Tomcats West
6/09/2016 Houston TX @ Walter's
6/10/2016 New Orleans LA @ Siberia
6/11/2016 Atlanta GA @ Drunken Unicorn