Watch Exclusive Clips from 'Never Get Tired: The Bomb the Music Industry! Story'
The documentary on the influential punk band is getting its first public screening. Check out some exclusive footage.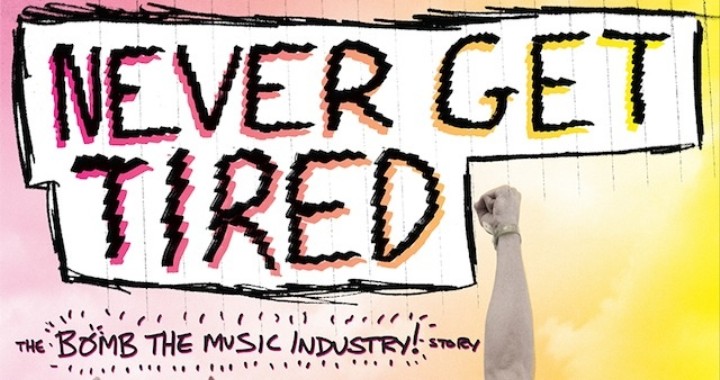 When we last caught up with Bomb the Music Industry!, they were probably, likely, maybe calling it a day (or whatever), playing their teary final shows at the Polish venue, Warsaw, in Brooklyn, NY. Although the sun has set on Bomb, the world would be remiss if it didn't have some document of the band's brief but influential tenure in the punk scene. Much like bands of the Reagan 80s like Black Flag, The Minutemen, and Sonic Youth were famously chronicled in Michael Azerrad's book, Our Band Could Be Your Life, so too does Bomb the Music Industry! and frontman Jeff Rosenstock deserve attention paid to their pioneering "career," if you want to call it that. After all, arguably more than any other band, Bomb set the precedents and standards for the dot com era of punk rock. Whether intentional or not, by sticking to a simple set of principles (all-ages shows, free music, $10 maximum admission fees, etc.), they showed a new generation of bands who grew up after Reagan, but during MySpace, how to adhere to a DIY philosophy. Fortunately, just such a document is now here.
Comprised of hundreds of hours of footage shot across multiple countries, Never Get Tired: The Bomb the Music Industry! Story tells the history of the beloved New York band. The film features interviews with key players, live footage, and scenes from tour. Never Get Tired, the product of a successful Kickstarter by Sara Crow, will finally see its first public screening on Sunday, August 30 at the SVA Theater in New York, with an afterparty at Babycastles.
Below, we have two exclusive looks at the film. The first features some early live footage and discussion of the band's ethos. The second, well, the second features Bomb member John DeDomenici being a fucking loveable dummy. Uh, if you're squeamish around blood, you may want to look away.
Jeff Rosenstock's album We Cool! was released this year on SideOneDummy.