(All photos by Reed Dunlea)
In recent years it's been Milk Music, Merchandise, King Tuff, and Total Control. Right now, it's Sheer Mag. Every once in a while, a band emerges from the DIY punk scene with perfectly executed pop songs. Between the band's current EP and their forthcoming effort on Katorga Works, have no doubts, Sheer Mag's overly catchy Thin Lizzy / Suzi Quatro / Fleetwood Mac burners will provide the soundtrack for cool kid summer 2015.
The arena rock show has long been dead; relevant guitar music today lives in clubs, bars and lofts. South Philadelphia's Sheer Mag combines the best aspects of both worlds, injecting classic rock and pop tropes into their decidedly punk ethos.
"Structure-wise it's very classic pop-based. A lot of pre-choruses, choruses, intro lead riffs that go into the pre-chorus. Those kind of classic things that you maybe have forgotten about in punk over the years," says lead guitarist Kyle Seely, 23. "I kind of wanted it to be a cross between power pop and almost hair band arena rock. It's that kind of pop that just transcends the genre anyways."
Sheer Mag is Kyle on lead guitar, his brother Hart Seely, 26, on bass, Matt Palmer, 24, on rhythm guitar, Allen Chapman, 23, on drums, and Tina Halladay, 29, on vocals. The band played their first show a year ago, and is currently on their first full U.S. tour.
"There's definitely a lot going on between the bass and the lead guitar. The riffs fill in the gaps for each other," explains Matt. When it comes to rhythm guitar, he adds, "I set it up. You should be thinking about Kyle's leads. I'm just there to augment that." Allen anchors them with his straightforward tambourine and snare -heavy beats. And then of course there's Tina. Someone with a voice and presence as powerful as Tina's NEEDS an amazing band behind her, and a band that rips as hard as Sheer Mag NEEDS a singer that matches their energy. It's a match made in rock heaven.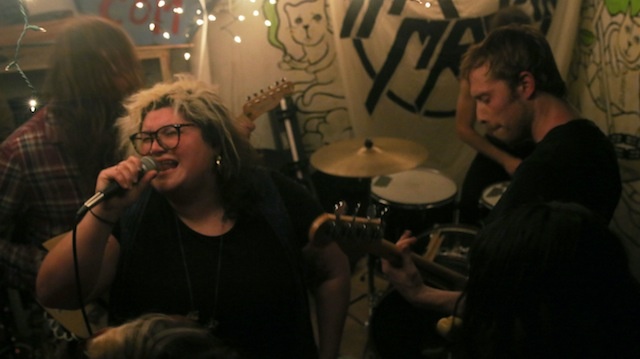 Sheer Mag was born out of Kyle and Hart's previous band, or rather their previous homework assignment. D's Licks was a recording and design project that Kyle made for a class at SUNY Purchase, New York State's public party-art college. (Every member of Sheer Mag except Allen attended Purchase.) A hair rock power-trio complete with thirty fictional 70s themed albums, some titles of recorded tracks include "Get The Gig," "Empty Stadium," and "Main Vein." From D's Licks rose Sheer Mag.
"I had a bunch of riffs in my riff pocket that were burning a hole for a long time. I demoed a bunch of them myself when I was just at home in Syracuse for a couple of weeks on a little digital thing, and sent them over to Hart," said Kyle. The band was initially going to continue as a recording project. "Like a faster riff rock thing. And then we started fucking around with a tape machine and it got a little slower and more structure-based."
Kyle and Hart recorded what would become the tracks to Sheer Mag's perfect self-titled debut EP in Hart's bedroom. Kyle played the guitar parts and drums, and Hart played bass. They then took the finished songs, and collaborated on the lyrics and melody. When Tina recorded the vocals, they continued to work them throughout that process. "A lot of it is tweaked when we're actually recording. I think that's a good way to work," says Hart. For instance, on "Point Breeze" Hart came up with the "aye yaye yaye" vocal part in the studio. And the end of "Hard Lovin" was, according to Hart, "just created on the spot basically."
Sheer Mag recorded their forthcoming EP on Brooklyn's cult blog punk label Katorga Works. They did it in the same bedroom and in the same manner, except two of the guitar solos on the new record were played through a boom box instead of an amp.
If you've heard Sheer Mag, you're probably already hooked, but the band is a little unsure of how to deal with the hype. When I asked them their thoughts on quickly becoming the most popular DIY band in the country, at least in certain circles, their answers included: "weird," "weird when you put it like that," and "that made me feel weird."
"It's just a matter of longevity. Sometimes those bands that you just hear a shit-ton about really quickly are just kind of done in six months, when everyone's moved on to a new thing," says Kyle. Hart adds, "we just get a little worried about things getting out of control. I never want our band to be shoved down anyone's throat."
Fortunately for Sheer Mag, America's throats are open. And ready. And willing.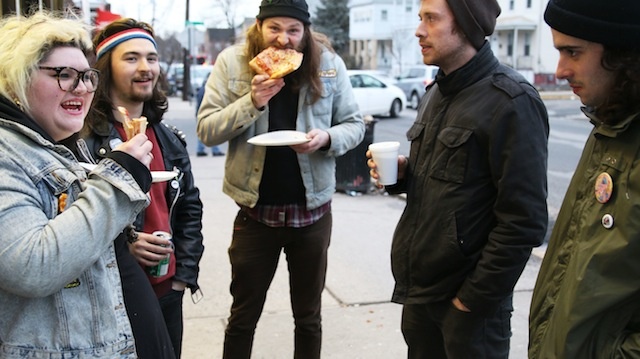 Hard lovin makes me hard on you, it's the only thing that Reed likes to do on twitter.