Stream the New Seven-Inch 'Eternal Return' from NYC Dark Punks PAWNS
Straightforward punk, just more bleak.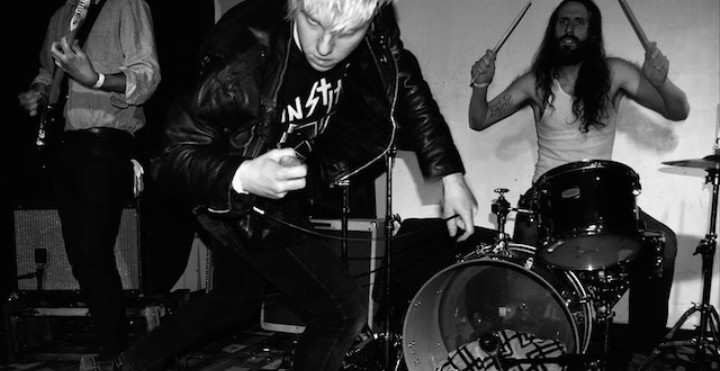 NYC's PAWNS are back with a new 7" Eternal Return. The record finds PAWNS in transition from the gothy rock of their self-titled debut toward a more urgent and desperate punk, drawing inspiration from both deathrock and anarcho-punk.
To be sure, there are riffs on "Death to the Acolytes" that wouldn't sound all too out of place on a Rudimentary Peni record. "Masquerade," however, best showcases PAWNS' new sense of direction: the band strips away the slow-builds and atmospherics of their old work while singer Gage Allison trades his typical deadpan for a guttural shout. The result is a straightforward punk burner, just more bleak.
Eternal Return was recorded and engineered by Ben Greenberg (Uniform, ex-The Men) at the Magic Shop and will be available for purchase online or through distros 12XU and Sacred Bones. You can also pick one up at a live show.

Catch PAWNS on tour:

Aug. 17 - Buffalo, NY @ Sugar City w/ Basement Rats, Hot Mayonnaise
Aug. 18 - Cleveland, OH @ Now That's Class
Aug. 19 - Chicago, IL @ Albion House w/ Cemetary, Hide
Aug. 20 - Detroit @ The Precinct w/ Cemetery, Ishtar, Animal Man
Aug. 23 - St. Louis, MO TBA
Aug. 25 - Bloomington, IN TBA
Aug. 27 - Philadelphia, PA @ The Federal Reserve w/ Heavy Medical, Disinterest
Sept .12 - Brooklyn, NY @ Palisades w/ Pop.1280, Wrung, Informant (NYC Record Release Show)
Stories