This past month, Noisey and BACARDÍ threw an exclusive event in NYC to showcase the artwork of Aluna Francis, one half of the UK electro-pop duo AlunaGeorge. We caught up with the singer at her show to discuss the realtionship between her side hustle and her love for performing. (If you missed the gig, live vicariously via this playlist)
Check out the photos of her black and white pieces along with thoughts on discovering her creativity as a child, embracing her artistic talents, and feeling inspired to thrive in the energy of a big cities like London and New York.
"My mom said that when I was born the midwife said "She's going to be creative in some form because of the way she moves her hands."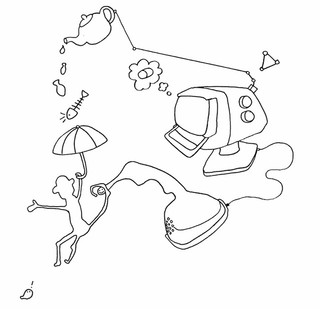 "The first time I was aware of being an artist was when I was six. I was painting—I was copying this picture, this painting, of a cat with poster paints and whatever. I won a competition for that and was like, "Oh, so if I do this, it's a good thing. It's something that makes people interract with me or I seem to not be bad at it." There were other things I was pretty bad at like math and spelling, so I was like, 'aha!'"
"I moved to the city from the suburbs. There's a freedom and a necessity to be cretive because there's so many options and so many ways to fail. but also so many ways to get where you're going that you have to be creative to acheive anything. It brings out of you your survival instincts."
"Whilst my friends were doing conventional jobs and starting to earn money, I had no idea what was going on. I thought I was crazy doing what I was doing."
Live passionately. Drink responsibly.
©2015. Bacardi, the Bat Device and Untameable are trademarks.
Bacardi U.S.A., INC., Coral Gables, FL, Rum - 40% Alc. by Vol.