Last night NOISEY and Garnier Fructis threw a big party launching their partnership introducing the Style Stage platform. In addition to screening the new documentary with the name of the program—Style Stage—with the history of music, hair, and style, there were unreal performances by IO Echo, Austra, Merchandise, Icona Pop, and the Joy Formidable. Plus there was a lounge area with hair styling stations for touch ups that managed to turn even the most dusty and grimy South By hair into something that looked presentable.
Basically the entire world was invited and most of it managed to cram itself inside. I was in there too, snapping photos of things. Before I get into that though, you should watch this trailer for our documentary to get a feeling of what we all experienced together: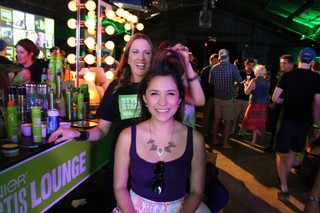 The evening began with people milling into the first chamber of VICE's clubhouse, where a whole lot of stuff was happening. The centerpiece of the room was a hair styling island full of the bright green bottles of Garnier Fructis product, where women would style people's hair and then load up their pockets with tubes of hair products.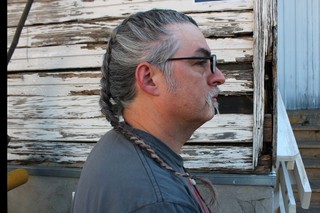 I found myself completely fascinated by this man, who had braids of different thickness woven into his hair.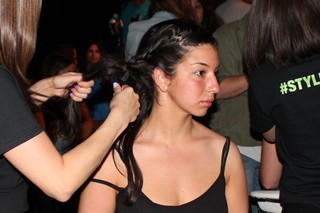 There was also this hair styling area where people were getting styled for free, which was neccesary considering the amount of dust and beer that our skulls are subjected to while we're al in Austin for the fest.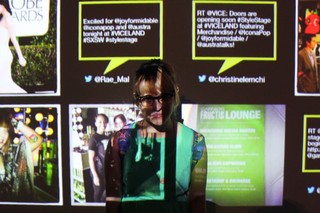 This wall of projected photos and tweets lived on the far wall where people admired them. It was a good place to hide for some who needed alone time.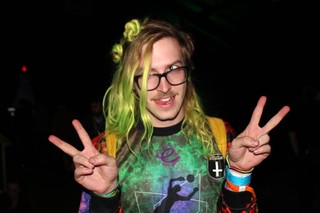 This dude from Anamanguchi was there.
This is IO Echo.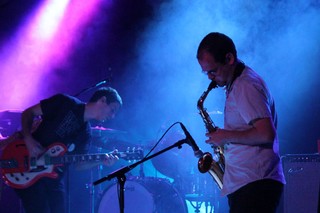 This is Merchandise, a saxxy post-punk act.
Austra are an operatic Enya-ish band that makes pretty music you can dance to.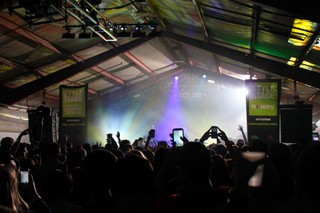 By the time Icona Pop went on stage the place was too packed and I couldn't get near the stage so the remaining bands looked like this to me.
Stay tuned to Noisey for more coverage of SXSW, music, and style.