Best Buds BØRNS and Zella Day Talk Nipple-Bearing Blouses, Thrifting, and Healthy Competition
These two ascending stars know each other inside out so we had a little Skype session with the LA-based artists.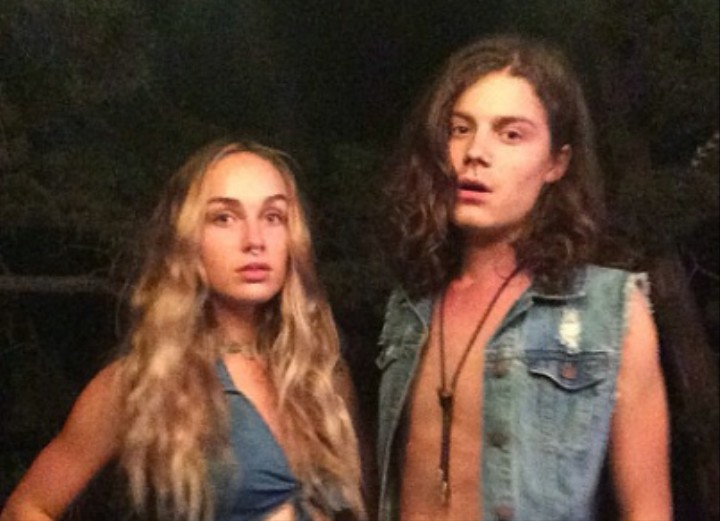 Back in November my friend pulled me out of my apartment on my lazy, no-makeup, become-one-with-the-couch Saturday to get dinner. Somehow dinner turned into an evening Brooklyn Night Bazaar. (For those who've never heard of it, imagine your favorite flea market just at night in a Williamsburg warehouse with live music and beer.) After doing a couple laps and planning hypothetical tats we'd get from the tattoo artist set up in the corner, we moved towards the stage to catch the last song from the band that was playing.
A tall guy with shoulder-length locks standing next to me caught my eye as I talked to my friends between sets. He looked like a Californian version of Mick Jagger. Dressed in a blue and green plaid blazer with a white collared shirt paired with tight black pants and Docs, he made me—in my GAP waffle knit sweater and jeans—feel incredibly underdressed.
Zella Day soon took the stage to perform songs off her new self-titled EP, and her ethereal melodies and gypsy-like garb instantly transported me to an Arizona desert circa 1970-something. I was ready to put feathers in my hair and buy fringed everything. At the end of her set, she gave a shout out to her best friend Garrett who happened to be the guy standing next to me, adding that he had performed at the Bazaar earlier. "Yeah, she gave me a pretty hefty shout out," Garrett Borns, who performs under the name BØRNS, recalls. A couple weeks later, BØRNS released his first EP, Candy. The LA-based buddies-in-the-making first met round a campfire at their mutual friends house and instantly bonded over tacos, wine, and making music, and they've been hanging out ever since.
Fastforward to bnow—Day's recently dropped her desert cruising video for "Hypnotic" (watch it above)—while BØRNS has just set sail on tour with MisterWives' (see tour dates below). I recently Skyped with the duo about their friendship, music, BØRNS' nipples, style inspirations, and healthy competition.


BØRNS, Zella and Devon on Skype. Hi!
ON THE SERENDIPITY OF THEIR FRIENDSHIP
BØRNS: I think it's pretty amazing that we met when we did because we were so on the same wavelength when we first met. We were both just creating our first EPs, figuring out our sounds—it couldn't have been a more perfect time. She was such an inspiring person to meet because she's so talented and looked at music and lyrics and words unlike anyone that I've ever met. The morning after we met, we were just sitting around drinking coffee and playing guitar, and she wrote a song in front of me. I've never seen someone write a song like that pulling these really poetic phrases out of nowhere. And I was like, "Damn! This girl's got chops." We couldn't have met now or a year later. It just wouldn't have made sense. Our music has grown in kind of a similar rate.
Zella: We met at a time when we were both just on the cusp of having things happen to us in a bigger way and then it happened at the same time. We understand each other more so than anyone else really would. The dynamics would be so different if you were at the stage you are right now and I was just starting. It wouldn't be as equal. We're definitely are equals, which is hard to find.
Zella and BØRNS performing together.
ON HAVING SIMILAR THROWBACK AESTHETICS
Zella: We're inspired by each other as much as on our own. We somehow were listening simultaneously to the same music. I remember we were in the car one time and we started talking about how we were obsessed with The Zombies. It just so happened we were both listening to that record at the same time, and [we're] inspired by sort of similar things and people.
BØRNS: Similar eras, a lot of same influences, I guess, art and music and style.
Zella: I'd say mid-late 60s and early 70s.
The coats they wear in this video are from Zella's closet, Zella on set for "Hypnotic." (All photos via their Instagrams.)
ON THE UNIQUE PIECES IN BØRNS' WARDROBE
BØRNS: [My printed blazers] kind of come to me.
Zella: We live in a really amazing city for that as well. You and I have both pulled some of our favorite pieces from Wasteland which is a store on Melrose that's like consignment-vintage-thrift. It's amazing. A lot of stylists shop there, but it's open to public. If you're always on the look out and keeping your eyes open, those kinds of things come into your life—especially if you know what you want. It seems to be magnetic.

BØRNS: I do have to give a shout out to this girl who has been doing a lot of styling for me, Sarah Paulson. She's been finding all those blazers. I can't take credit. I told her I wanted to do more kind of like multi-color, bright kind of glam rock shit, and she's really into that. She pulls some pretty wild stuff for me.
ON SHARING CLOTHES
BØRNS: I pull a lot of things out of Zella's closet. We trade clothes sometimes.
Zella: He just brought back this black shirt that he wore in London that he did not wash it. I could tell you performed in it.
BØRNS: It's got some man stank in it.
Zella: For sure. I put it on and I was like, "Uh, I can't wear this." [He also takes] just some furry stuff here and there. I've tried a few times to go into your closet for a blazer, but they're always too big for me. They're not very tailored to my body.
ON THRIFT SHOPPING
Zella: I recently found these Alexander Wang black tight-fit pants at Wasteland. I found some really amazing cowboy boots there. Besides that, they have a lot of amazing vintage dresses there. I also shop at this place called Slow, which is right next door. It's my favorite place where they have some of the best vintage t-shirts that I've ever found in Los Angeles. I think I live in a really good place: Eastside. Silver Lake is really cool for little vintage tinkering.
ON DRESSING THE PART
Zella: I'm inspired by lots of the same things [as BØRNS] but with more of a desert influence, just Arizona, a little western. I love my bolo ties. I used to have a stylist that I worked closely with as well named Alex Montague. She worked with me on my "Sweet Ophelia" music video, and we made a dress together and designed stuff. But she just had a baby, so it's been kind of up to me. I've been styling my own shoots. Like Garrett, I take a lot of pride in how I look on stage because I really appreciate it when I go to a show and I see the artist wearing something that is very much a part of the world they are presenting. It's an experience. You want to appeal to everybody's senses. We haven't really created a character, more so just a lifestyle. I mean, homeboy rocks a blazer to get pizza, so.



ON THE STYLING OF THEY "HYPNOTIC" VIDEO
Zella: When I wrote that song and I listened to it, it was very visual, so all the outfits and the scenes were pre-existing. I love Bianca Jagger and her really cool suits and hats. The video's very Wild West, and I'm driving a black Cadillac in an all-black outfit. It's very Johnny Cash as well. In one scene, one side of my head's all cornrowed with all these rings on it. It gets pretty nasty. One of my best friends, Rion Fisherm plays my love interest. He's amazing. He's in all black as well and looks so rad. Sequentially, each outfit tells a story of my experience in the video. Before I meet Rion, I sort of am a strong woman figure not yet under the influence of love. You see my character start to change as the video goes along. My outfits become more colorful. There's definitely some symbolism threaded in the video. Each outfit definitely has it's own story going on.
ON FILMING THE VIDEO FOR "10,000 EMERALD POOLS"
BØRNS: The funny part is the original concept of the video wasn't even the video. The concept was like, "Oh, we're going to fly out to some tropical place and shoot it jumping into emerald pools and have this romantic, ethereal swimming experience with this girl that's coming out of the bushes." We sort of captured that, but the end result was kind of this celestial explosion, almost like the creation of the universe. This woman represents this divine female energy blossoming in the cosmos. So there's this girl, and she's swimming with these stellar explosions. It's kind of like this very orgasmic, sparkly, crazy celestial explosion. There are definitely way more than 10,000 emeralds thrown in the pool. It was a very laborious, very taxing video to shoot because I was hanging upside down with my ankles in this contraption—upside down in the water, and she swimming underneath me. I was supposed to be lip-syncing while also watching her swim by me while this song was playing underwater, but it was playing two times as fast because everything's in slow motion. While I'm doing this, they're throwing bowling balls and dumping pounds of glitter into the pool.
Zella: Garrett was sick from that for like a month after.
BØRNS: Oh yeah, it was gnarly. We shot it in November, and it was kinda cold. It was a very vulnerable experience because I wasn't wearing anything. That was kind of the director's idea. I was like, "Well, for the love of art. Let's do it." So there wasn't very much wardrobe going on there—only the birthday suit.
ON PACKING FOR TOURS
Zella: I went on a 10 day tour and I had a new outfit for every different show, which I don't think is the way you do it. I'm such an annoying packer. I take a very long time. Some people, I feel like their style of packing is like, "I'm going to take all of my favorite things, put it in a bag, and then once I get there, I'm going to figure out how to put outfits together." I'm more like every single outfit I look at myself, so I know that I like it and that's how I do it. I have every outfit planned. It's kind of methodical.
BØRNS: I have these lacy shirts that look kind of like my grandma's curtains that I wear. They're very breathable, so they don't stink too bad. I like to wear very breathable clothes that you can see my nipples through because it makes people excited and uncomfortable.
Zella: Garrett actually wore one of those nipple shirts to Thanksgiving at my family's house.
ON PULLING INSPIRATION FROM CHILDHOOD
Zella: Sometimes when I'm writing, I don't even really know where I'm pulling from in my bevy of experiences and sometimes I'll look back at a song once it's finished and be surprised that I wrote about that experience that happened to me years ago. Writing for me is a stream of consciousness, and I definitely am a sum of my experiences—childhood into now.
BØRNS: I grew up in Michigan. I feel like a lot of my childhood was in solitude, in the woods or making tree forts. When I came out here, I found this place that almost brought me back to my childhood roots. I was living in this little rustic guesthouse, and my landlords had these three little kids that all played music. I was kind of like a big brother to them, and I was always experiencing them creating things and playing music, and they always wanted to jam. It got me thinking like a kid again—I guess creating without inhibitions. It got me writing a lot more freely, and I remember that freedom of being a kid and climbing trees.
Zella: He says rustic guesthouse, but what he means is tree house. Like we just made pancakes and he was like, "This is the first time I've made pancakes inside since I've lived in LA." We've never visited each other's hometowns. I get the feeling that they're similar in that respect of just being very quiet and a little isolated and in the woods. When I started writing as a child, I felt like I could do or say what I wanted to do because nobody really cared that much. There wasn't an expectation and when I came out to LA, there was definitely an expectation. So I think that when I write, I definitely pull from my hometown more than ever, probably.
ON COMPETING WITH EACH OTHER
Zella: I think there's a really healthy competitive energy here. When I moved here it was sort of a smack in the face like you're not the only one doing this. Because where I'm from, I was literally the only girl playing guitar and writing songs. Coming out here, there's so many talented people. That's been really good for me. And even meeting people like Garrett who I'm so inspired by and who seem to be on a very similar path and watching him grow and having someone to share those moments with—I think that's important having people to confide in and to talk about what's going on. Playing music the way that we are and touring and the lifestyle is a little abnormal, so we kind of need each other. So in that aspect, LA has been really good for me.
BØRNS: We're definitely competitive. We always give each other very honest feedback or give each other constructive criticism, and we can take it.
Zella: It's really coming out of a place of love because I want the best thing for Garrett. I want Garrett to be as massive as his wildest dreams want him to be. Sometimes with friends, you can't help but to be jealous and have an undertone of like, "Uhhh, I don't really want you to be more successful than me." But I think for you, I don't care. You can go on a world tour before I do. I'll get there some day.
BØRNS: I think that's the thing: We just know that we're both gonna work our asses off, so there's nothing to really be worried about or to be too jealous of.
BØRNS on Tour with MisterWives:

March 3 Chicago, IL @ Lincoln Hall– SOLD OUT
March 4 Madison, WI @ High Noon Saloon – SOLD OUT
March 6 Minneapolis, MN @ Triple Rock Social Club
March 7 Kansas City, MO @ Record Bar– SOLD OUT
March 9 Denver, CO @ Bluebird Theater – SOLD OUT
March 10 Salt Lake City, UT @ The Complex
March 12 San Francisco, CA @ The Independent – SOLD OUT
March 13 Los Angeles, CA @ The Troubadour – SOLD OUT
March 14 Santa Ana, CA @ The Observatory – SOLD OUT
March 21 Dallas, TX @ HOB Cambridge Room
March 22 Houston, TX @ Fitzgerald's
March 24 Nashville, TN @ The High Watt– SOLD OUT
March 25 Atlanta, GA @ Centerstage
March 28 Washington, DC @ U Street – SOLD OUT
March 31 New York City, NY @ Bowery Ballroom – SOLD OUT
April 1 Boston, MA @ Paradise Rock Club– SOLD OUT
April 7 New York City, NY @ Music Hall of Williamsburg – SOLD OUT
April 10 Washington, DC @ U Street – SOLD OUT
May 17 Gulf Shores, AL @ Hangout Music Festival
Devon Abelman is on Twitter.
Stories