Death from Above 1979. Photo by Chad Wadsworth.
Time does not exist at music festivals. Sure, it exists in the sense that when it's 4:25, you've got to start getting your sweet ass over to the Red Bull Planned Parenthood Stage to check out whatever hot buzz band you've been reading about all year on your favorite music tastemaking blogs you scroll through when your boss isn't looking. But for festival organizers, time is completely irrelevant.
It's a great racket festivals have got going, really. No matter whether the music industry is at a peak or a lull, festivals thrive by being a time-proof business. The Strokes' record sales have gone downhill since Is This It? Have them only play that album! OutKast is broken up? Make 'em an offer! Tupac is dead? Holograph that motherfucker back to life! Whatever your musical tastes are and whenever they peaked, festivals have got you covered.
Fun Fun Fun Fest in Austin has been particularly adept at picking up on this. In their ninth year, their lineup this past weekend was stacked with a mixture of hot up-and-comers and the iconic heavyweights of yesteryear. New York hardcore legends Sick Of It All played material from their classic albums Scratch the Surface and Blood, Sweat, and No Tears. Nas performed all of his 1994 debut Illmatic. Failure, Mineral, and Neutral Milk Hotel all took their reunion tour victory laps.
But Fun Fun Fun seemed to zone in on one year in particular: 2004.
2004 was an interesting year for music. It was the last year CD sales ever saw a rise and also produced an exhaustive list of indie rock classic albums: Arcade Fire's Funeral, The Killers' Hot Fuss, Wilco's A Ghost Is Born, The Futureheads' self-titled, The Hives' Tyrannosaurus Hives, Rilo Kiley's More Adventurous, The Libertines' self-titled, The Black Keys' Rubber Factory, Interpol's Antics, The Walkmen's Bows + Arrows, and TV On The Radio's Desperate Youth, Bloodthirsty Babes to name a few.
Plenty of bands who had their heyday ten years ago graced the stages of FFF over its three days. But in my mind, there were five bands who were the real must-see throwbacks of that era. (Meaning these were the bands I was able to see because their set times didn't conflict with anyone else's and I wasn't too disgustingly full of the free Twinkies that were being given away to stand up.) It was partly for nostalgia purposes, and partly for the sheer morbid curiousity to see how these bands have held up, which I imagine would be why someone would go to a high school reunion. (Couldn't tell you, never been.) And because this is the internet, where everything must be ranked in number form according to the bylaws of web content law, I have ranked them in order of the triumphance (totally a word) of their return.
But first, a photo of the man who supplied me with a non-stop supply of Twinkies. Bless/curse him.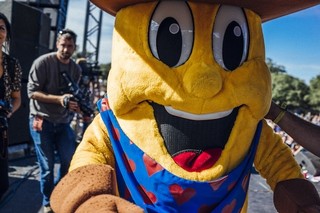 Photo by Chad Wadsworth.
1. The Blood Brothers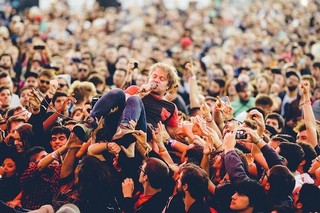 Photo by Chad Wadsworth.
Watching the recently reunited Blood Brothers in 2014, I realized: there is absolutely no way this band could've formed today and reached the level of success and acclaim they had. They were/are ridiculous. It's always a weird dynamic having dueling male vocalists, but Blood Brothers were particularly weird because both vocalists provided the same spazzy screaming. It's like they both showed up to audition for the role and the band said, "Yeah, we really only need the one singer." And both of them refused to leave so they just ran with it. Plus, the whole guys-wearing-ladies'-jeans-with-white-belts seemed slightly less ridiculous back then. Also worth noting: Entourage was a top show on TV. 2004 was a weird time, man.
But watching them this weekend, with their jeans ever-so-slightly less tapered, they thoroughly proved that they're more than just a pair of Diesels. As the sun set during their 50 minutes, they reminded everyone how they got popular in the first place: by being a musical anomaly that's as disorienting to watch as to listen to. Johnny Whitney (he's the singer who also occasionally plays keyboards) spent a good deal of the set wading through the crowd, screaming in people's faces.
Best of all though, Blood Brothers didn't do any material that was released post-2006. Mainly because they don't have any. Much of their set came from the 2004 classic, Crimes. There was no need for the crowd to feign interest in songs off of any half-assed post-reunion record. Just 100 percent pure nostalgia, served straight up.
2. Glassjaw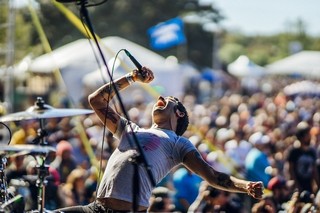 Photo by Chad Wadsworth.
2004 was the year the divisive Glassjaw started to die off. They were at the height of their career after 2002's Worship and Tribute but then just sort of slowly meandered into hiatus territory over the next two years while frontman Daryl Palumbo focused on his side project, Head Automatica and this… DJ project… thing. Whatever that was all about. Fortunately, he steered clear of that material and stuck to the classics. I forgot what an energetic little man he is. The two people in the front of the stage with Glassjaw tattoos were stoked.
3. Death From Above 1979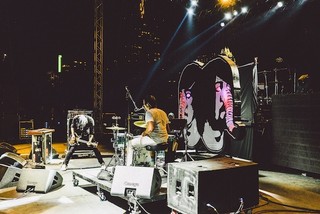 Photo by Chad Wadsworth.
Death From Above 1979 released their only album, You're A Woman, I'm A Machine in 2004. And then they reunited to put out a new album earlier this year. So their set was the ever-frustrating combo of classic jams and newer songs most people had never heard before. All I could think of while watching them was when Max Weinberg played drums for them on their Late Night with Conan O'Brien appearance. Remember that? Remember TV? What a crazy time 2004 was to be alive.
4. Hot Water Music

Photo by Greg Giannukos.
As Chuck Ragan held his Les Paul, waiting to go on stage before Hot Water Music's set, a friend of his joked, "Hey Chuck, don't get nervous but I think there are some industry people watching." Ragan, the well-seasoned touring veteran smiled as he walked towards the stage, looked back, and said, "OK, I'll try not to mess up then!"
It's always questionable watching a reunited band like Hot Water make a second career out of something that was popular a decade ago. And 2004 was a strange year for them. They released The New What Next, which doesn't exactly fit into what most fans consider the band's "classic" material, and then fizzled out shortly after. So say what you will about their 2004 material or their reunion and the motivations behind it, but Chuck Ragan is not a man who half asses anything.
5. Modest Mouse
I didn't get to see too much of Modest Mouse what with King Diamond playing on a nearby stage and all. But the one takeaway from their set was that a shooting star flew over their stage as they played "Dark Center of the Universe." A goddamn shooting star. There's some metaphor to be found there about the waning shine of this band's career but I'm too overwhelmed by nostalgia to figure it out.
Dan Ozzi peaked in 2004 too. Follow him on Twitter - @danozzi