SoftSpot Rope in a Dancing Alien They Met at Home Depot to Star in their Video for "Pickup Lines"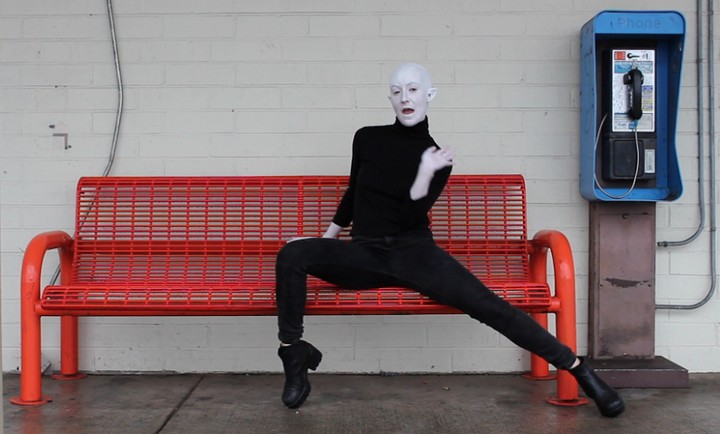 Directed by and starring SoftSpot's Sarah Kinlaw and shot by SoftSpot's Jonathan Campolo.
Wait. Has one of the Blue Man Group gone rogue? Is that you Tobias Fünke? Did you misread the memo? Again? SoftSpot's video for new single "Pickup Lines" stars a black-clad, white-faced, pixie-eared alien dancing down aisles (in Home Depot? Walmart?) and befuddling average Americans in parking lots.
According to the Bushwick-via-North Caroline trio "the video is a playful exploration of alienation in the mundane landscape of corporate America. The theme moves from apprehensive to welcoming on the part of the public."
I'm a big believer in the power of dance, and I don't mean dancing sexily, twerking is for try-hards. I mean dancing kinda badly, like you don't give a fuck. This is not to say that the white-faced-pixie-eared-alien-girl has no sense of rhythm, more that once she's convinced her newfound friends to dance like no one's watching and you can see the happiness eking out all over their faces. The music, meanwhile, is minor chord shoegaze pop: lush and unhurried, punctuated by clattering squalls and offset by singer Sarah's dewy tones. Dance on people, dance on.
SoftSpot's LP, Mass, is out now.
SoftSpot Tour Dates
4/11 Hudson, NY • BARD College
4/29 Brooklyn, NY • Glasslands
5/01 Boston, MA • Whitehaus
5/02 Winooski, VT • Waking Windows festival
5/04 Cleveland, OH • Now That's Class
5/07 Chicago, IL • The Burlington
5/09 St. Louis, MO • FOAM
5/10 Nashville, TN • Noa Noa
5/12 Birmingham, AL • The Firehouse
5/16 Pensacola, FL • Sluggos
5/19 Athens, GA • Caledonia
5/20 Atlanta, GA • 529
5/21 Charleston, SC • Swamp House
5/22 Savannah, GA • Hangfire
5/25 Charlotte, NC • Snug Harbor
5/27 Raleigh, NC • Kings
5/28 Richmond, VA • Strange Matter
5/29 Norfolk, VA • The Iguana
5/30 Baltimore, MD • Church & Company
Related: