DAY ONE: FUCK BLUR, LONG LIVE WU-TANG
They say that love is the international language, but really it's brutal, hardcore rap music. If you don't agree with me, I've got 4,000 Nordics throwing bat-wings in the air and yelling "Wu-Tang Clan ain't nothing to fuck with!" to back me up.
I'm at the Øya Festival in Oslo, which as it turns out is in Norway, which is a land filled with strikingly-attractive blondes who have no qualms about paying 12 bucks for a latte. I was invited here to check out how they do things way up North. It's like Vacation Bible School for rock 'n' rollers, where we learn the Truth and then spread the good Øya Festivalen news. If I were to put that news in a newspaper, one headline might read: "Over-friendly Female Security Guards in Sweden Will Compliment Your Shoes As They Grab Your Junk."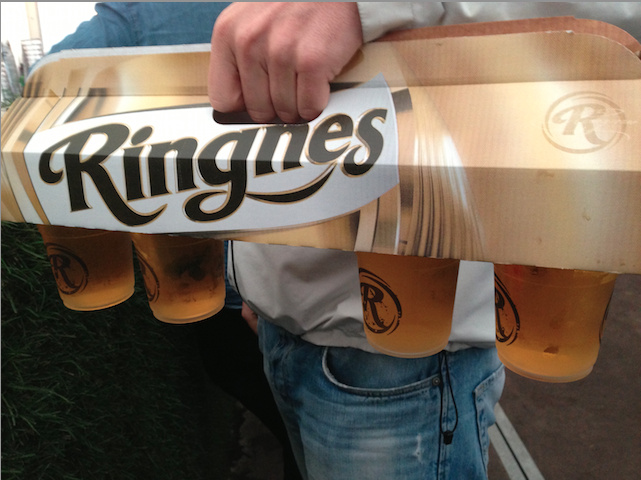 People in Oslo are friendly… eventually. They don't really smile at you or make casual chit-chat in line for the pooper, nor do they willingly dance in public. Enter the Wu-Tang Clan. The Wu was on fire last night, and Method Man even wore a vest for the occasion. Perhaps they were concerned that they were standing on a stage built on the thousand-year-old ruins of a potentially haunted church. Maybe they were worried they'd fall into the Oslo fjord. Maybe it was the laugh-out-loud irony of RZA shouting out to "all my niggas to the right... All my niggas to the left..." to an audience made up primarily of tall blondes with fridges presumably stocked with reindeer meatballs and closets racked with Nordic print sweaters.
Whatever it was, the Wu Tang was in on the joke and prepared to set the stage on fire. While the primarily Scandinavian audience seemed to know all the words to "Bring Da Ruckus," "Protect Ya Neck," and "Shame on a Nigga," getting the crowd to actually move seemed impossible. They didn't even get down to a smolderingly sexy version of "Shimmy Shimmy Ya," that surely made Ol' Dirty Bastard look down from hip-hop heaven and throw up a batwing of his own. If the beer was cheaper maybe everyone would dance more, but at 75 kroner a pop (that's $13!) no one was getting wasted.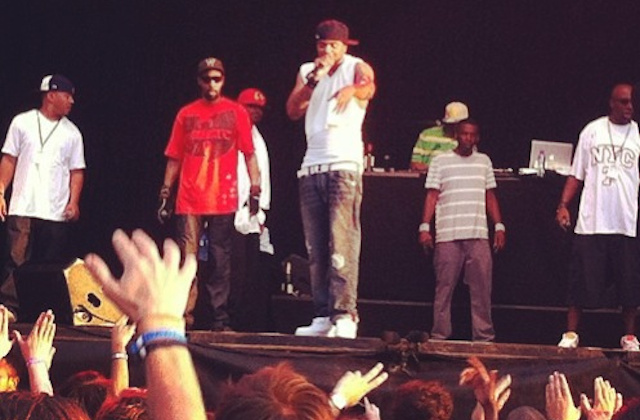 Wu-Tang Clan
Also noticeably absent from the festival? Weed. There was no weed smell anywhere. It may have been the weirdest thing about Øya.
In the trusty old shits to fucks ratio that we use here at Noisey, I don't give a shit or a fuck about Blur. I didn't like them in the 90s and I don't like them now. It's okay, though, because the feeling is apparently entirely mutual. In the headlining spot, Blur played what appeared to be an identical set to the one they trotted out at Coachella filled with their trusty crowd-pleasing hits and hip-thrusting onstage antics. Blur has always been about lead singer Damon Albarn and his oversized ego. That dynamic continued last night as Albarn wing-wanged his way around the stage pausing sporadically, yet repeatedly, to splash water on the audience and photographers for no reason (it wasn't hot) other than to be a twat. I'm a firm believer in the idea that if you hate your fans you don't deserve fame, so I left mid-way through the set.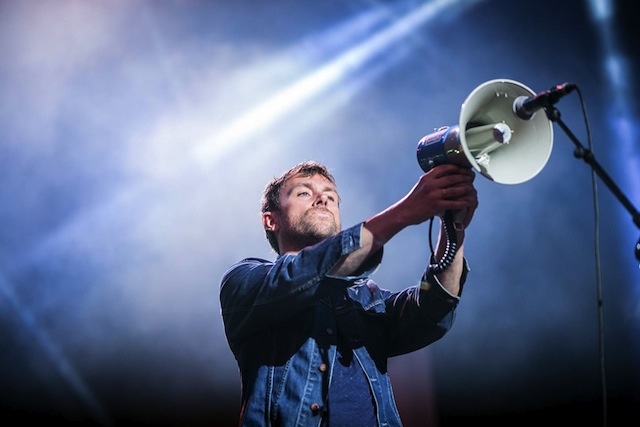 Blur, via
Øya is a compact festival which makes it easy to walk out in a huff when someone's being a dipshit. Why put up with that when a two-minute walk means you get to watch Norwegian metalers Kvelertak in action. I am not exactly a fan of the group, but their debut album spent 30 weeks on the Norwegian charts, which says a lot about Norwegian taste in music. I think frontman Erlend Hjelvik's voice sounds like he spends his spare time gargling ball bearings, while the music is a cross between Venom, The Offspring, and some sort of Norwegian black metal stereotype with Hjelvik's hardcore screeches and punk yowls clashing with the more melodic guitar parts. It's overwhelming for a jetlagged mind to take in, but seeing Kvelertak play in front of a hometown crowd was both daunting and enervating and just a little bit scary. I hope they picked a fight with Blur later.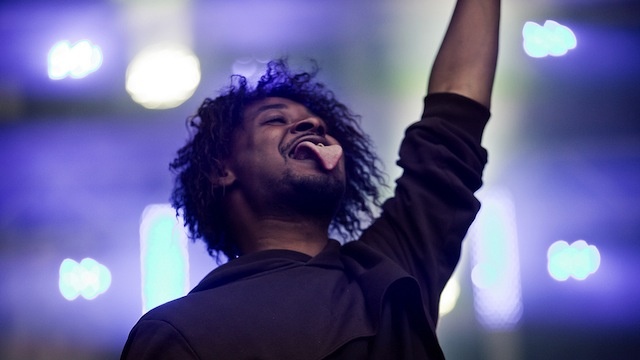 DAY TWO: DANNY BROWN DOESN'T SHARE HIS WEED
I'm walking through the rain in inch-deep mud wearing a plastic poncho that is giving me Oregon summer camp flashbacks and all I can think about are the immortal words of Danny Glover: I'm too old for this shit.
No matter what festival you're at, when it rains, it fucking sucks. Øya is considerate enough to have free ponchos, so while everyone was wet as hell, spirits weren't really dampened. Nothing a little Danny Brown can't fix. The universe must feel the same way, because two minutes before Danny's set started the rain stopped.
Danny pranced in on a wave of bravado spitting out verses and trying to get the crowd "turnt up." The crowd was excited, but their enthusiasm was expressed through slightly exuberant headbobs and a few hands waving in the air. There was pretty much no chance that Danny was getting a blow-jay on stage in Oslo, but he didn't seem to mind as he was having enough of a party on stage for everyone.
Watching a bunch of Nords and Swedes stand there while Danny throws down beats was strangely uncomfortable, plus the bass was insane, and reverberating so hard that I realized I was trying to remember the decibel level that can make your heart stop instead of enjoying the show. I love Danny Brown but I'm not going to have any lines from "I Will" on my headstone, so I wandered off after a few songs to the VIP section, which they kindly offer press access to.
The VIP section at Øya is quite correctly separated from the common people by a bridge over a small inlet of the Oslo fjord. Beer in Oslo is $13 but the fact that you can have Brooklyn Lager makes it somehow okay. Still, no one can afford to buy a stranger a drink, so I bought myself a beer and settled on to watch Cat Power from a safe distance.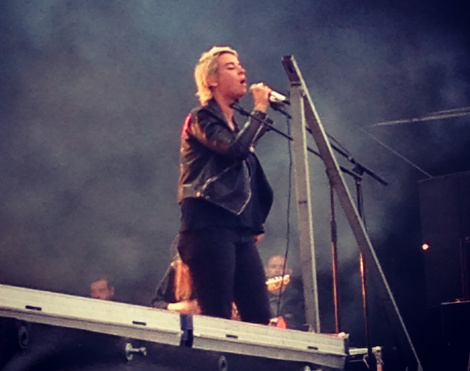 Cat Power
I'm not one to sit in my room and cry, so Chan Marshall is not really my thing, which is why I was surprised to find myself moved when the "The Greatest" drifted over the posh pond to the VIP area. Hold the intervention: I'm not going to start cutting myself just because I liked one Cat Power song.
I finished my beer and headed through the mud to watch Grimes. Grimes had some of my favorite songs and videos of last year, but her live show is boring. I understand she's shy and likes the separation from the audience, but a few dancers making a to-do on stage while Claire Boucher hides behind the keyboards and pedals is not a great show. The audience was packed like herring (Norway joke!) for the first few songs but attrition started quickly with people heading of to the food queues. Having been to a Girl Talk show I know that producers can have wildly entertaining stage shows, but Grimes needs to step it up, like Kendrick Lamar did.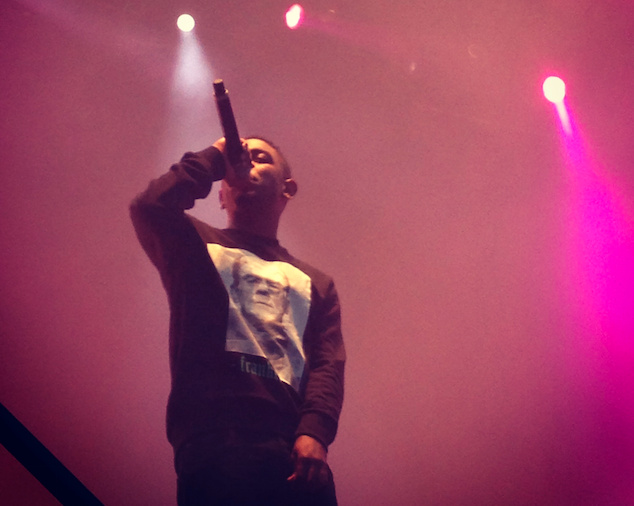 Kendrick Lamar
I first saw Kendrick a year ago and he was as awkward as a gangly, teenaged Larry David with no idea what to do with his arms or legs. Last night at Øya it was clear that Kendrick had come into his own. He owned that stage and was the first performer I'd seen that got the reserved crowd moving and if you ever wanted to know what the "white man"'s overbite" looks like, it was the default dance move of people who weren't yelling pussy and Patron into the night.
After Kendrick, I wandered backstage to try and catch a shuttle back to the hotel. I lucked out and hopped in a van who was just waiting for one more person before rolling back to the hotel. The door slammed open and Danny Brown and his crew of two hopped in the van in a miasma of pot smoke, the first time I'd smelled weed at the festival so far. When I commented on it he said "I'm Danny Brown!" which seemed like a reasonable answer. He then smoked his joint without sharing and ranted about Detroit, parties, and throwing down, until a stray Norwegian in the van shushed him so he could use the phone. Then Danny launched into a tirade, which was equal parts balls and brutality. It was hilarious in an "I'm Rick James, bitch" kind of way. If you ever have the chance to get in a van with Danny brown you should definitely do it