Hells Bells in the Desert: Everyone Dies But AC/DC Never Will
AC/DC is basically the musical equivalent to 'Fast and Furious.'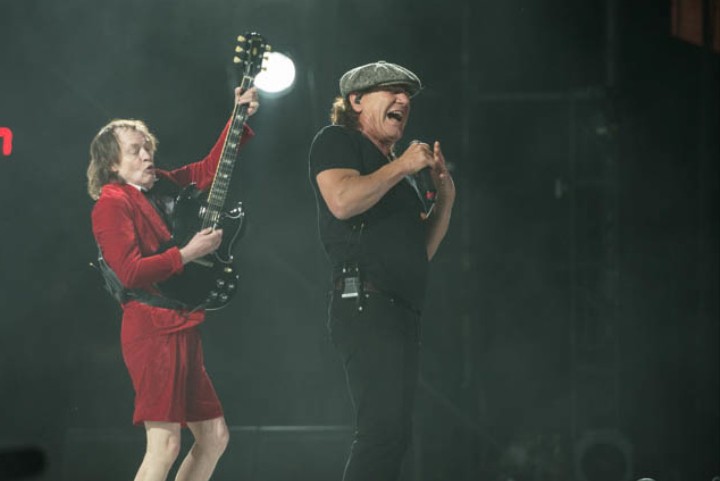 Photos by Frank Thomas
You're either an AC/DC guy or you're not. No equivocating or halfway fandom allowed. You're in or you're out. You either celebrate a 60-year old man delivering last call guitar riffs in a Catholic schoolboy uniform or you didn't pledge a fraternity.
Sure, there are AC/DC girls. You didn't have to look very hard at Coachella to find those eschewing glowstickery and headbands in favor of teased hair and faded rock band shirts featuring the familiar voltage of the Australian caveman legends. AC/DC made their reputation in a vanished world. If you're not down for a Karaoke sing-a-long about STD infections ("The Jack"), complete with poker metaphor, you probably aren't cut from the same crushed velvet shorts as Angus Young.
There's something undeniable about AC/DC. They do what they do about as well as any band to ever do what they do. They're Rawk Gods playing to an era that has none. The lead singer is 67-years old, wears a newsboy cap, and looks like he just stepped out of a AARP hair metal adaptation of Oliver Twist. Their long-time rhythm guitarist had to leave the band due to dementia. This is not your dad's AC/DC or even your older bro's. So when they took the main stage before every Coachella-goer who hasn't rolling at the Sahara Tent, it was a bizarre phenomenon.
Continued below.

There was a moment where Brian Johnson told the crowd: "I hope you like rock, because that's all we do." At another point, he asked, "You Doing Good? Good. Keep Doing It." It's the sort of thing you say when you honestly don't have anything to banter out with a crowd who are watching with a mixture of carnival amusement and genuine awe.
But AC/DC does have Hits. They played them all: "Hells Bells," "Back in Black," "You Shook Me All Night Long," "T.N.T.", "Highway to Hell," "Dirty Deeds Done Dirt Cheap." And they're all bangers. Chances are that you know all the words to these even if you don't qualify as an AC/DC person. They're unavoidable if you've ever stepped out in public and alcohol was served. For about two hours at the Polo Fields on Friday night, it felt like every song was Last Call.
The audience split along substance abuse lines. If you ingested enough moon rocks to achieve planetary orbit, this was not the place to be. If you drank enough second-tier Festival-sponsored beer to fight a glowing Coachella art sculpture, you probably bounced up and down for every song and wished that there was a Jaeger fountain.
Watching AC/DC feels living in a 80s teen movie that you might've caught on TBS when you were a kid. It's not a John Hughes classic, but something sleazier and low budget—yet oddly effective. The type of comedy with gratuitous party scenes and "boobs for no reason." It's like Teen Wolf, Porky's, or Zapped.* Or going further, it's a bit like catching the latest installment of the Fast and Furious franchise. If you don't think about the moments when Vin Diesel leaps across the interstate from one very rare sports car onto the hood of another very rare sports car, it's flat-out awesome. Sometimes, things just kick ass.
You have to give Brian Johnson credit for being arguably the greatest replacement singer of all-time. It's been three full decades since original front man Bon Scott choked on his own vomit (because how else would a lead singer of AC/DC die?) His voice has become the quintessential pinched-nerve, shout-at-Satan wail. You hear him shriek and you start seeing bats flying out of belfries, lightning streaking through the sky, and failed sobriety tests. During breaks to address the crowd, Johnson spoke in an unintelligible English Elvish-gnome dialect. This is a pure rock star move. He makes Ron Wood of the Rolling Stones look eloquent as Bill Clinton. He sings with his eyes closed and his face squinched because that's how rock stars are supposed to sing—as though they were constantly in the act of shitting out a diamond or a devil.
The cognitive dissonance was very real. Before us, stood one of the biggest bands of the 70s and 80s, legitimate Spinal Tap-heavy behemoths, with songs that will live in beach bro bars until the sea swallows the entirety of the Pacific Rim. And yet they're playing largely before a generation that prefers to wait for the drop than listen to elliptical guitar solos—no matter how much they make you want to do "Devil Horns" with your hands. It's clearly no longer their time, but they've managed to throttle age hindrances to what should be scientifically impossible. Angus Young looks absolutely fucking ridiculous duck-walking in a crushed velvet short shorts and a tie. He probably always did. But if you've ever wanted to ironically (or sincerely) do the air guitar solo of your life, this was probably the moment. I kept on waiting for Wayne and Garth to pop out on-stage and flash the "thumbs up," or at the very least, Bill and Ted.
They played "Hells Bells" at 11:19 PM. They played a bunch of songs before and after, but I'm reasonably certain this was peak AC/DC. I'm not sure if you've ever hung out with any baseball players, but there's no probably no demographic on earth with a larger percentage of AC/DC guys than your average relief pitcher. On my college baseball team, there was a guy named Joe Love. Joe Love was about 5'5", built like a bowling ball, and had the lack of romantic success that made his name a total waste of a superb name. He didn't throw very hard, nor was he very intimidating, but he had a lot of "moxie." He was in a fraternity and all the brothers made fun of him a lot, but there was always something endearing about him.
Every time that he came in to relief, his entrance song was "Hells Bells." It was a perpetually odd sight watching this eraser-sized guy waddle in to pitch. It was pretty clear that he was using AC/DC to make him feel bigger, more menacing, and tougher to hit. They were a vessel that allowed him to become something outside of himself. Ultimately, he just wanted to rock.
Even if you're not an AC/DC guy, you have to admire their ability to still be able to go hard—42 years after Angus Young slipped on his first necktie on stage. The crowd just wanted to headbang and few bands on earth can facilitate that as well as AC/DC. As I walked out of the festival on the interminable Molly Trail of tears, I overheard a guy in a backpack excitedly talking to a very patient girl. He had just seen AC/DC and the conversation naturally shifted to his very real fears of getting Hepatitis C. He told her that "they have drugs for it, but each one costs a billion dollars to develop. And they may actually never find a vaccine."
Until they do, AC/DC will live forever.
Jeff Weiss will shake you all night long. Follow him on Twitter.
* You've probably never seen Zapped, but it stars Scott Baio as a nerdy scientist named Barney who grows weed in the school library. When an accident goes awry, he acquires telekinetic powers, which he uses to take off girl's tops and win baseball games. There's also a dream sequence featuring Scatman Crothers salivating about sausages and getting chased by a Valkyrie. I can't recommend it enough.