Photo by Matt Sav
Australian quartet San Cisco has been making interesting, experimental pop music for half a decade, but their latest album, Gracetown, feels a lot more polished and a little less lo-fi than their past efforts. It's a natural progression—obviously the music you make when you're 18 and just out of high school is going to sound a lot different than the stuff you're recording at 22 after gigging around the world. But while their self-titled debut was mostly filled with puppy-love ditties like the breakout hit, "Awkward," the follow-up is more offbeat. It's synthy, trippy, and multifaceted, making it the kind of thing you'll want to listen to all summer. (And you can because it just came out last week.)
Their nostalgic melodies aren't the only thing that's grown up. San Cisco's on-stage style has undergone a major upgrade, too. They used to look like a couple of kids playing hooky from homeroom; now they look like a rock'n'roll band that employs a stylist. They don't, actually—but Scarlett Stevens, the drummer and only girl, obviously knows a thing or two about fashion. It's a shame she's always behind her kit, because her clothes—perfect throwback Levis and enough flawless floral sundresses to fill a vintage store—deserve to be seen. And though Jordi Davieson, Josh Biondillo, and Nick Gardner stick to the requisite band-dude uniform of dark denim and biker jackets, even they look like they spent their latest record deal check on some new clothes.
They're slick…but not too slick. Kind of like their music. Go see them live when they come through your city in the coming months, and in the meantime, check out what Scarlett will be lugging along on the tour bus.

LIPSTICK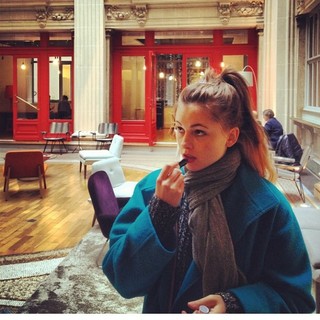 "I'm a fan of bold lippy. Jungle Red by Nars is my favourite shade of red at the moment, and Chanel Rouge Noir is always a cool classic."

DOUBLE DENIM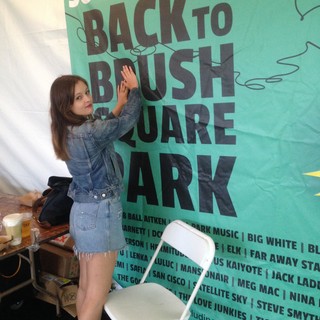 "…or triple denim if you can handle it."
SCOURER
"Nothing says 'I'm very expen$ive' like a bit of sparkle in your outfit. My friend Jenny and I refer to these fashionable 70s lurex numbers as 'scourers' because they are made from scratchy, polyester material. The glittery fibers in the fabric make them perfect for the stage because they catch the light and make you shine bright like a diamond. I like to get mine from thrift stores."
ACCESSORIES
"Accessories can make or break an outfit. I like to change up my earrings and sunnies to spice up my tour look. These Moscot glasses are a great addition to my tour wardrobe without being too statement-y."
VINTAGE DRESSES
"Days off on tour are all about wearing the outfits that, for whatever reason, you can't wear onstage. For me. it's hard to rock out in a dress. so I take my days off as a time to shine in something patterned, bright, and flowy like a vintage dress."
BOOKS
"Be careful with your book selection. I recently read Gone Girl whilst on tour and it was a huge mistake. It made me feel so uneasy, and there is nothing stylish about that. Instead, why not read a cool, inspiring rock autobiography like Kim Gordon's Girl In a Band? Highly recommend."
PHONE
"Need to phone home? Nothing screams kitschy-cool-with-a-classic-twist like a landline. Ditch the iPhone or Android, this retro pink telephone is a travel must."

Casey Lewis is on Twitter - @caseymlewis.